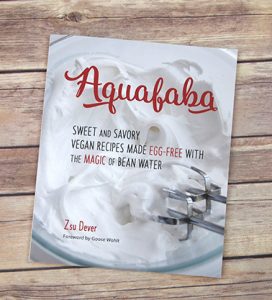 I doubt that anyone outside the plant-based world has heard of aquafaba until recently, but the vegan blogosphere was completely abuzz when Goose Wholt discovered that the water that's leftover from a can of beans can be used as an egg replacement a year or so ago. It can't be used to make scrambled "eggs" or an omelet, but it can be whipped into a frothy foam, and it can be used as a binder in baking.
While I followed along with my fellow bloggers' aquafaba hits and misses, I quietly sat the frenzy out, sure that I would make a giant bean-flavored mess if I tried to cook with it. But now Zsu Dever has written an entire cookbook devoted to aquafaba, making it easy to cook with the magical liquid, and I no longer have any excuses.
Zsu starts her book, aptly titled Aquafaba, with an aquabafa primer, explaining exactly what it is and how to use it. Aquafaba can be tricky to work with, but Zsu's tips will help. The recipes in Aquafaba range from basics such as vegan butter and mayonnaise to eggy classics like crepes and quiches. You'll find recipes for baked goods that usually rely on eggs to give them a little fluff, such as muffins, sugar cookies, pancakes, and waffles. Items that have been difficult for vegans to make until now are included, such as marshmallows, marshmallow fluff, macarons, and meringues are also included. Aquafaba contains both sweet and savory recipes, so if you have a hankering for vegan meatballs or kebabs, Zsu's got you covered. She's even included recipes for chickpeas, so that you're freezer isn't overflowing with beans after draining off the liquid.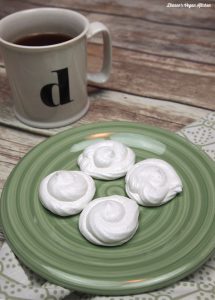 I decided to start my foray into aquafaba cooking with Meringue Cookies, not because Zsu says it's a good recipe to start with, but because I have such fond memories of Meringue Cookies from my childhood. My mom was never much of a cook. Everything came from a box, bag, or can, including baked goods, but for some reason, she had a yellow plastic file box full of recipe cards. I think it was from Betty Crocker, and I'm guessing it was a gift. Every month, more cards came, and they were filed in the box. I would spend hours looking through the cards, picking out dishes that I wanted to try in the future. I don't think any of there recipes were ever made, with the exception of the Meringue Cookies. I had so much fun making them, and I remember how they had a soft crunch on the outside but were light and fluffy on the inside. It's possible we only made them once, but they left a big impression on me. I don't think I've had a Meringue Cookie since I was very small. Until now. Thanks to the magic of aquafaba, vegan meringue isn't too difficult to achieve.
I wasn't sure what would happen when I started making Meringue Cookies. I've heard people say that aquafaba can be fickle, and that they had difficulties making meringue – it never formed peaks, it melted, etc. I added the aquafaba and cream of tartar, which acts as a stabilizer, to the bowl of my stand mixer and followed Zsu's directions. I was amazed to see that it started forming peaks exactly when she said it would. Within minutes, bean liquid had turned to a white pillowy fluff. I had visions of perfectly piping Meringue Cookies into pretty shapes, but I had difficulty with the piping bag, simply because the meringue was so fluffy. So I spooned blobs of it onto the baking sheet instead.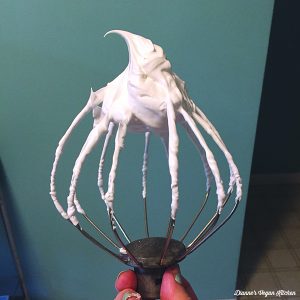 My first attempt at Meringue Cookies didn't turn out to well. They were flat, brown, and hollow. My oven tends to bake just about everything faster than the recipe says it will, despite the thermometer I placed inside that says it's always the correct temperature. I decided to give it another try, whipping the aquafaba longer and baking for a shorter period of time. The resulting cookies were a little more beige in color than I was expecting, but they were light, pillowy, and delicious. Success! Since they say that the third time is a charm, I decided to try again. This time I was able to get it the merge into a pipping bag, and the cookies baked up into little cloud-like puffs of perfection. These are the cookies I remember from my childhood.
My second foray into cooking with aqufaba wasn't as tricky as the first. After baking Vegan Meringues, I made Lemon Poppy Seed muffins, which were light and fluffy, and oh-so-tasty. I made mini muffins thinking they'd last longer than their full-sized counterpart, but that only works if you don't eat three at a time!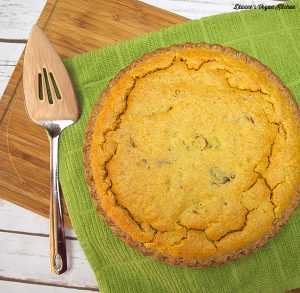 Since I was starting to get the hang of this aqufaba thing, I decided to make the Sun-Dried Tomato and Artichoke Quiche. This was slightly tricky, because the aquafaba needs to be whipped into stiff peaks, and then folded in to the quiche mixture until it deflates. By this point I felt like an aquafaba pro, and I didn't have any problems with it. It baked up light,  fluffy and delicious.
Because I'm a sucker for homemade cheese recipes, I also made the Country-Style Aged Sharp Cheese. This recipe is a breeze to make, but it takes some time to "age" in a dehydrator. Rather than making Zsu's aquafaba yogurt, I used store-bought, which I think slowed the aging process even further. Once it was finally firm and ready to eat, it was indeed sharp and cheesy – and pretty tasty, too!
If you want to enjoy some of the eggy dishes from your pre-vegan days or if you just want to experiment with a new ingredient, Aquafaba is the book for you!

Lemon Poppy Seed Muffins
Makes 12 muffins
The lemon is subtle if you use only the zest, so if you love it with more of a lemon punch, add the optional extract.
Ingredients
2 2/3 cups unbleached all-purpose flour
2 tablespoons poppy seeds
2 3/4 teaspoons baking powder
1/2 teaspoon sea salt
1/3 cup aquafaba (see Note)
1/3 cup canola or other neutral oil
3/4 cup plus 2 tablespoons granulated organic sugar
1 cup nondairy milk
1 1/2 teaspoons pure vanilla extract
3/4 teaspoon pure lemon extract, optional
1 tablespoon lemon zest (from approximately 2 lemons)
3 tablespoons coarse or raw sugar
Preparation
Preheat the oven to 375°F. Line a 12-well regular-size muffin tin with paper cups or spray the wells with oil. Set the tin aside.
Combine the flour, poppy seeds, baking powder, and salt in a medium bowl. Mix well and set aside.
Place a separate medium bowl on a folded kitchen towel. Add the aquafaba and, using a large whisk, whisk it until it is frothy, about 1 minute. Add the oil slowly while whisking to emulsify. Add the sugar in the same way. Add the milk, vanilla, lemon extract (if using), and zest and whisk well.
Add the flour mixture to the milk mixture and, using a wooden spoon, mix the batter until almost no more flour is visible. Lumps are fine; do not overmix.
Fill the wells about three-quarters full with the batter and sprinkle the coarse sugar on top. Bake the muffins until a toothpick inserted into the muffin in the middle well comes out clean, 17 to 20 minutes.
Cool the muffins on a cooling rack for 15 minutes before removing them from the tin. Cool the muffins completely before storing in airtight containers, where they will keep for a few days.
Note: Although aquafaba is best if homemade using the recipe provided in the book, you can use aquafaba from canned chickpeas. Use the organic, low-sodium, canned chickpeas and strain off the liquid into a measuring cup using a fine mesh strainer. Note the amount of liquid you acquired, then add it to a medium saucepan and bring to a boil. Reduce to a simmer and cook until the liquid reduces by 1/3. Cool the aquafaba completely before using.
Recipe from Aquafaba, copyright © 2016 by Zsu Dever. Used by permission.
Review reprinted with permission from Dianne's Vegan Kitchen.
We have a copy of Aquafaba for one lucky winner. Follow the instructions below to enter. U.S. residents only, please. Contest ends at midnight on October 31st. Good luck!