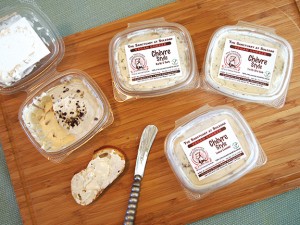 I first read about The Sanctuary at Soledad last year, when Carol and Julien Pearce decided to retire from their careers as award-winner goat cheese farmers and transition their goat farm into an animal sanctuary. They weren't giving up their cheese-making ways for good though – they announced that they were going to start making vegan cheese.
After producing award winning goat cheese for two decades, the Pearces grew increasingly concerned about the dairy industry and their role in it. The Sanctuary is not home to more than 100 animals, including goats, cows, horses, pigs, chickens, turkeys, and dogs. With The Sanctuary, the Pearces are on a mission to provide these animals with the best lives possible.
The Sanctuary at Soledad sent me 9 of their cheeses to try. The package arrived just a few days after a potluck, and I had originally thought to myself that it would have been better if it came before hand, so I could have shared it with my guests. After trying a small nibble of the cracked black pepper chevre, however, I was thankful that the package arrived when it did, because it meant that I could keep all of the amazingly incredible cheeses to myself! I was seriously tempted to eat this creamy goodness right out of the package with a spoon. Each one that I tried seemed better than the last, and it's impossible for me to pick a favorite.
The Sanctuary's cheeses are all nut based, and they area made with all natural, non-GMO, plant-based ingredients. Proceeds from the sale of their new vegan cheeses go directly to the animals at The Sanctuary.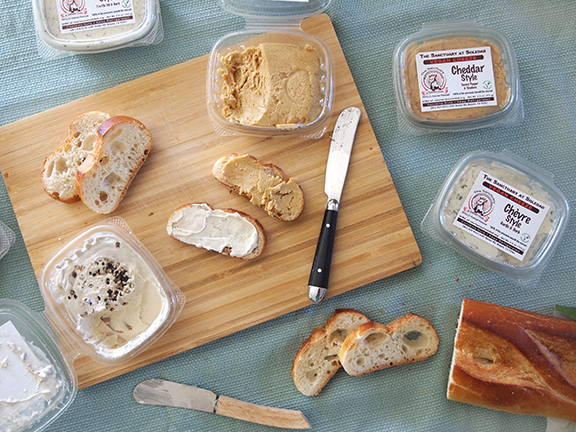 Vegan Cheese from The Sanctuary at Soledad includes: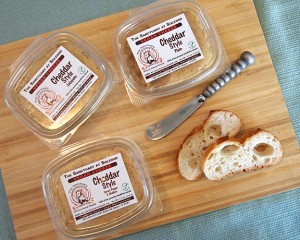 Cheddar – There are quite a lot of non-dairy cheeses on the market now, but I have yet to find a really good cheddar. Cheddar was a favorite of mine before I went vegan, and I've been disappointed in the vegan varieties that I've tried. Until now. The cheddar from The Sanctuary at Soledad is the read deal. This has the sharpness and tang of the cheddar that I remember. This cheese is perfect on crackers, sandwiches, salads, or just straight out of the package!
Jalapeno Habanero Cheddar – This cheese has the cheddar base and contains a nice heat from spicy peppers. I had it on tacos and it added wonderful flavor.
Sweet Pepper Shallot Cheddar – This cheese also contains a cheddar base, but the pepper and shallots give it a tasty sweetness. I was snacking on a little of this cheese, and got up to get something from the kitchen. I returned to find my cat Archie eating it straight out of the package. Not only is this cheese vegan-approved, it's also cat-approved.
Cracked Black Pepper Chevre – The Sanctuary's chevre is a heavenly smooth and creamy cheese that pairs well just about anything. The cracked black pepper was the first one I tried and I had a difficult time putting it down. This cheese is wonderful on crackers and flatbread.
Garlic & Herb Chevre – Many years ago when I was single, way before I went vegan, I would sometimes buy a small tub of Boursin cheese and a package of crackers, and that would be my dinner. (Ah, the life of a singleton!) With it's flavors of garlic, cilantro, and parsley, this cheese reminded me of that Boursin, and I had to resist the urge to make it my dinner. I did make it part of my breakfast however, as it's great slathered on a whole-wheat bagel.
Truffle & Herb Chevre – With white truffle oil, fresh garlic, cilantro, and dill, this cheese is also reminiscent of the Boursin of my single days. If I absolutely had to choose a favorite of all of the cheeses The Sanctuary sent me to try, it would be this one.
Lemon Lavender Chevre – This chevre is sweetened with bee-free honey, and it vaguely reminded me of the cream cheese frosting from carrot cake. In fact, I had just baked a zucchini snack cake, and I topped it with this Lemon Lavender Chevre – they were perfect together!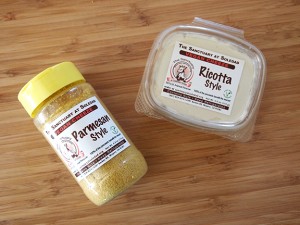 Ricotta Cheeze – Made from macadamia nuts, this cheese is light and fluffy, just like ricotta should be. I used this to make baked ziti along with the parmesan. It's perfect for pasta dishes, or even on sandwiches.
Parmesan Cheeze – A good parmesan is hard to find. In fact, I usually just make my own with nutritional yeast and almonds. The tang of English mustard powder in The Sanctuary's pine-nut based parmesan gives it a real stand-out flavor, and I have to admit that I like it better than my own recipe. This cheese is perfect for just about anything – pasta, cooked veggies popcorn, salads, or anything that could just a bit of cheesy goodness.
The Sanctuary also makes a pub cheese and an American cheese, Their cheeses are available on their website and at the Hollywood California Farmer's Market on Sundays. I would love to see these vegan cheeses in stores nationwide very soon!