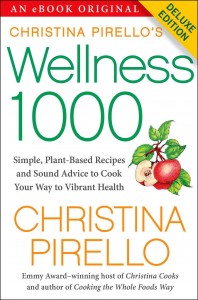 You may know Christina Pirello from her PBS show Christina Cooks or her books Cooking the Whole Foods Way, Christina Cooks!, Glow, Cook Your Way to the Life You Want, This Crazy Vegan Life, and I'm Mad as Hell and I'm Not Going to Eat It Any More. Christina has compiled  the best of her work from the last two decades – 1000 recipes, tips, techniques and health information — into a brand new e-book. CHRISTINA PIRELLO'S WELLNESS 1000: Simple Plant-Based Recipes and Sound Advice to Cook Your Way To Vibrant Health hits bookshelves… er… e-readers today, and she has been kind enough to share a recipe with Chic Vegan readers. This soup seems perfect for warming up on cold winter evenings.

Tuscan Kale Soup
Silky, white, and smooth—this creamy soup is rich with oil and garlic and laced through with energizing leafy green vegetables to create beautiful skin.
Makes 4 to 5 servings
Ingredients:
About 2 tablespoons extra virgin olive oil
1–2 cloves fresh garlic, finely minced
1 yellow onion, finely diced
Sea salt
½ cup white Arborio rice (do not rinse) or pearled barley
4 cups spring or filtered water
4–5 leaves fresh kale, rinsed well
1 red bell pepper, roasted over an open flame, peeled, seeded, and minced
Preparation:
Place the oil, garlic, and onion in a small soup pot over medium heat. When the vegetables begin to sizzle, add a pinch of salt and sauté until the onions are translucent, about 3 minutes. Stir in the rice to coat with oil. Add the water, cover, and bring to a boil. Reduce the heat to low and cook for 20 to 25 minutes, until the rice is quite soft. Season to taste with salt. Slice the kale into bite-size pieces just before stirring it into the soup.
Simmer, uncovered, until the kale is just tender, about 3 minutes. Serve garnished with the bell pepper.
Recipe from CHRISTINA PIRELLO'S WELLNESS 1000: Simple Plant-Based Recipes and Sound Advice to Cook Your Way To Vibrant Health (Perigee Epub; $12.99; November 12, 2013)