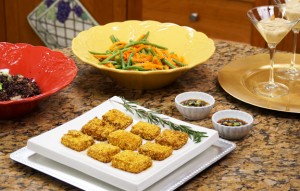 Serving tofu as a main dish can be challenging, but appetizing Coconut Encrusted Tofu Cutlets served with a sweet dipping sauce makes this vegan staple a true stand out for any meal. Whether serving dedicated vegans or skeptical omnivores, these satisfying and hearty tofu cutlets are soft and savory on the inside with an awesome crispy and crunchy coating on the outside. I like to serve Steamed Green Beans and Carrots with Orange Sauce with these cutlets – the slightly sweet flavor of the orange juice really compliments this supper. Protein rich and tasty Black Quinoa and Cremini Mushrooms makes a true standout served on the side. For dessert, Almond "Creamy" Pudding uses whipped tofu to supply a smooth, creamlike texture.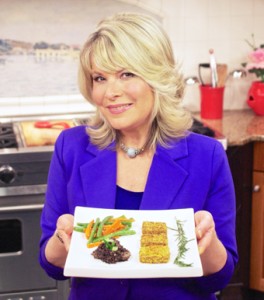 A brief word about tofu – Tofu is a versatile soy food that has been a popular mainstay in vegan diets for decades. I always purchase organic, non-genetically modified tofu, which is now widely available in most supermarkets. I like using tofu in casseroles, stir-fries, soups, puddings, smoothies, pies, sorbets and as a ricotta cheese substitute in dishes like lasagna or vegetable casseroles. Plain tofu comes in two main forms: regular (packed in water and refrigerated) and silken (in aseptic cartons and refrigerated tubs). Each type is available in soft, firm, and extra-firm varieties. Sprouted tofu (made from sprouted soybeans) is now available in some markets too.
No matter how you slice it, serve it or eat it…it's tofulicious!
Coconut-Encrusted Tofu Cutlets
Makes 3 to 4 servings
Ingredients:
14 to 16 ounces extra-firm regular tofu, drained
2/3 cup raw unsweetened shredded dried coconut
1/3 cup wheat germ (see note)
1/8 teaspoon cayenne pepper
1/4 teaspoon turmeric
1/3 cup reduced-sodium tamari
Maple-Scallion Dipping Sauce (see below)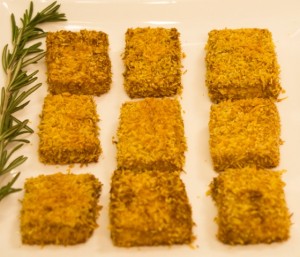 Preparation:
 Preheat the oven to 400 degrees F. Lay the tofu flat on a cutting board, and slice in half. Stand one half on end, and slice horizontally into three even slices. Stack the slices, and cut into thirds. Repeat with second half of the tofu. Line a rimmed baking sheet with unbleached parchment paper.
Put the coconut, wheat germ, cayenne pepper, and turmeric in a medium bowl and whisk together to combine. Pour the tamari into a small bowl. Dip each tofu cutlet into the tamari to coat all sides, then immediately dip it into the coconut mixture. Coat the tofu generously with the coconut mixture, patting it down to help it adhere. Put the tofu cutlet on the prepared sheet. Repeat with the remaining tofu pieces until they are all coated.
Tent the baking sheet loosely with foil, being careful not to let the foil touch the tops of the cutlets. Bake for 30 to 35 minutes. Remove foil, and bake an additional 5 to 15 minutes, or until the coating is golden brown and crunchy. Serve with Maple-Scallion Dipping Sauce on the side.
NOTE: You may use oat bran in place of the wheat germ, if desired.
Maple-Scallion Dipping Sauce
Makes 3 servings
Ingredients:
3 tablespoons maple syrup
1 tablespoon regular or reduced-sodium tamari
1 small scallion, thinly sliced
 Preparation
Put the maple syrup and tamari in a small bowl. Whisk to combine. Divide equally into three dipping bowls. Top each serving with some of the sliced scallion.
Steamed Green Beans and Carrots with Orange Sauce
Makes 4 servings
Ingredients: 
4 carrots, scrubbed and sliced into sticks
3 cups green beans, cleaned and trimmed
2 tablespoons orange juice (freshly squeezed or store-bought)
1 tablespoon freshly squeezed lemon juice
1 teaspoon maple syrup
2 teaspoons gomasio or toasted sesame seeds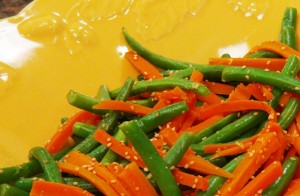 Preparation:
Fit a medium sauce pan with a steamer basket, and bring two inches of water to a boil. Add the carrots, cover, and steam for 5 minutes. Add the green beans, cover, and steam for 6 to 7 minutes more, or until the carrots and beans are crisp-tender.
Meanwhile, put the orange juice, lemon juice, and maple syrup in a small bowl. Whisk to combine.
Transfer the cooked carrots and beans to a medium bowl. Add the sauce and toss to coat. Sprinkle with the gomasio or sesame seeds toss lightly, and serve.
Black Quinoa with Cremini Mushrooms
Makes 4 to 5 servings
 Ingredients:
3 cups sliced cremini or white button mushrooms
1/2 teaspoon tamari
2 1/2 cups filtered or spring water, plus more as needed
1 cup black quinoa, rinsed and drained
1 vegan bouillon cube, crumbled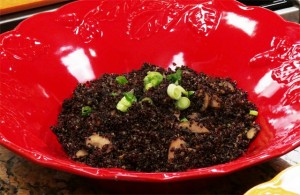 Preparation:
Put the mushrooms, tamari, and 2 tablespoons water in a medium saucepot. Cook the mushrooms over medium heat for 2 to 3 minutes. Add more water, 2 tablespoons at a time as needed, to keep the mushrooms from sticking to the bottom of the pot. The mushroom mixture should be very wet at this point.
Add the quinoa, crumbled bouillon cube, and 2 1/4 cups water to the mushrooms. Cover tightly and decrease the heat to medium-low. Bring to a simmer and cook for 18 to 20 minutes, until all of the liquid has been absorbed. If the quinoa is not completely soft at this point, add another 1/4 cup water and continue to cook for an additional 3 to 5 minutes or until all of the liquid has been absorbed.
Remove from heat and fluff with a fork. Cover and let stand for 5 to 10 minutes before serving.
Almond "Creamy" Pudding
Makes 4 to 6 servings
 Ingredients:
14 to 16 ounces soft or firm regular tofu, drained 
6 heaping tablespoons almond butter
6 heaping tablespoons maple syrup
4 to 6 almonds, for garnish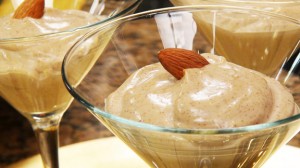 Preparation:
Put the tofu, almond butter, and maple syrup in a blender and process until smooth and creamy. Spoon into six espresso cups, four martini glasses, or four small dessert dishes and refrigerate for 3 to 24 hours. Serve chilled, garnished with a whole almond on top, if desired.