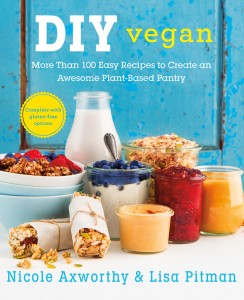 Nicole Axworthy and Lisa Pitman, seasoned cooks and long-time vegans, know it's difficult to understand what you're getting from a store-bought item unless you become an expert in analyzing labels. When you're in the supermarket, it's almost impossible to avoid buying a prepared item that doesn't contain animal-based by-products.
In their new book, DIY Vegan: More Than 100 Easy Recipes to Create an Awesome Plant-Based Pantry, Lisa and Nicole show readers how easy it is to make their own vegan pantry staples at home. Using easy-to-find, whole food ingredients that amp up flavors and nutrition, they've created over one hundred recipes that will stock pantry shelves, refrigerators and freezers: vegan milks, ice creams and butters made from a variety of nuts and seeds, home-ground flours, yummy sauces and spreads, snack foods (including a recipe for incredibly delicious vegan Pop Tarts) and an array of artisanal make-them-yourself cheeses. There's even a recipe for that beloved orange cheese sauce that coats everyone's favorite boxed mac and cheese! All of the recipes are vegan and have gluten-free options and some are from their list of raw food favorites.
Whether you are vegan, vegetarian or someone just wanting to kick the packaged-food habit, DIY Vegan by Nicole Axworthy and Lisa Pitman will show you how to create an awesome, more compassionate kitchen powered by a pantry filled with healthy, homemade, plant-based staples.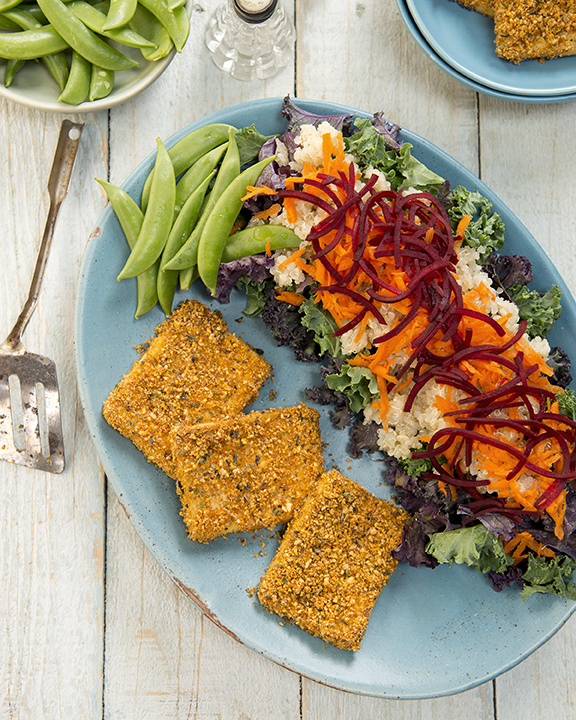 Shake & Bake Herb Breading
Makes ½ cup
Yes, this is exactly what you're thinking—a gluten-free, herb-and-spice solution for all your coating needs. If you've been missing that "shake, shake, shake" dance with a sandwich bag, well, we're bringing it back. This takes seconds to prepare and its uses are pretty exciting: you can coat tofu, sliced potatoes, and vegetables like cauliflower, or sprinkle it on top of your next brilliant batch of mac and cheese.
Ingredients
½ cup almonds, ground into a meal
1 tablespoon dried oregano
2 teaspoons garlic powder
1 teaspoon onion powder
½ teaspoon smoked paprika
¼ teaspoon freshly ground black pepper
Instructions
Combine all the ingredients in an airtight container. Store at room temperature for up to 2 months.
Try This: This is a great coating for tofu. Just dredge slices of tofu in a mixture of olive oil and tamari (1:3 ratio). Then coat each slice with the shake-and-bake mix. Preheat the oven to 350°F. Bake the slices on a parchment paper–lined baking sheet for 30 minutes. Serve with a marinara sauce or dip alongside.
Reprinted from DIY Vegan. Copyright © 2015 Nicole Axworthy and Lisa Pitman. Published by St. Martin's Griffin. Photo by Nicole Axworthy.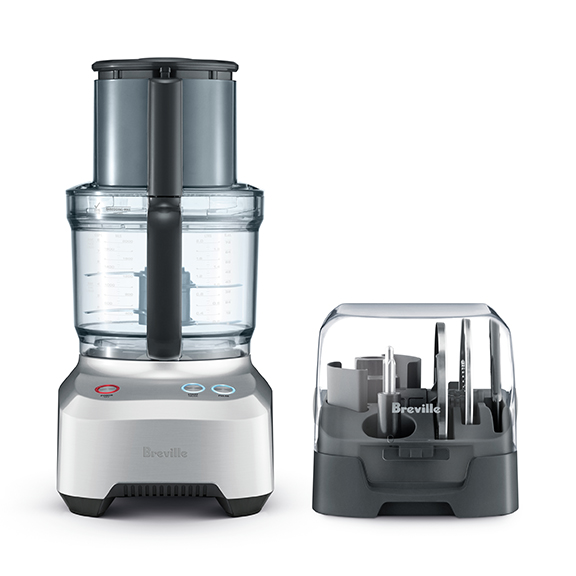 Authors Nicole and Lisa want to share two of their most-loved kitchen appliances with you! Use the box below to enter to win a Blendtec blender or Breville food processor. The giveaway is open to US and Canadian residents* only and will run until 12:00 a.m. EST on December 9, 2015. One US and one Canadian winner will be chosen. Good luck!
Prize One: Blendtec Designer 725 Series Blender ($650 value) is a sleek, top-of-the-line kitchen appliance that will meet all your blending needs! Features SmartBlend technology, multi-speed pulse, and a 100-speed touch slider for precision control. *Shipping qualification apply. One US resident will be chosen randomly through Rafflecopter.
Prize Two: Breville Sous Chef 12 Plus Food Processor ($500 value) boasts power and versatility in a more compact size! This 12-cup food processor comes fully equipped with an additional accessory kit to simplify a wide range of kitchen tasks. *Shipping qualifications apply. One Canadian resident will be chosen randomly through Rafflecopter.