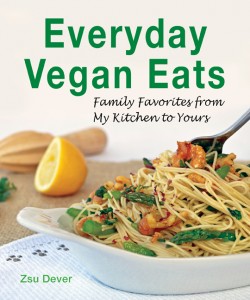 Everyday Vegan Eats, the new cookbook by Zsu Dever, is perfect for new vegetarians and vegans. It has all the recipes you need to make your fave foods sans meat products.
When first going veg it is hard to think about how you will ever be able to enjoy a dairy-free mac and cheese, good nachos, or ranch dressing. Figuring out how you can you make cake, eat a mayo-licious sandwich, or even enjoy a basic casserole, are just some of the things that freak you out or make you rethink your decision.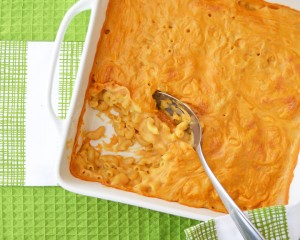 This book though? Totally wish I had had it 13 years ago – I may have gone vegan a long time ago! It took me a while to give up all meat products, but the dairy was my true holdout (and what I still struggle with daily). I just couldn't give up yogurt, cheese, ranch dressing, and cream of mushroom soup. If only I had a cookbook like Everyday Vegan Eats to make me see that I could make all those things easily. That I wouldn't have to give up anything, but just make it differently. I also really like the section about how to make all your own stocks, bouillons, dressings, etc. – awesome! Love that, and totally want to make a stock now! I also love when a cookbook comes around that has all the need-to-know information in one place – sometimes I don't want to re-create the wheel. I just want to make my fave meal, and make it fast!
What I like least about the book was that a lot of the recipes use a lot of store-bought products – vegan mayo, butter, sour cream. But when I was a new vegetarian 13 years ago, those were the things that I would have needed to know about. I could have gone to the health food stores to get them, but didn't know I should have been seeking them out.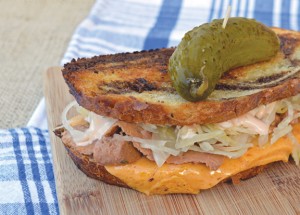 I am  a totally visual person when it comes to recipes (which is why I post the step-by-step pics of my own recipes), and I especially need the end result picture. I want to see if everything I did to make this really cool recipe turned out like it was supposed to. Cookbooks should have pictures! But honestly, that was it for the dislikes. Usually I can find lots wrong with cookbooks, but this one was for the real person, not the foodie: the one who just wants to learn to cook.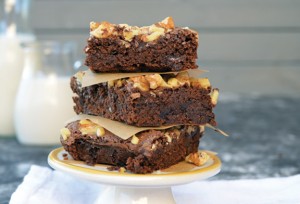 And of course I had to make something from the book – why else would a person get one, right? What to make, you ask? My all-time favorite cake ever – carrot cake. And who in the world doesn't love carrot cake? And a carrot cake that rises when it's supposed to? Perfection, I say. Believe me, I was super nervous to give another cake a try. With these directions, and the simplicity of the regular cake mix, I had no reason to worry. It was great. The recipe was easy to follow and, as someone who may or may not be a baker knows, that's what gets the dessert done correctly. And the cream cheese frosting? O. M. G. Lick the bowl good.
We have a copy of Everyday Vegan Eats for one lucky Chic Vegan reader. Follow the instructions below to enter. U.S. residents only, please. Contest ends a midnight EST on June 30th. Good luck!