Top o' the morning to ya!
By this time of year, I feel like I've exhausted my options with cabbage! Week after week of cabbage in my CSA share, means more  jars of kimchee & homemade sauerkraut than I can count, another  bowl of cabbage soup, another zesty slaw,  what more can I come up with? Well… another cabbage made it's way into my delivery last week, but this time I didn't fret. With the festive Irish holiday right around the corner, I had a fresh surge of inspiration. An "Irish Colcannon" with a vegan twist!
Colcannon
While there are many variations of this rustic dish, colcannon is traditional Irish fare made from mashed potatoes & cabbage, or kale. It is often doctored up with chives, sour cream, butter, leeks, bacon, or ham. Well, how about a vegan friendly version? I've got you covered.
To be honest, I kinda wanted to use kale in this vegan colcannon recipe, but I had to make use of that "pesky" savoy cabbage! Instead of the typical russet potato, I used a variety of Yukon gold, red & purple potatoes to add a bit of color & variation to the dish. To substitute the bacon, I used Torfurky Italitan Sauasage, as I love the flavor & bursts of sun-dried tomatoes speckled through out.  Yum!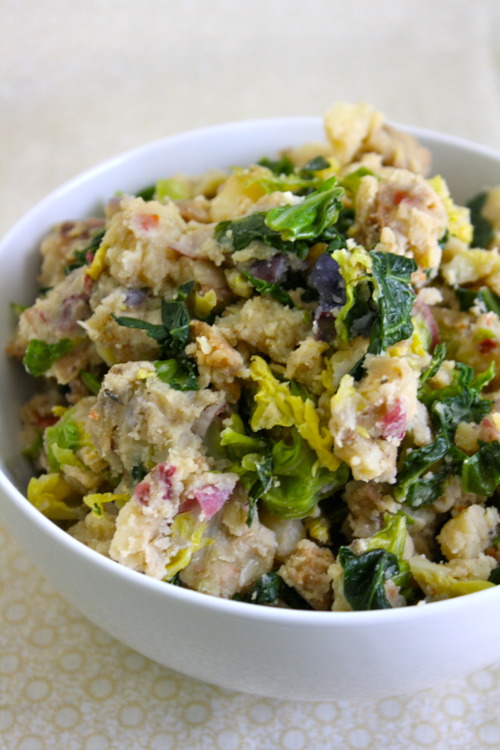 Colorful Vegan Colcannon
Serves 4 as a side dish
Ingredients: 
4 cups chopped potatoes
4 cloves garlic, minced
3 Tablespoon vegan margarine
4 cups chopped green cabbage
1 cup chopped vegan sausage
1 teaspoon Bragg Liquid Aminos (or tamari)
1 Tablespoon nutritional yeast
4 Tablespoon unsweetened almond milk, warmed
3 sprigs thyme, leaves leaves only
Sea salt & black pepper to taste
Instructions: 
Chop potatoes into 1″ cubes & bring them to a boil in salted water. You can peel your potatoes if you prefer, but I kept the skins on to boost flavor, texture, & nutritional value.
Add vegan margarine & garlic to the bottom of a dutch oven. Cook until the margarine is melted and the garlic is fragrant, then add cabbage & toss well to coat. Add sausage & liquid aminos & cook over medium heat until cabbage is cooked down & tender.
Once potatoes become fork tender, drain well, then add to the warm cabbage & sausage mixture. Mash with a large fork or potato ricer.
Mix in the nutritional yeast, herbs, & warmed almond milk. Add salt & pepper to taste. Serve immediately.
Creamy, buttery potatoes, tender cabbage, zesty vegan sausage make this a delightful & comforting dish to savor on St. Paddy's Day. As they say in Ireland, "May your pockets be heavy & your heart be light, may good luck pursue you each morning & night." 
Cheers!