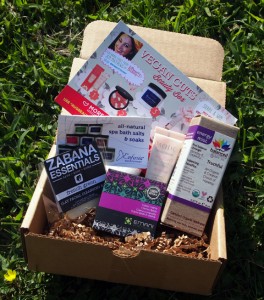 Lately it seems that the passing of time can be marked by the arrival of the Vegan Cuts Beauty Box on my doorstep. It's hard to believe that summer is almost over, but my August box has arrived, so I know it's true.
The Vegan Cuts Beauty Box is a subscription service that delivers a box full of cruelty-free cosmetics and skin care samples straight to your door every month. Each box contains 4 to 7 samples and full-sized products, and it's the perfect way for chic vegans to discover new brands and sample products without having to spend lots of money. I have very sensitive skin, and I love the Beauty Box, because I can try a product to see if it's right for me without having to commit to buying a full-sized product.  If you like what you've tried, you can purchase it's full-sized counterpart from the Vegan Cuts Marketplace. Of course, all of the products found in the Vegan Cuts Beauty Box are free of animal ingredients and are never tested on animals, and most of them are all natural and organic as well. 
The August Beauty Box was curated by Jen Mathews of My Beauty Bunny and it was full of all sorts of wonderful goodies that made me shimmer and shine, helped me relax, and left me smelling heavenly. 
Here's what it contained:
Pacifica Alight Multi-Mineral BB Cream – This all-in-one cream hydrates, primes and illuminates for a sheer, bare finish. It can also diminish the appearance of pores and fine lines as well as even out skin tone. It's made with specialized mineral technology that instantly matches your skin tone. If I hadn't seen it work on myself, I wouldn't have believed it, but yes, it does match skin tone perfectly!
Emani Hybrid Cream – This gorgeous, shimmery cream can be used on eyes, cheeks and lips. It's handcrafted, so no two compacts look the same. It's made with plant ingredients and mineral pigments, and is free of talc, petrochemicals, gluten, and parabens.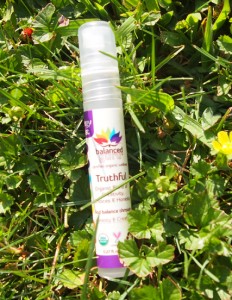 Enfusia Muscle Soak – These essential oil infused sea salts will sooth and relax sore and tense muscles. Enfusia mineral-dense salts are hand blended with essential oils of eucalyptus, mint, rosemary, and tea tree to both restore and renew the body. My muscles really need these salts after long days sitting at my computer!
Balanced Guru Energy Mist – These little sprays are formatted to balance your chakras and leave you ready to take on the world. I received Truthful spray, which is a combination of roman chamomile, cypress, eucalyptus, lemon, palmarosa, and grapefruit. It's said to help find stimulate creativity and self-expression, nourish listening skills, and help the wearer speak her truth. Who couldn't use help in those areas?
Zabana Essentials Clay Facial Cleansing Bar – This French green clay facial cleansing bar leaves skin clear and clean. It's handcrafted and formulated to detoxify, tone, and revitalize the skin. Made with natural clay, plant oils, butters, it's good for both humans and the earth!
The Beauty Box is available as a monthly subscription, which means that once you sign up, a box of new goodies gets delivered to your door every month. If you like the samples in your box, you can order their full-sized counterpart from the Vegan Cuts Marketplace.