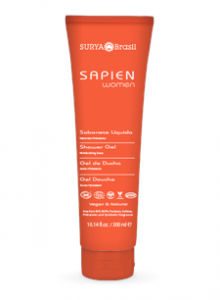 I've always had a bit of a dilemma with skin care because I really love lotions and potions, and I love trying new things, but it's really difficult to find products that I won't have a strange reaction too and aren't loaded with chemicals. It's not unheard of for me to break out or develop a rash after trying a new lotion or cream, and fragrances can trigger bad headaches. I try to steer clear of products that are loaded with nasty chemicals like petrolatum, mineral oil (which comes from petroleum), parabens, sulfates, phthalates and BHT. Finding products that won't cause a skin reaction or a headache and aren't loaded with toxins can be tough, but I'm always keeping my eye out for them, so when Surya Brasil asked if I wanted to sample products from their new Sapien Women line, I was intrigued and said yes. I'm pleased to say that I enjoyed everything that was sent to me and I was able to use them without incident.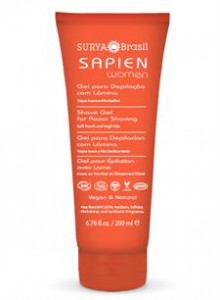 Sapien Women is a complement to the Sapien Men line. After hearing from many women that they were using the men's line, Suyra Brasil decided to create a line that would fit women's needs. This eco-friendly body care line all vegan, not tested on animals and almost all of the ingredients are natural in origin. Many of the ingredients are also organic and the products are certified ECOCERT. All products in the Sapien Women line contain contain sustainably harvested exotic ingredients like Pracaxi oil, Cupuacu and Murumuru butters and coconut bark. They all also contain coconut and mango essential oils, giving them a tropical feel, which can be rather uplifting in the dreary cold autumn and winter months. They all have a rich and luxurious feel on the skin too. Using them made it feel as if I was away on vacation or on a spa retreat every morning!
The Sapien Women line consists of :
Sapien Women Shower Gel This shower gel is rich in organic Amazonian ingredients like Pracaxi oil, Aloe Vera juice, Amaranth protein and Vitamin E which helps silken the skin and provides deep hydration. Perfect for combating dry, winter skin.
Sapien Women Body Moisturizer  This rich body lotion contains Cupuacu and Murumuru butters along with other safely harvested ingredients from the Amazon Rainforest for ultimate skin hydration. This moisturizer will help keep your skin from becoming dry and scaly in the cold months. 
Sapien Women Shave Gel This shaving cream has a soft touch and is perfect for use on the most delicate of skin including bikini line, underarms and legs.  
Sapien Women Facial Scrub This scrub contains coconut bark and organic buriti to help remove dead cells and impurities from the skin while increasing circulation and glow.  
Sapien Women Body Scrub Amazonian white clay enhances the exfoliation power of this scrub, leaving skin silky smooth.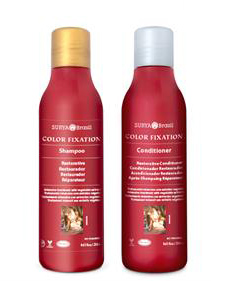 Suyra Brasil is probably best known for their line of henna hair coloring products and their color fixation products, and they also gave me samples of their Color Fixation restorative shampoo and conditioner. My hair seems to be just as sensitive as my skin, and often products can leave my hair looking limp or frizzy. (And strangely sometimes both limp and frizzy at the same time.) Color Fixation restorative shampoo and conditioner gave my hair both body and shine. I was very pleased with it, and I will definitely buy more when I run out.
I'm very happy with the Sapien Women line. The eco-friendly, vegan products were perfect for my sensitive skin and I felt save using them knowing they aren't filled with toxic chemicals. They make excellent stocking stuffers for the chic vegan women in your life this holiday season.
var addthis_config = {"data_track_clickback":false,"data_track_addressbar":false,"data_track_textcopy":false,"ui_atversion":"300"}; var addthis_product = 'wpp-3.5.9';