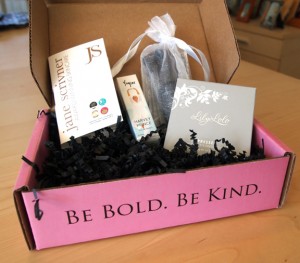 Are your familiar with Petit Vour and their monthly box subscription? If not, let me introduce you! Petit Vour is a luxury vegan beauty box company featuring boutique and high-end vegan brands. The Petit Vour box is a subscription service that delivers beauty products right to your door every month. Inside the box, you'll find a range of chic vegan beauty products that you can apply, blend, buff, groom, lather, soak and spray. The samples are generously sized – and sometimes even full-sized – with enough product for you to figure out if it's right for you. 
I love the idea of being able to try samples of products before I buy them. I have sensitive skin (and a sensitive nose), and I've been known to break out, get headaches and just generally feel ill after using certain beauty and skin care products – even natural ones. There have been many tubes, tubs and pots of products that been relegated to my hall closet or donated to friends after causing me problems. I also love Petit Vour, because they have high standards when it comes to choosing products for their customers. All products are 100% cruelty-free, which means they are free of animal products and aren't tested on animals. They are also free of parabens, phthalates, formaldehyde, sulfate and a lot of other nasty stuff that humans (and animals) shouldn't be slathering on their skin.
Petit Vour sent me a their April box to try out, and I was quite pleased with its contents!
Lily Lolo Eye Shadow Quad – I've been wanting an eye shadow quad like this for some time now, so this full-sized compact was my favorite item in the box. All of the affordable vegan eye shadows I've found have contained chemicals like parabens, and I not about to put toxins next to my eyes. This mineral makeup is toxin free. The limited edition color palette can be used for everyday wear or layered to create a smoky affect. With a $32 retail value, this eyeshadow worth the cost of a monthly subscription!
Kimberly Parry Organics Creamy Cleanser – This creamy cleanser has a fresh, citrusy scent and is high in sea minerals and vitamins, which means you're feeding your skin while you're washing it. It also contains (plant-based) lactic acid, so skin is gently exfoliated while being cleansed. It leaves skin feeling soft and silky, with no residue.
Jane Scrivner Skincare Oil – As I've mentioned before, my skin has been been a little weird since the surgery I had in March. It's been a little dry in places and red and itchy in others. This Skin "Condition" Oil has been helping to even out my skin tone and calm the itchiness. It's made with organic argan oil and frankincense essential oil, and it's good for skin conditions such as eczema, rosacea and psoriasis.
Harvey Prince Perfume –Like the Lily Lolo Eye Shadow Quad, Harvey Prince's Yogini roll-on perfume is another full-sized item. It's a combination of sandalwood, grapefruit and Egyptian Myrrh, and it's been formulated to calm the mind, soothe the soul and free the spirit. The retail value for this perfume is $21, which again, is more than the cost of the monthly box subscription.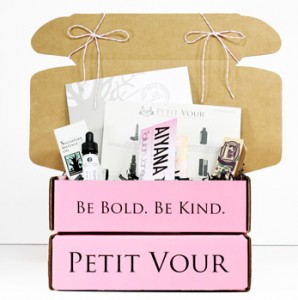 The Petit Vour box is available in as a monthly, 3 month or 6 month subscription, and is just $15 a month with free shipping. The added value of all of the products together is probably triple that, so it's well worth the cost! Visit the Petit Vour website to subscribe.
Petit Vour has a 3 month box subscription for one lucky Chic Vegan winner. Follow the instructions below to enter. US residents only, please. Contest ends at midnight EST time on May 18th, 2014. Good luck!