I love soup.  I can eat it anytime, winter or summer.  Granted, in the summer I might be a sweaty mess after polishing off a bowl of chili, but in the winter I welcome the heat of a good bowl of hot soup.
I really needed that feeling the other day at work.  It was bitterly cold outside.  So cold that most of us didn't bother taking off our winter scarves while we worked at our desks.  When lunchtime rolled around and my feet and fingers were still chilly, I remembered the Spicy Black Bean & Kale Soup that Pacific Foods sent me to try a few weeks ago.
I'm no stranger to prepared soups.  I make a mean minestrone, but I like variety and I don't like leftovers.  I'd rather open my cupboard and choose the flavor I want, knowing that I'll get a filling meal with little effort (and no leftovers, since I usually eat both servings at once).  I have a few favorite brands, and Pacific Foods is one of them.  The Oregon-based company makes soups, prepared meals, non-dairy milks and other products.  The aseptic containers are recyclable, and you don't have to worry about a bunch of strange additives and preservatives.  These are all good things in my book.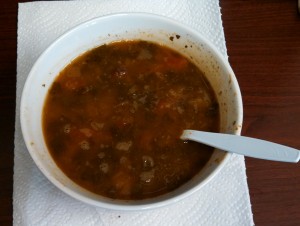 So, how was the soup?  I ate it straight up and I have to say, it was good.  To start, the ingredient list reads almost like a soup recipe you'd find in a cookbook:
INGREDIENTS
WATER
BLACK BEANS*
TOMATOES*
KALE*
ONION*
CORN STARCH*
CARROTS*
CELERY*
GARLIC*
SEA SALT
APPLE CIDER VINEGAR*
CHILI POWDER (CHILI PEPPERS*, SPICES*, SALT, GARLIC*)*
SPICES*
*ORGANIC
The soup itself is pretty thick and definitely has a good spicy kick.  I tried it straight up, and it was great as is.  Adding a bit of guacamole or vegan cheese wouldn't hurt, but isn't necessary.  And who doesn't love extra greens?  The kale added a nice touch.  
At 120 calories, no fat, and 7 grams of protein and fiber per serving, the nutrition profile is good.  On the downside, like most prepared soups it is not low in sodium, so keep that in mind.  But overall, if you are looking for a hearty soup that will warm you up on a cold day, this is a good one to try.
To celebrate National Soup Month Pacific Foods would like to share some of their vegan soups with a lucky Chic Vegan reader! Follow the instructions below to enter. U.S. residents only, please. Contest ends at midnight EST on January 29th. Good Luck!