I've always had an interest in nail polish, but somewhere over the course of the last 6 months it's developed into a slight obsession, so when Lisa Wilson contacted me and asked if I'd like to try her new vegan line of nail lacquer, I immediately said yes.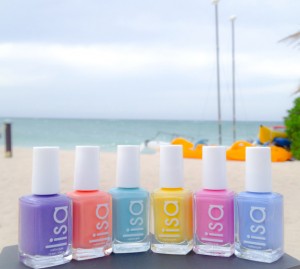 Lisa Nail Lacquer polishes are vegan, cruelty-free, non toxic, and made in the U.S.A. They're also "4-Free" which means they don't contain Formaldehyde, Formaldehyde Resin, Dibutyl Phthalate, and Toluene. The lacquer was created by Lisa Wilson, a former beauty magazine editor, who was bored with seeing the same old nail polish colors cross her desk for review. Just like any other mom on a budget, Lisa didn't want to spend $10 or more on a bottle of nail polish only to have it chip the next day. When Lisa was pregnant with her second child, she wanted a great manicure, but no longer trusted big-name brands' claim of being toxin-free, so Lisa Nail Lacquer was created.
Lisa Nail Lacquer comes in two collections, each with 6 colors. The Perfect Pastels Collection is made up of polishes in soft and subtle tones: Summer Fling, Sweet Papaya, Island Breeze, Rise and Shine, Perfect Pink, and Denim Cutoffs. The Summer Love Collection contains lacquers in bold colors: Beach Bonfire, Pink Flip Flops, Jamaican Sun, Piña Colada, Sexy on the Beach, and Pistachio Ice Cream.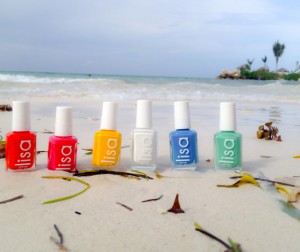 Lisa sent me a bottle from each collection – Pistachio Ice Cream from the Summer Love Collection and Rise and Shine from Perfect Pastels. Before trying the lacquers out, I assumed they would need several coats for full coverage, since they're both relatively light colors. I was pleasantly surprised to find that they only needed two coats, which is the same as with any other polish, and the colors didn't look as light on my nails as I thought they would. I rarely paint my fingernails – I usually just use polish on my toenails, and I'm pretty brutal with my feet. I walk around the house barefoot, and in warm months I pretty much just wear sandals. I'm also a little clumsy, so I'm always tripping or stubbing toes on various pieces of furniture in my home, and I'm happy to report that Lisa Nail Lacquer held up to my wear and tear without chipping, cracking or peeling, the way some natural polishes can. I'm usually not a fan of yellow polishes (or the color yellow in general), but I really loved the way Rise and Shine looked on my nails and it just may have made a yellow lover out of me. Pistachio Ice Cream is the perfect color and I'll probably end up wearing it throughout most of the summer.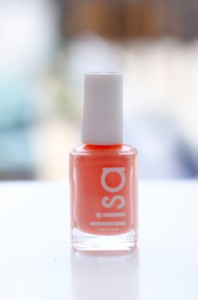 Visit the Lisa Nail Lacquer website to order. Bottles are $7 each.
You're in luck because we have a bottle of Lisa Nail Lacquer in Sweet Papaya for one lucky Chic Vegan reader.  Follow the instructions below to enter. U.S. residents only, please. Contest ends at midnight on Sunday, July 20, 2014. Good luck!