Growing up as a competitive swimmer and later becoming an ocean lifeguard, triathlete, and fitness professional, my skin and hair have definitely experienced their fair share of drying elements, harsh chemicals, and long, sweaty training sessions. I definitely appreciate products that can handle my busy lifestyle without irritating my skin and hair, while being eco-conscious and cruelty-free. The good news is that there are now a growing number of options on the market that are free of animal products and that eschew animal testing, as well as products that use more natural ingredients. The bad news is that in my experience, not all of these products actually work well with my constantly sweaty, chlorinated, and often dry hair.
When I was given the chance to sample select products from Surya Brasil's Amazônia Preciosa collection, I was intrigued to see how their products would compare. Their Amazônia Preciosa Gift Set seemed like a great place to start, given that it contained a bit of everything: one Cupuaçu shampoo (sulfate-free and rich in fatty acids—perfect for my color-treated hair) and one conditioner, one exfoliating shower gel, and one "intense revitalizing" Action hand and body lotion. The connecting element within these products, as well as the rest of the Amazônia Preciosa line, is that all of them contain essential oil from the bark of the Preciosa tree. Harvested sustainably and having a very unique fragrance incapable of being reproduced artificially, Preciosa essential oil is moisture straight from nature with a very exotic, distinct scent—something that to me smells like a cross between coconut, vanilla, chili spice, and lavender.
Upon application, the plant-based shampoo does not foam, being largely all natural and free of sodium lauryl sulfate (which gives most commercial shampoos their foam). I probably used a tad more than I needed just to make sure it was evenly distributed through my hair, but it smelled amazing so I did not mind. The conditioner had a very similar, slightly spicier smell, and definitely felt more natural (a.k.a less instantly slick and conditioning) than commercial conditioners. I had to comb quite a bit of it through my thick hair, but it did get the knots out. The real magic with my hair happened after I got out of the shower. Normally, I have to blow dry my hair with some leave-in conditioner in order to get it smoothed out, but I decided to air dry after using the Amazônia Preciosa hair products. Not only did my hair dry much straighter and silkier than it typically does, it felt really bouncy and super healthy…like the moisture had actually seeped in and given my hair a big boost. Even my boyfriend commented on it…and he is definitely not one to notice subtle changes in hair! Though it definitely takes a bit longer to massage the shampoo and conditioner into one's hair (so may not be the best option for people in a rush), the end result is quite impressive. It made me really want to try the Amazônia Preciosa Buriti shampoo—made specifically for damaged and color-treated hair but not included in the gift set—to see how it differs.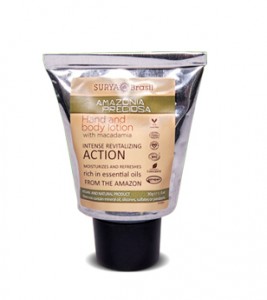 My favorite item in the gift set was the lotion, which I enjoyed even more than the bath products. Made with macadamia, aloe vera, and cocoa butter amongst other natural moisturizers, a little really goes a long way with this lotion. I typically have to reapply several times throughout the day, especially during the winter, but this lotion kept my skin super smooth for the whole day, and felt light and fast absorbing.
As Dianne mentioned in her recent review of another Surya Brasil line of products, the company is certified by Ecocert, an internationally-accepted certification that provides consumer transparency in relation to the natural and organic origin of the ingredients used in the products. All of the ingredients are free of GMOs, and many are also organic. This, along with the super ecological packaging of the products and biodegradable inserts, makes the Amazônia Preciosa line not only gentle on your body, but also gentle on the earth. If you are someone who really values buying your cosmetic and body care products from a source that cares about their effects on the environment, this is one of the most conscious companies I've come across.
If you're looking for a great last-minute holiday gift for an eco-conscious gal who appreciates being pampered (or want to treat yourself!), I would definitely recommend checking out the Amazônia Preciosa's gift set. It's enough of a sampler to become acquainted with some of their most popular products, and true to the Surya Brasil's efforts to give back to the earth, it even comes with a tag made of seed paper so that you can grow a little green surprise at home.
Suyra Brasil has graciously given us a Amazônia Preciosa's gift set for one lucky Chic Vegan reader. Follow the instructions below to enter. US residents only, please. Contest ends at midnight EST on December 22, 2013. Good luck!
var addthis_config = {"data_track_clickback":false,"data_track_addressbar":false,"data_track_textcopy":false,"ui_atversion":"300"}; var addthis_product = 'wpp-3.5.9';