If you are following along, you will have completed the first assignment in Part I of this series: mindfulness regarding the plastic around you. I hope that it has sunk in just how saturated we are with plastic; it is literally everywhere and in practically everything – including us.
At this point it is easy to throw in the towel and just give up – yes, we are surrounded by it and there is nothing I can do, so I will do nothing. But that is not the mentality that led you to a compassionate lifestyle and I implore you not to give up. Start with these first easy steps to reducing your plastic footprint: single-use grocery bags and water bottles.
Plastic Grocery Bags
Americans use 100 BILLION plastic single-use grocery bags each year. That's about 12 MILLION plastic bags in ONE HOUR.
One reusable bag can replace about 1,000 grocery bags in its lifetime. If you haven't yet made the switch to reusable bags, here is where you start.
One might be tempted to switch to paper bags, since, well, it isn't plastic, but that is a whole other environmental nasty ballgame in itself. Never mind the trees that are used to make the bags, the energy and other resources needed to make them are just as evil, including cleaning and preparing the bags using more chemicals.
If you are squeamish about starting to accumulate reusable bags, consider that they pay for themselves in no time, as most grocers offer bag refunds whenever you use them.
If you keep forgetting to bring your bags, make a pact with yourself that if you forget them you will have to do without bags for the trip – no taking plastic or paper because you messed up. It won't take more than a few times of your thoughtlessness to ensure that you will remember. Emptying your cart of goods into your car and then carrying them into your home will be just annoying enough that you will remember to bring your bags.
Most grocery stores now sell reusable bags made of plastic bottles (down-cycled) so you can start there, but consider buying your bags from companies that will take them back once they break or are no longer needed, to ensure that there is a positive end-life to your plastic. Or go with canvas bags. Reuse It is a company that sells a great assortment of bags, lunch containers, bottles and other sundry of reusable items. Chico Bags is another wonderful company that sells a wide range of reusable bags, bottles and other useful items. In addition, they will take back any broken or unused items to down-cycle or donate.
And, mind you, the numbers above do not include other single-use plastic bags, such as produce, bread or the other tons of other stuff that are packaged in plastic bags and then tossed.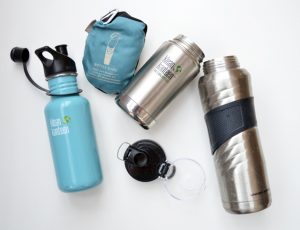 Plastic Water Bottles
Last year Americans used 50 BILLION plastic bottles, that is around 170 bottles per person, per year. Of that 50 billion, 38 BILLION were NOT recycled. That means that only about a quarter of water bottles are recycled. Before you climb into your comfy "but I recycle" blanket, consider that "recycling" water bottles is only a down-cycle, meaning that it is not cyclic – that PET water bottle has this life and one more (turned into park benches, bridges or fiber) before that, too, is sent to the waste heap, where, if it is lucky, will wind up in a landfill instead of the ocean.
People, this is another easy fix! One that will even save you money in the long run. Being ripped off by water bottle manufacturers irks me and it should irk you, too. Buying prepackaged water in bottles is completely unnecessary and, in most cases, isn't even good for you; the practice of filtering the water is questionable at best and belief in a corporation's good word and honesty should be at the top of your conspiracy list.
Conspiracies aside, it is a fact that you do not need to buy a bottle of water – you can take it with you. If you like cold water, get one that is insulated and fill it yourself. Truly, nothing could be easier – except maybe taking your own grocery bags to the market with you.
Your real important question shouldn't be "can I do this?" or "should I do this?" instead it should be "which bottle should I get?"
Criteria:
Insulated or not? If you like it cold, get insulated.
Material? I like to use stainless steel bottles (definitely NOT plastic), but some people like glass ones. If you opt for glass, consider using a mason jar with an attachment like this, from Cuppow.
The lid: this one is important; you should be able to clean the lid thoroughly – and that means nothing fancy and complicated. Use the simplest lid that you can dry out well to avoid mildew buildup.
In addition to regular stainless steel bottles, Klean Kanteen also sells insulated bottles and they have a whole range of products. The lids are simple enough and they even have a bamboo cap version! Check out the glass water bottles from Reuse It. You can also purchase a bottle sling – makes carrying the bottles, especially on walks, much easier.
In any case, go get yourself a bottle and, more importantly, USE IT!
This week's assignment: reusable bags and water bottles. It's time to ditch the most used single-use plastics in your life and start becoming accountable for your plastic footprint. Bags are as inexpensive as 2 or 3 dollars each and a good water bottle will pay for itself in a month. Remember, if you forget the bags you will have to do without, so keep them in your vehicle or by the front door once you empty them.