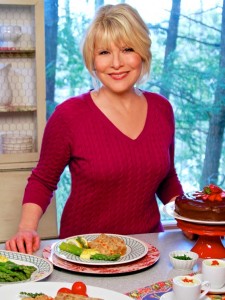 Laura Theodore is the queen of vegan media. She's a popular television and radio host, vegan chef, cookbook author, award-winning jazz singer and actor. Her newest cookbook Jazzy Vegetarian Classics Vegan Twists on American Family Favorites hit bookshelves yesterday, and her cooking show Jazzy Vegetarian is now in its third season on PBS. It will be premiering on the Create channel tomorrow, September 19th.
Laura will be in Cleveland Ohio tonight (September 18th) signing copies of her newest book, and I'm happy to be hosting her in Montclair, New Jersey on September 29th for a book signing at Watchung Booksellers. Be sure to tune in to Laura's radio show today at 1:00pm EST to hear Laura and I chat about vegan communities, health coaching and Chic Vegan.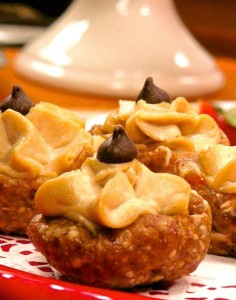 Chic Vegan – What motivated you to become vegan. Was it an overnight switch or more gradual shift?
Laura Theodore – Great question! We often talk about this on the radio show. I think that adding one plant-based meal into your weekly menu plan is the best way to get started on the path toward becoming vegan. I was first motivated to become vegetarian for health reasons and then I was motivated to go vegan regarding compassion for animals. I made the switch from omnivore to vegetarian to vegan over many years – cutting out red meat first, then chicken and so on.
CV – When people learn that you are vegan, what is the #1 question they ask and what is your response?
LT – People always ask where and when can they watch the Jazzy Vegetarian television show – so they can learn more about it!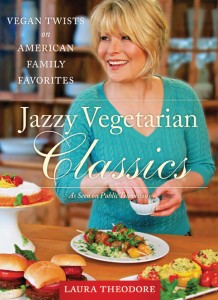 Congratulations on your beautiful new cookbook Jazzy Vegetarian Classics! Tell me a little bit about it what inspired you to write it.
LT – For years I have been developing countless vegan recipes based on family favorites and American classic-style meals. When people go vegan, many (like myself) still crave favorite dishes they ate before they stopped eating animal products. I wanted to write a book that addressed this issue by sharing my tasty, traditional-style recipes like "Mushroom-Nut Burger and Confetti Fries," "Spaghetti and Wheatballs," "Blueberry Cheeze-Cake,' and so many more!
CV – Your cooking show Jazzy Vegetarian is now in its third season on PBS and will premiering on the Create channel on September 19th. You're one of the first people to have a vegan cooking show on national television. How did it come about?
LT – To be truthful – hard work, determination and a few colleagues who believed in the concept that more and more people were becoming interested in delicious, easy to prepare plant-based recipes! The process from inception to the first airing of our show in October 2011 took about 6 years.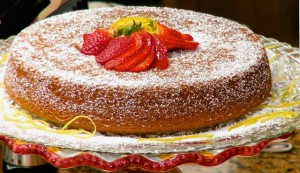 CV – In addition to your cookbooks and television show, you have a weekly radio show. Tell me a little bit about it.
LT – I wanted to have a platform to share my plant-based recipes, tips and eco-chic ideas where anyone and everyone would have the opportunity to listen on a regular basis.
We'll be celebrating our 200th show on September 25th! Jazzy Vegetarian Radio focuses on entertaining and informative interviews with respected doctors, nutritionists, vegan authors, musicians, actors, environmental activists and many more. The show is served up with some fabulous music on the side!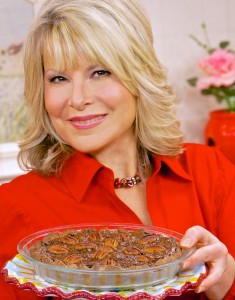 CV – What inspires you to create new recipes?
LT – When I have a craving for a certain taste, food or dish and I have not developed a vegan version – I get going on it! Or, if I return home from my farm market with copious amounts of a certain kind of vegetable or fruit, I am instantly inspired to create a recipe that showcases that type of produce. For example, a few weeks ago I had a HUGE summer squash that I had gotten from a farmer friend of mine and I was inspired to make an awesome summer squash meat-less loaf for a dinner party I was hosting. My friends said it tasted like meat! I am often inspired too, by the wonderful comments and questions that I receive daily on facebook and twitter. Often someone will ask if I will share a vegan version of a particular dish – and if I do not already have a recipe to fulfill the request – I start thinking about it!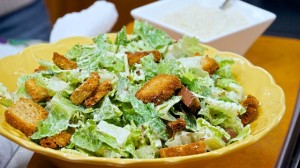 CV – Do you have any favorite dishes from your cookbooks?
LT – I love them all! BUT if I had to choose, I would pick my Spaghetti and Wheatballs with Caesar Salad.
CV – What is your favorite vegan indulgence?
LT – Dates!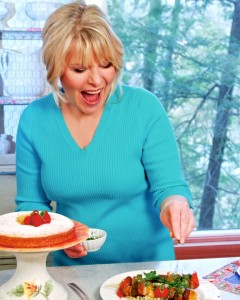 CV – What one vegan product could you not live without?
LT – I love using commercial nondairy milk. There are so many flavors available in supermarkets now. It makes my recipe prep so much easier!
CV – In addition to being a chef, author, television show hostess and radio show hostess, you're also an accomplished singer! Where can people hear your music?
LT – Thanks for asking! Please visit www.lauratheodore.com for information and links to all of my CDs!