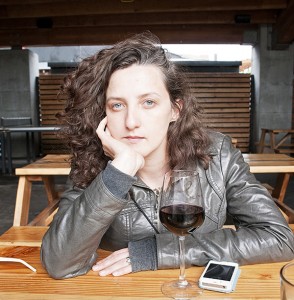 Holly Feral is the Editor-in-Chief of Driftwood Magazine, the travel and culture digest for the graduated vegan. Holly cut her teeth working for community papers and the Tennessean. Freelancing as a writer and photographer since 2006, she has experimented with fine art photography, historical processes and freelance commercial photography since moving to the Pacific Northwest.
I recently had the chance to chat with Holly, and we talked about veganism, travel, and Driftwood.
Chic Vegan: What motivated you to become vegan? Was it an overnight switch or more gradual shift?
Holly Feral: Was my vegan switch overnight? Yes and no. Several years ago, I read the excerpts from "Slaughterhouse" in Skinny Bitch and it traumatized me into making the switch overnight. However, I always knew that animal cruelty was wrong and spent years waffling through various degrees of vegetarianism. Thank goodness my inner conscious finally won over all of the doubt instilled in me with the misinformation and pressure of society.
CV: When people learn that you are vegan, what is the first question they usually ask, and what is your response?
HF: Maybe it's because I live in Portland where it is so common, but when people first learn that I'm vegan, they usually try to relate to me. If they do ask me questions about it, it strikes me as being genuine interest and curiosity. They'll want to know why I became vegan or what are some of my favorite vegan restaurants.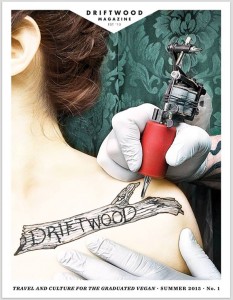 CV: Tell me a little bit about Driftwood Magazine and what inspired you to create it.
HF: I was developing a concept for a travel magazine when I became vegan. Obviously, everyone wanted to know how I was going to travel and be vegan. I started looking for answers to that question and it opened my eyes to the fact that there are tons of people doing it and there are vegan communities all over the world. People have this idea of veganism, that it's just a bunch of hipster Americans in their teens and early 20s. People like to talk about it as a stage Americans go through, like it's just part of the experimental college phase.
Veganism is a philosophy that is threaded through the history of nearly every culture. Although the word itself is relatively new, the concepts of animal rights and respect of nature are fixtures in every human society, even if they aren't agreed upon.
Vegan communities are blowing up in so many countries, and they each have their own cultural flavor.
CV: What challenges did you face in creating Driftwood?
HF: It has been an interesting task to get people to view veganism through a different lens. As soon as I say "vegan magazine," they say "recipes." Or they expect the ole, "Here's why I'm vegan and you should be too" article.  
CV: Do you have any advice for budding entrepreneurs who might want to start their own magazine?
HF: Maybe take a business class or two before you fully throw yourself into it. I come from a background of writing and photography, and although I have been a publication editor before, I am still much more experienced on the creative side of the business. Luckily, the Driftwood team is made of three editors who each have vastly different strengths, so we fill in each other's gaps.
So, maybe the real advice is to find editors with different skills and lots of passion.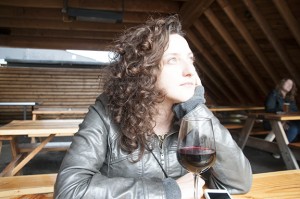 CV: Can you tell me a little bit about Vegan Faces?
HF: Vegan Faces is our attempt to reveal the true nature of the vegan community by photographing every vegan alive.
Vegans are as stigmatized as a group can be. I'm inspired by the honest simplicity of the style of portraiture that you see in projects like Humans of New York, and I think it offers a great opportunity for vegans to see each other in more basic terms of our humanity. We try to get people to come out from behind the curtain of veganism to talk about themselves and their daily lives. We tend to only see each other's activism; Vegan Faces is an opportunity to see each other in the context of our lives, goals, dreams, and fears.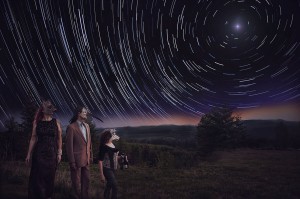 CV: The main focus of Driftwood is travel. What is your favorite place to visit?
HF: I would have to say that my favorite place to visit is anywhere I haven't already been. But my favorite place that I have already been would probably be Pololu Valley of Big Island Hawai'i.
CV: What is your favorite vegan indulgence?
HF: Gosh, there's so many! I'm really loving all the vegan cheeses coming out right now–Vtopia, Myoko, Heidi-Ho! So yum!
CV: What vegan product could you not live without?
HF: Zuzu Luxe eyeliner.
CV: In your wildest dreams what will your life look like in five years?
HF: I will be traveling the world full time and publishing Driftwood from the belly of a sailboat.