This is my go-to chili recipe. If I have cooked lentils on hand, I use them instead of the Soy Curls. You can also add some dark red kidney beans, if you like, to change things up a bit. If using Soy Curls, place them in a heatproof bowl with enough hot water to cover and set aside for 10 minutes to reconstitute.

Everyone's Favorite Black Bean Chili
Ingredients
1 cup reconstituted crumbled Soy Curls or texturized soy protein granules (optional)
2 (15.5-ounce) cans black beans, drained
1 (24-ounce) jar chunky tomato salsa (hot or mild)
1/4 cup bottled barbecue sauce
2 tablespoons chili powder, or to taste
1 teaspoon dried oregano
1/2 teaspoon ground cumin
Salt and ground black pepper, to taste
1 1/2 cups frozen corn kernels, thawed
Water, as needed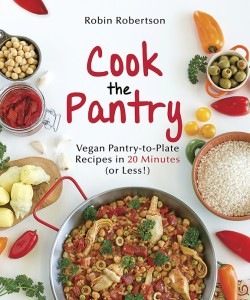 Preparation
Combine the ingredients (including the reconstituted Soy Curls, if using) in a saucepan, reserving 1/2 cup of the corn. Cover and cook over medium heat, stirring occasionally, until heated through and the flavors are well blended. Add as much water as needed to create a sauce and prevent sticking to the bottom of the pan.
Reduce heat to medium and simmer, stirring frequently, until heated through and long enough to cook off any raw taste from the chili powder, about 15 minutes. Garnish with the remaining corn kernels.
Recipe from Cook the Pantry © 2015 by Robin Robertson. Photo by Annie Oliverio. Used by permission Vegan Heritage Press LLC.