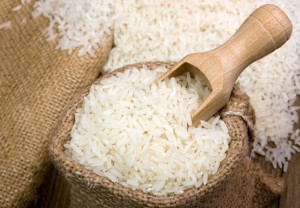 In Italy we have some beauty secrets handed down from mother to daughter … They are cheap and effective DIY lotions, oils and remedies. We call them our Grandma's secrets because they are the kind of advice and suggerstions our grandmothers give us to solve minor annoyances and blemishes. Today I want to share with you a Grandma's secret I use quite often … a gentle face scrub made from rice and coconut flour. The ingredients of this scrub are easily available at any supermarket and you probably already have them in your own kitchen.
Below you will find a list with the ingredients, possible alternatives and the benefits of the various ingredients on your skin.
DIY Rice and Coconut Face Scrub
Ingredients and preparation
In a empty jar (better if recycled from a finished product) gradually add and mix the following ingredients:
1 teaspoon of shea/karite butter (or coconut oil, or any other vegetable butter)
3 teaspoons of coconut flour
2 teaspoons of rice flour (or chickpea flour or white flour)
1 teaspoon of rice starch (optional: it makes the scrub creamy)
1 tablespoon rice oil (or ½ tablespoon of rice oil and ½ tablespoon of jojoba oil, or 1 tablespoon of another oil of your choice) to which you have already added 3 drops of essential oil according to your skin type*
Mix the ingredients. The end result has a grainy texture. It can be stored up to four weeks – if you are careful about how you use it – because it does not contain water (water makes it perishable). It is also a great gift idea if you present this scrub in a pretty jar!
How to use
This scrub can be used every two or three days because it is very gentle on your skin. The best way to use it is to get it out of the jar with a dry spoon (so the ingredients do not get in contact with water) and spread it on your wet face with wet hands. This process creates a sort of emulsion. Massage it gently for five minutes and then rinse it off with water. Then you can use a tonic (like this one) and your favourite lotion (this step is not always necessary because this scrub is also moisturizing). All beauty treatments should be done in the evening before going to bed because the ingredients work better when you are resting.
Ingredient benefits
Shea Butter: softening, nourishing, hydrating
Coconut flour: gentle exfoliating
Rice flour: nourishing, anti-inflammatory, refreshing, cleansing
*Essential oils should be chosen according to your skin type:
Lemon and rosemary essential oil – for oily skin
Tea tree essential oil – for blemished skin
Lavender essential oil – for sensitive skin
Geranium and rose essential oil – for dry skin