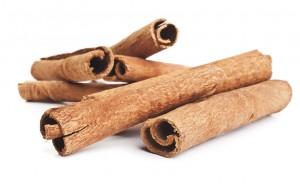 Today I share with you a magic cinnamon purifying face mask and a soothing camomile toner I particularly love, not only because you might already have all the ingredients in your pantry, but also because these two recipes are really effective.
My purifying face mask excellent against pimples and black heads. It reactivates the circulation and speeds up the process of eliminating skin impurities. Those who have a very delicate skin need to be careful with this mask: it is better to test it on a hidden area of your body and see how your skin reacts; you may decide to use it on the "T-area" only : since it reactivates the circulation, thanks to the presence of cinnamon, you may experience redness and tingling – it's normal.
Below you will find: the list of the ingredients, how to use the mask and finally the properties each ingredient. I use it on T-area once a week.
Ingredients
2 teaspoons of chickpea flour (or white flour)
1/2 teaspoon of cinnamon
1/2 teaspoon of turmeric
1 teaspoon of freshly squeezed lemon juice
1 teaspoon of apple juice (last time I used 1/2 teaspoon of apple cider vinegar and 1 teaspoon of water)
Procedure
Add ingredients following the order and mix well. Then apply it on your face with your fingers or an old make-up brush, and wait until the mask is dry. Finally rinse with warm water. To apply it no more than once a week. This compound is perishable.
DIY Camomile Facial Toner
To soothe the skin after the mask, you can use a DIY camomile toner. Before starting the preparation of the mask, boil water and prepare a chamomile. Separate the liquid into a bowl and a cup. Let the content of the bowl cool down. Once you have rinsed the mask out, soak a cotton pad or the corner of a towel in bowl of chamomile and pat your face. Chamomile is soothing, brightening and refreshing on our skin.
… What about the content of the cup? Drink it while waiting for the mask to dry … for the ultimate treatment of pampering and relaxation!
Cosmetic Properties
Cinnamon: antimicrobial, antifungal, anti-inflammatory
Turmeric: antioxidant, anti-inflammatory
Chickpea flour: natural cleanser
Lemon juice: purifying, lightening (see also lemon essential oil)
Apple juice: antioxidant, anti-inflammatory, purifying
Did you miss my other recipes on Chic Vegan? Here you have them 🙂
DIY – Rice and Coconut Face Scrub