Fresh cranberries are often reserved for holiday cooking, but there's so much more to these little red morsels of joy beyond cranberry sauce alone. In this recipe, tart cranberries combine with sweet butternut squash, fragrant spices and rich toasted nuts to create an out-of-this-world winter salad that will totally have you seeing cranberries in a whole new light. You can use other sweet vegetables here – carrots, parsnip and sweet potato come to mind.  Also try it with quinoa, millet or other grain. It's a hugely versatile salad which demonstrates the vast potential of fresh cranberries. Don't wait for Thanksgiving – enjoy them now while the season lasts.
Butternut, Cranberry and Bulgur Salad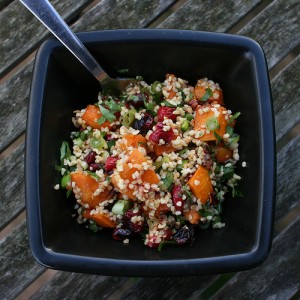 Ingredients
½ butternut squash
a handful of cranberries
crushed fennel and coriander seeds
a sprinkle of crushed red pepper
salt and pepper
a good pinch of brown sugar
olive oil
a few big spoonfuls of cooked bulgar wheat
a couple sliced spring onions
chopped fresh coriander
a squeeze of lemon juice
chopped dates or other dried fruit
pistachios, almonds or sunflower seeds 
Instructions
Toss the butternut squash, cranberries, fennel and coriander seeds, crushed pepper, salt, pepper, brown sugar and olive oil in a roasting tin. Roast until the butternut squash is tender and starting to brown on the edges.
Put the contents of the roasting tin into a mixing bowl and toss with the remaining ingredients. Taste and adjust the seasoning to suit your tastes.
Recipe from Healthy Vegan Breakfast Salads by Monica Shaw.