Most people who have heard of the Paleo diet probably associated it with being, above all things, very contrary to a vegan lifestyle. I'm somewhat guilty of this myself, knowing numerous self-proclaimed Paleo acquaintances whose diets are heavily meat-centric and almost entirely lacking the grains and legumes that are staples for many vegan diets. Therefore, a book entitled Paleo Vegan might seem like an oxymoron, but as author Ellen Jaffe Jones Even illustrates, eating Paleo and eating vegan might not be quite as far removed from one another as one might think.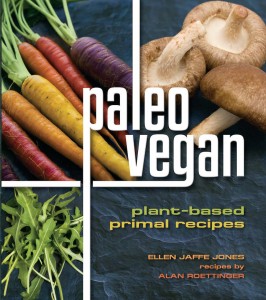 As Jaffe Jones outlines in the first two chapters of her book, the Paleo diet is centered on eating as much as possible like our ancestors might have during the Paleolithic era, when pre-agriculture humans were primarily hunters and gatherers. Though our "hunted and gathered" food options are much more varied today, the idea is still to eat as much of those ancient food groups in their pure forms whenever possible. As the author points out, the focus on whole, unprocessed foods is very much in line with the core values of a healthy plant-based vegan diet. Paleo Vegan goes on to point out that there are many variants of the Paleo diet with varying degrees of flexibility when it comes to eating "cheat" foods—foods that aren't necessarily included in those ancient Paleolithic food groups. The existence of such flexibility further opens up the possibility of eating Paleo the vegan way, giving plant-based eaters the opportunity to incorporate "non-Paleo" foods like legumes, potatoes, and grains for 15-20% of their meals.
In terms of following other popular facets of the Paleo diet, particularly the heavy emphasis on proteins and healthy fats and avoidance of most traditional sources of carbohydrates, the author leaves this open to readers to find the best balance for themselves. Jaffe Jones offers suggestions for testing out a higher-protein diet on one's body to ensure a safe transition. Alternatively, she also explains the benefit of continuing to consume unprocessed carbohydrates and being mindful of timing carb intake, especially if one is physically active.
Though the introduction to eating Paleo the vegan way is fairly broad, Paleo Vegan equips readers with the know-how to try out this new variant of the plant-based diet and gives compelling justification for its health benefits. The first two chapters of the book is also sprinkled with handy lists of nutritious foods that are both plant-based and Paleo-approved.
For the recipes, Ellen Jaffe Jones teams up with vegan chef Alan Roettinger to offer an assortment of foods broken up by breakfast items, sauces/dips/condiments, soups, salads, pseudo grains, legumes, vegetables, and desserts. None of the recipes seem overly complicated to execute and are all comprised of whole ingredients, with the occasional exotic spice or unusual vegetable to keep things exciting. The desserts, particularly, demonstrate that one can still indulge on something decadent and flavorful with limited "naughty" ingredients.
Try out Paleo Vegan eating yourself!
Oyster Mushroom and Baby Bok Choy Curry:
Per serving: 241 calories, 6 g protein, 18 g fat (16 g sat), 14 g carbohydrates, 428 mg sodium, 217 mg calcium, 4 g fiber
Ingredients: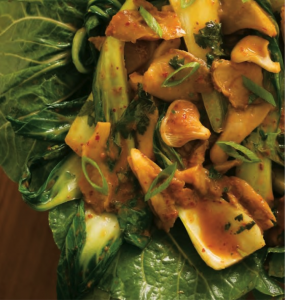 12 ounces firm tofu, cut into ½-inch cubes (optional)
1 tablespoon low-sodium tamari (optional)
1 pound oyster mushrooms
8 ounces baby bok choy
2 tablespoons extra-virgin coconut oil
2 tablespoons panang or red curry paste
1 can (15 ounces) full-fat coconut milk
½ cup coarsely chopped fresh cilantro
4 scallions, thinly sliced on a sharp diagonal, for garnish
Directions:
Put the optional tofu and optional tamari in a medium bowl and toss gently. Set aside. Quarter the mushrooms lengthwise. If the bok choy clusters are very small, they may be left whole or quartered lengthwise; otherwise, cut them crosswise into slices about ½-inch wide. Put a large saucepan over high heat and add the oil. Tilt the saucepan back and forth until the oil melts and is evenly distributed. Add the mushrooms and bok choy. Stir briskly to prevent sticking until the bok choy wilts, about 1 minute. Stir in the curry paste until well distributed. Add the coconut milk and stir until well combined. Bring to a boil, decrease the heat to medium, and simmer until the mushrooms are tender, about 4 minutes. Add the tofu, if using, and warm through, about 5 minutes. Remove from the heat and stir in the cilantro. Divide among four bowls and garnish generously with the scallions. Serve at once.