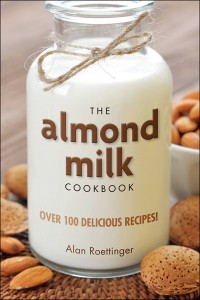 Almond milk is a delicious, versatile alternative to dairy- and soy-based milks. Whether you're vegan, lactose-intolerant, or allergic to soy, you can still enjoy the rich, creamy goodness of milk. Almond milk has a light flavor with just a hint of almonds and boasts a higher concentration of vitamins and minerals than either dairy or soy milk without any cholesterol or saturated fat.
In The Almond Milk Cookbook, chef and cookbook author Alan Roettinger demonstrates how almond milk lightens, enhances, and enriches all kinds of food and presents a broad array of wholesome, satisfying, dairy- and gluten-free recipes. Use any commercial almond milk in these dishes or try your hand at making fresh, easy almond milk at home so you can control it's richness and monitor the ingredients.
More than 100 recipes for delicious smoothies, hot and cold soups, creamy sauces and dressings, satisfying pasta dishes, comfort-food favorites, sweet treats, and frozen desserts showcase the versatility of this nutritious, flavorful beverage.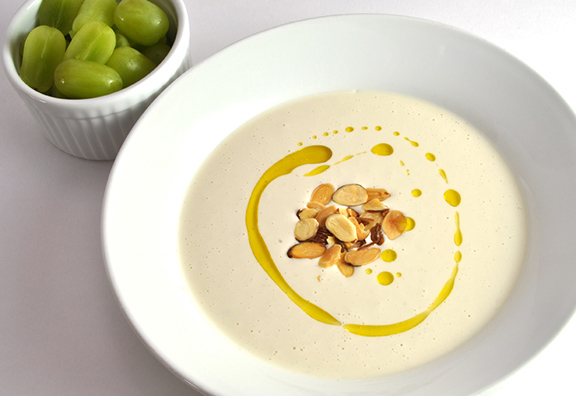 Chilled Almond Soup with Garlic
Makes 4 servings
Almost everyone is familiar with traditional red gazpacho, but this cold, tomato-free version, known as ajo blanco, was its precursor. In Spain, it's traditional to serve the soup with grapes, either on the side or in the soup.
Ingredients
3 cups crustless day-old bread cubes
1½ cups water
1 cup blanched almonds, soaked in water 8 to 12 hours
1 cup unsweetened almond milk
3 cloves garlic, halved lengthwise, germ removed (see tip)
½ teaspoon sea salt
½ cup extra-virgin olive oil, plus more for drizzling
¼ cup sherry vinegar
2 tablespoons sliced natural almonds, for garnish
1½ cups seedless green grapes, for garnish
Preparation
To make the soup, put the bread cubes, water, blanched almonds, almond milk, garlic, and salt in a blender and process on high speed until very smooth. This could take 2 minutes or longer. With the motor running, pour in the oil and vinegar. Put a fine-mesh sieve over a medium bowl and strain the mixture through it. Cover and refrigerate until cold. This can be done up to 2 days in advance.
To prepare the garnishes, preheat the oven to 400 degrees F. Spread the sliced almonds in a thin layer on a baking sheet and bake them for 5 to 7 minutes, until lightly toasted and browned. Transfer to a cool baking sheet or large plate and let cool completely. Cut the grapes in half lengthwise and put them in a small bowl. Both the toasted almonds and grapes can be prepared up to 1 day in advance.
Garnish each serving of soup with one-quarter of the toasted almonds, placing the almonds in the center of the soup. Drizzle olive oil around the almonds. Serve at once, accompanied by the bowl of the grapes.
Tip:
The germ is a small sprout in the center of a garlic clove. It's often in the process of turning green, either at the tip or all the way to the root. Because the germ can be bitter and cause indigestion, it's a good idea to remove it.
Chef's Note:
When the Muslims conquered Spain in 711 CE, they brought with them advancements in science, astronomy, mathematics, art, architecture, and of course, cuisine. One dish that had its origins during that time is sopa de ajo blanco. Gazpacho came along centuries later, after conquistadores brought tomatoes and peppers back from the New World.
Per serving: 599 calories, 10 g protein, 48 g fat (5 g sat), 15 g carbohydrates, 289 mg sodium, 174 mg calcium, 5 g fiber
Note: Analysis is based on all ingredients prior to straining.
Recipe courtesy of The Book Publishing Company.