Happy Vegan Birthday to Me!
One year ago today I became vegan, so I am calling this my "Vegan Birthday," as it is soooo much more than an anniversary. When I became 100% vegan, a whole new "me" was born. I felt an almost immediate sense of peace and connection with my deep inner self and with Mother Earth, even stronger and more meaningful that I had felt before. So today I celebrate this birthday by telling you my story and sharing the recipe for a lovely vegan lasagna I have planned for my family.
But first, let me share a little more with you about my vegan journey. Prior to taking the plunge to complete veganism, I was a vegetarian for over 20 years and truthfully, even before that had never eaten meat. Well, I had tried some kinds of meat out of sheer parental and peer pressure, but I never liked it. Even as a very young child, I thought it unnatural and cruel to eat an animal. I remember vividly many Thanksgiving dinners as a child where I just looked at the turkey on the table and thought everyone was insane for eating it. I mean, how could they eat it? It was an animal with thoughts and feelings and, in my opinion, RIGHTS! So I lived my life mostly vegetarian and then at age 19, I became a vegetarian for good. I remember my family and college friends thinking I was going through a "phase" or a "crisis," thinking I would soon snap out of it and rejoin the carnivores. I am happy to say that never happened!
So, why did I wait so long to become vegan? I don't really have a good answer for that except to say that in my early 20's my life changed in some pretty unexpected ways. I suffered from a lot of depression and really was just "muddling" through for many years. I always remained vegetarian, but for some reason I didn't explore or learn more about being vegan. However, in the last 5 years, through soul-searching, yoga and meditation, I began to find the "real" me. I learned that the peaceful, passionate person I am inside is just who I am at the core and that embracing it would be the most beautiful thing I could do. Part of that journey led me to a college friend, Meredith, who had been vegan for about 5 or 6 years. Meredith really helped me understand the connection between the commercial meat industry and the environmental devastation in the world and it all started coming into focus for me. So, last year on August 1st, I woke up, declared I was vegan and began this adventure that has brought me more peace and joy than I could ever imagine.
My husband and my daughter (who just turned 18) are not vegan or vegetarian, but they do try to go meat-free at least one day per week. They also have tried many of my vegan meals and are slowly starting to find that vegan food is yummy! On that note, I am going to make an awesome vegan lasagna for my family for dinner tonight. See recipe below. What do you do to celebrate YOUR vegan life?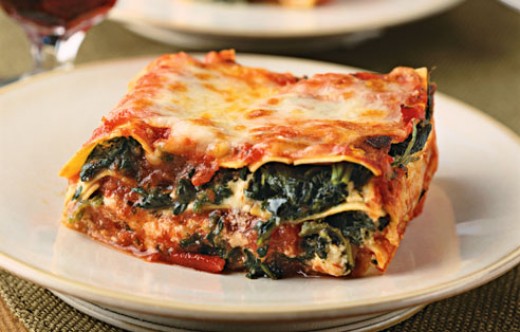 Vegan Spinach Lasagna
1/2 lb. vegan lasagna noodles
2 10-oz. packages frozen chopped spinach, thawed and drained
 1 lb. soft tofu
1 lb. firm tofu
1 Tbsp. organic raw or maple sugar (optional, or to taste)
1/4 cup almond milk
1/2 tsp. garlic powder
2 Tbsp. organic lemon juice
3 tsp. minced fresh basil
2 tsp. organic sea salt
4 cups organic tomato sauce
Shredded Daiya mozzarella cheese (optional)
Directions
Cook the lasagna noodles according to the package directions. Drain and set aside.
Preheat the oven to 350F degrees.
Squeeze the spinach as dry as possible and set aside.
Place the tofu, sugar (to taste or optional), almond milk, garlic powder, lemon juice, basil, and salt in the food processor or blender and blend until smooth. Pour in a separate mixing bowl. Stir in the drained spinach.
Cover the bottom of a 9″ x 13″ baking dish with a thin layer of tomato sauce, then a layer of noodles (use about one-third of the noodles). Follow with half of the tofu filling. Continue in the same order, using half of the remaining tomato sauce and noodles and all of the remaining tofu filling. End with the remaining noodles, covered by the remaining tomato sauce. Top with some vegan cheese (Daiya is good!) if you like, but it is just as good without it.
Bake for 25 to 30 minutes.
Makes 6 to 8 servings.