This quick and easy tomato black bean soup is hearty enough to be a meal on its own. Serve with some chips or bread for dipping, and you're in business.
Guys, I am so excited to be today's stop on the blog tour for Jason Wyrick's new book: Vegan Mexico! The book is packed with deliciousness based on Jason's family's traditional Mexican recipes. This tomato black bean soup from the book was super easy to make, and I'll walk you through the process and share the recipe below.
More hearty soup recipes: Dairy Free Cream of Broccoli Soup, Sunny Split Pea Soup
This recipe is a pureed black bean soup, so it's thick and hearty. It took me less than 30 minutes to make. I topped mine with air fried poblano chile rings and chopped avocado, but you can also throw on some tortilla chips and vegan sour cream, if that's your jam. The recipe for the air fried chiles are below too, don't worry!
Jason's book is seriously gorgeous. If you've been wanting to try out authentic, Mexican cooking, I can't recommend it enough. His instructions are clear and easy-to-follow, and most of the recipes in the book don't have an overwhelmingly long list of ingredients.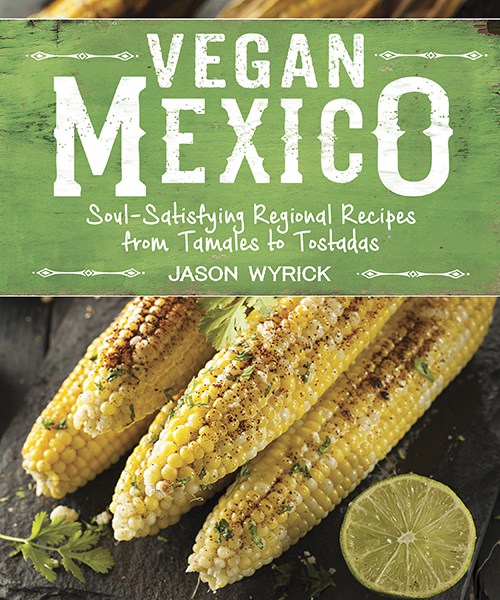 If you want to try out some other recipes from Vegan Mexico, check out these other blog tour stops (some are coming up later this week, and I'll add the links to the recipe posts as they go up):
But back to this tomato black bean soup. Seriously, this recipe couldn't be easier. Here are my tips on how to make this soup with as little waiting as possible:
If you're using the fried chile strips, get those coated and into the air fryer before you start everything else. Don't turn on the air fryer yet.
Chop the tomato and chile, and set it on the stove to boil. Start the air fryer, if you couldn't fit all of the chile rings in at once.
While they cook, get the onion and garlic into the blender, so it will be ready when the tomato mixture is done. Also drain your black beans.
Instead of pureeing the beans in advance, puree them with the vegetable broth and salt while you saute the tomato-chile-onion-garlic mixture. If you need to do a second batch of air fried poblano rings, get them breaded and cooking now.
Ready to get cooking? Let's make some quick-and-delicious soup!

Tomato Black Bean Soup
This soup, named after the Tarascos people of Michoacán, is a soulful blend of black beans, onions, garlic, tomatoes, and chiles. Like many of the best Mexican soups, it's comfort food that can easily be upgraded with a variety of garnishes. If you want to kick up the heat, add a small handful of chiles de árbol to the mix.
Ingredients
3 Roma tomatoes, coarsely chopped
1 ancho chile, stemmed and seeded
1½ cups water
3 cloves garlic
½ medium white onion, coarsely chopped
1 to 2 tablespoons corn oil
4 cups cooked black beans, puréed
2½ cups vegetable broth
1 teaspoon salt
Garnishes
Fried ancho chile strips
Tortilla chips or strips
Chopped ripe Hass avocado
Vegan sour cream, whipped vigorously
Instructions
In a 3-quart pot, combine the tomatoes, ancho, and water and simmer over medium heat for about 10 minutes. Transfer the tomatoes, ancho, and water to a blender and wipe out the pot. Add the garlic and onion the blender and purée until smooth. (Press the purée through a strainer if you want it completely smooth.)
Add the oil to the pot and heat it over medium-high heat. Add the purée and cook for about 5 minutes, slowly stirring. Reduce the heat to medium and add the puréed beans, vegetable broth, and salt. Simmer the soup for 10 minutes. Add liquid if necessary to ensure the soup is creamy but not incredibly thick. Serve with any or all of the garnishes.
Notes
From
Vegan Mexico
, copyright © 2016 by Jason Wyrick. Used by permission Vegan Heritage Press.
Crispy Air Fried Poblano Pepper Rings
Ingredients
½ cup panko, divided
½ teaspoon salt, divided
1 poblano chile, cut into ½″ rings
½ cup white or garbanzo bean aquafaba (I haven't tried with other bean liquids, but it should work just fine.)
Instructions
Toss together the ¼ cup of the panko and ¼ teaspoon of the salt in a shallow bowl. Do the same with the rest of the panko and salt in another bowl, and set this one aside.
Pour the aquafaba into its own shallow bowl.
Dredge the chile slices in the aquafaba and then in the panko, getting a nice, even coating.The panko sticks really well to the rings at first, but after you've dredged about half of the chile, it starts to clump and not be great at sticking. When this happens, just swap in that second bowl of panko mixture. Arrange the slices in a single layer in your air fryer basket. The single layer is important. No overlapping, please! I had to do two batches for one large poblano.
Air fry for 8-10 minutes (Do not preheat.) at 390F, shaking well after 5 minutes. You want the panko browned and the chiles softened. If you do this in two rounds, round two will cook more quickly, since your air fryer is already hot. Cook round 2 and any subsequent rounds for 6-8 minutes.
Serve immediately.
Notes
The time variations depend on the size of your chiles, how thick your panko coating is, and (for rounds 2+) on how much the air fryer cools while you're breading the next batch.
Republished with permission from
GlueandGlitter.com