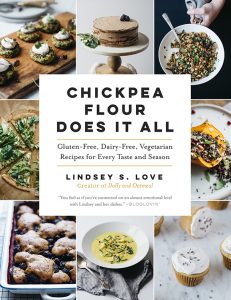 I get many requests to review cookbooks, and I usually only say yes to the vegan cookbooks. I like supporting vegan authors, and I don't want a book full of recipes that I can't make. (Or have to figure out how to veganize.) For these reasons, I hesitated when I was asked to review Chickpea Flour Does It All. I do love cooking with chickpea flour though, and I often find myself looking for new uses for it, so I decided to say yes.
Chickpea Flour Does It All by Lindsey S. Love is a gluten-free, dairy-free, vegetarian cookbook that's devoted to the use of chickpea flour as well as to seasonal eating. The book contains ninety-six recipes, forty-nine of which are vegan. The non-vegan dish use eggs, which I find disappointing, because eggs are so easy to replace in recipes (and I often use chickpea flour to do so!), but, like I said, I did know that this wasn't a vegan cookbook before I agreed to review it.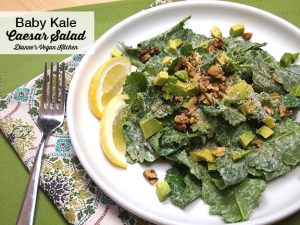 The dishes in Chickpea Flour Does It All range from breakfast omelets and quiches to dessert cakes and pies, and they encompass just about everything you could eat in between, such as a Kalamata Chickpea Wrap with Pickled Leeks and Microgreens and Ratatouille Tartlets. The recipes are all gluten-free, but some do contain other types of flours to keep baked goods from getting too dense.
The recipes in Chickpea Flour Does It All are arranged by season and they're further categorized by month. I'm a big proponent of eating locally and seasonally, so I appreciate the organization. Winter's recipes are warm and hearty. There are lots of soups, and many recipes use foods such squash and season fruit. The Spring section of the book contains lighter fare such as wraps, quiches, and frittatas and use microgreens, rhubarb, strawberries, and other spring produce. The Summer Chapter includes grilled vegetables, lettuce wraps, and fruit pies – all perfect for making the best of the summer harvest. The Fall months are my favorite, because they use the last of the summer veggies as well as some of the heartier squashes that are ripe in the fall.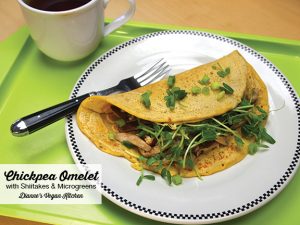 I had fun cooking with Chickpea Flour Does It All, and I was able to experiment with ways of cooking with chickpea flour that I might not have thought of on my own. Both the Baby Kale Caesar Salad and the Alfredo with Watercress and Chives are made with a roux of chickpea flour and water that is then mixed with raw cashews and a few other ingredients in a blender. These are both recipes that I would normally make with a cashew cream base, and I enjoyed making these chickpea flour versions. I had a little trouble with the chickpea flour pizza crust, but it was nothing that a little extra flour couldn't solve. I have my own recipe for a chickpea flour omelet, but it's different than the one in the book, which was delicious.
If you like to cook, eat gluten-free, and are looking for ways to experiment with chickpea flour, I think you'll enjoy Chickpea Flour Does It All!

Alfredo with Watercress and Chives
Upon first discovering that chickpea flour can not only be used as a thickener in sauces but also made into a sauce all on its own, I was beyond excited for the possibilities, and the outcome of this sauce completely exceeded my expectations. Many, if not most, vegan cheese substitutes incorporate some type of nut that gives a cheese-like consistency when soaked and blended with water. However, I was always a little disappointed that my "cheese" sauces continually didn't have that gooey, cheesy texture. So when fooling around with a chickpea flour mix one day, I thought why not add it to the base of a vegan cheese sauce to give it that gooeyness I had longed for. After I added some flavorings, salt and pepper, and the like, I was amazed at the result: a cheese sauce tasting just the way I remember from my childhood. There are so many ways of incorporating this sauce into meals and dishes, whether it's over pasta, as a warm cheesy dip for vegetables, or poured over baked sweet potatoes or homemade french fries
Serves: 4 // prep time: 12 hours // cook time: 20 minutes.
Ingredients
16 ounces (454 g) gluten-free and vegan pasta (or pasta of choice)
¼ cup (40 g) plus 1 tablespoon cashews, soaked overnight and drained
1 tablespoon extra virgin olive oil
1 tablespoon plus 1 ½ teaspoons nutritional yeast
2 teaspoons apple cider vinegar
1 ½ teaspoons lemon juice
2 garlic cloves, roughly chopped
½ teaspoon sea salt, plus more to taste
Freshly ground pepper
1 cup (240 ml) water
¼ cup (30 g) chickpea flour
2 tablespoons chopped chives, plus chive flowers for garnish
1 cup (34 g) packed watercress
Freshly ground nutmeg, to taste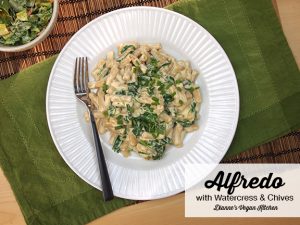 Preparation
Begin cooking the pasta, according to instructions on the bag. While the pasta is cooking, make the sauce.
Place the soaked cashews in an upright high-speed blender; add the oil, yeast, vinegar, lemon juice, garlic, salt, and pepper to taste; set aside.
In a small saucepan, whisk together the water and flour, turn the heat to medium and continue to whisk for 6 to 7 minutes, until the mixture thickens to the consistency of a roux. Gently and carefully pour the mixture into the blender. Blend on high for 1 minute, until creamy and smooth. Taste and adjust any seasonings, if needed. Add 1 tablespoon of chives and blend on medium for about 30 seconds.
In the last 30 seconds of cooking the pasta to al dente, add the watercress and cook until wilted. Drain the pasta and watercress and quickly rinse with cold water to stop them from cooking.
Transfer the pasta and watercress to a serving bowl; pour the sauce over the pasta and mix. Taste and adjust salt, if needed. Serve hot with remaining 1 tablespoon of chives, chive flowers, and nutmeg.
Recipe from Chickpea Flour Does It All: Gluten-Free, Dairy-Free, Vegetarian Recipes for Every Taste and Season ©Lindsey S. Love, 2016. Reprinted by permission of the publisher, The Experiment. Available wherever books are sold.  theexperimentpublishing.com
Review reprinted with permission from Dianne's Vegan Kitchen.