I'm a social person. I love going out with my wonderful friends, putting on a pretty dress and going out for a meal. Such evenings are, not only fun, but a key part of keeping me sane. 
Some people seem to think this is IMPOSSIBLE if you're vegan, a notion that leaves me scratching my head. Vegan food is delicious, demand is on the rise and most menus accidentally have a vegan option anyway (even if it's just the bruschetta starter!)
Eating out should still be easy, even with dietary restrictions. It's just about knowing how to approach it. I have some tips and tricks picked up after far too many dinners out and from being on the "other side".
Yes – I work in hospitality. I have been both the annoying vegan asking what's in the pasta sauce and the angry waitress trying not to scream. A unique conundrum that has given a lot of insight.
Many people (both vegan and not) ask how to approach eating out and I have some rules and tricks in place! But, firstly: some words from the "other side". The hospitality side. Words that I say as a passionate vegan. 
You are putting yourself in someone else's hands when you eat out.
This is just a fact. When you walk into a restaurant, you have decided to enter that restaurant and if they don't magically have black-bean burgers, you cannot be mad or surprised. They literally have what they have in that kitchen and, from the staff point of view: you could have chosen to go anywhere. There is one major thing that, hands down, will get you on the wrong side of the staff and chefs.
Entitlement.
Any kind of attitude isn't good (on both sides!), but the number one pet peeve is when customers act like they are entitled to something that isn't on the menu. "What do you mean you don't have gluten free bread?" That's one of my favourites. If a place has gluten free bread for you – that is a bonus. A bonus. Please do not start walking into a restaurant and being mad when they don't have something.
Let's be honest: a vegan diet is still obscure in some places. Don't fight it. Just accept and do the best you can. If you are bright, positive and kind to the staff, they will be more inclined to help you. Guaranteed. 
That brings me nicely to the first tip:
1)   Where Are You and Why-the-Hell-Did-You-Pick-This-Place?
How are you here? NO vegan option? Oh God. Is this for someone's birthday or some spur-of the moment choice? Okay, we've all been there. You're here now and you'll cope, but life will be easier if you find a way to support restaurants that cater for vegans. 
When choosing, lean your friends towards some kind of Sushi, Thai or Indian option. Is there an Indian restaurant nearby? Go there! Most of the tomato or coconut based vegetable curries will be safe and delicious. Indian food I've always found caters to vegans well. Sushi; everyone loves and they have vegetable rolls and yummy miso soup!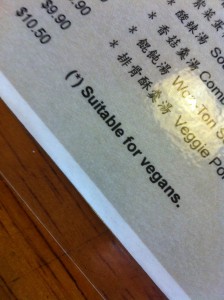 2)   Mental repertoire of restaurants!
Where I live, there are five restaurants off the top of my head I know are great for vegans. They're all tried, tested and spread out across Manchester. Knowing good vegan places means I have somewhere to suggest when out with friends and can make a quick suggestion, stress free. 
If you can, try keep in the loop with vegan-friendly places opening up and make sure you support them if they're good.
If you don't know anything nearby – apply the point above! Is there a Thai restaurant in sight?!
3)   Approach the menu cool and casual – assume the best.
The amount of times I've had to say to people: "don't worry about me, I'll worry about me".
There is nothing worse than sitting down, picking up the menu and feeling everyone's eyes on you. I can feel their panic, "what's Hannah going to order? Oh God, there's nothing vegan!" I look at them casually and say: "don't worry about me, I'll worry about me."
If you sit down and there is no vegan option at all, immediately paint on a happy face. This is now a challenge. Doctoring a menu can be fun if you do it with a good attitude. 
Order a drink, maybe some bread and olives and get dissecting!
4)  Menu Dissecting 101 – What's Veggie?
Assess the list of vegetarian options – they WILL have some. If you are somewhere that doesn't even have a vegetarian option, I'm concerned! In that scenario, any restaurant will create a vegetarian meal for you if you ask. You are a paying customer! I guarantee you aren't the first vegetarian to walk through the door. We are not aliens. 
Assuming they do have a vegetarian choice or two  - start thinking what is the easiest to make vegan. It can be as simple as the Veggie burger without the cheese and mayo. Is there a pasta you can order without the cheese? Usually gnocchi is a great option with a tomato based sauce. Or a vegetable pizza? Pizzas without cheese are surprisingly common, don't feel like a criminal. 
I have often found that doctoring a vegetarian meal into a vegan one is surprisingly easy. Most of the time they are vegan foods with cheese slathered on top!
5)   Are Side-Dishes Your Friends?
If all the mains are danger zones, look at the side dishes. Can you get a few side dishes to feast on with a basket of bread? I did once order a side of Rosemary Potatoes and another of Green Beans with almonds at a French restaurant and I swear nearly everyone had "order envy".
6)   Make a Judgement Call on Your Waiter. 
Check out the person serving you. If they're in a foul mood and you feel uncomfortable asking for anything, maybe hedge your bets on a doctored vegetarian meal and hope for the best? But, if they are lovely and seem like they want to do a good job, ask if the patty for the vegetarian burger is vegan or if the pesto sauce has cheese, whatever you are trying to adapt. Start with your first choice and if that can be "veganised" – fantastic. Don't overwhelm them with too much. 
The other option is to just say: "hey, I am a vegan, do you know if anything on the menu is?" If she says no. you can just ask: "Would the chefs be willing do me one of the salads without the chicken in? I can just have that with a side of bread, perhaps?" Be easy to work with, pleasant and acknowledge that you don't expect miracles, just a meal you can eat.  
Nine times out of ten, they will work with you and you will likely end up with a tasty meal :) 
7)   Can You Ring Ahead? 
Any restaurant will give you HUGE points if you ring ahead and "inquire" about a vegan option. Say you are coming in for dinner with friends, who have already chosen the restaurant and are wondering if they have anything for you. There is no reason why a place shouldn't try and cater for you in this situation.
I once worked in a very high-end French restaurant, where the head chef HATED vegetarians and vegans, however when a vegan called ahead, he had enough pride to make them a lovely three-course meal. Many chefs don't realise how easy it is to adapt their menus until they have to. Some even find it enjoyable…seriously! I witnessed that first hand.
8)   Get on With It….
Okay, so everything has failed. You're stuck at the restaurant, there's no vegan option, your waitress is awful AND the only side dish is a bowl of chips. What are you going to do? Well, here is where I say it's totally up to you with what you feel comfortable with. Some vegans would say "I'll just eat the chips", whereas I will still try and eat a proper meal of some sort.  
This scenario is unlikely, but if you find yourself here – which vegetarian option will you feel best about? I say order the veggie option, removing any obvious dairy and you have done your best. You don't want your night to be ruined by the simple process of ordering food! Do what feels right for you and what will mean you having a good night. 
If you're somewhere that isn't vegan friendly, you aren't likely to convert them by being difficult or acting entitled to things they don't provide. Be nice, be easy and show them that vegans are people they want to cater for! If a vegan goes in with a bad attitude, it just makes all vegans look bad. We want to create demand. 
Finally I would say (this helps me a lot!) – think about the lovely people you are spending time with. If being vegan looks like a one-way ticket to social suicide – no one will do it! Your friends are never likely to consider sharing your lifestyle if you make it look difficult. Be as organised as you can when it comes to picking places and if you can end up with a delicious meal that looks amazing – definite win!
Veganism does not mean never eating out again. In fact, I would say I eat out MORE now than I ever have (probably just getting older!) It's a lovely part of my life and a pleasure that veganism does not get in the way of. If you ever get stuck, I hope the above points can help.
Remember: you are out to have fun: don't let menus stop you!
var addthis_config = {"data_track_clickback":false,"data_track_addressbar":false,"data_track_textcopy":false,"ui_atversion":"300"}; var addthis_product = 'wpp-3.5.9';