These vegan latkes are perfectly crisp on the outside and melt-in-your-mouth on the inside. The added potato starch increases their crispiness, but it is not essential. Some russet potatoes tend to be on the drier side, but to be safe, place them in a lint-free kitchen towel, fold up the edges and give them a good wring to remove excess water. Serve this the traditional way, with nondairy sour cream and applesauce.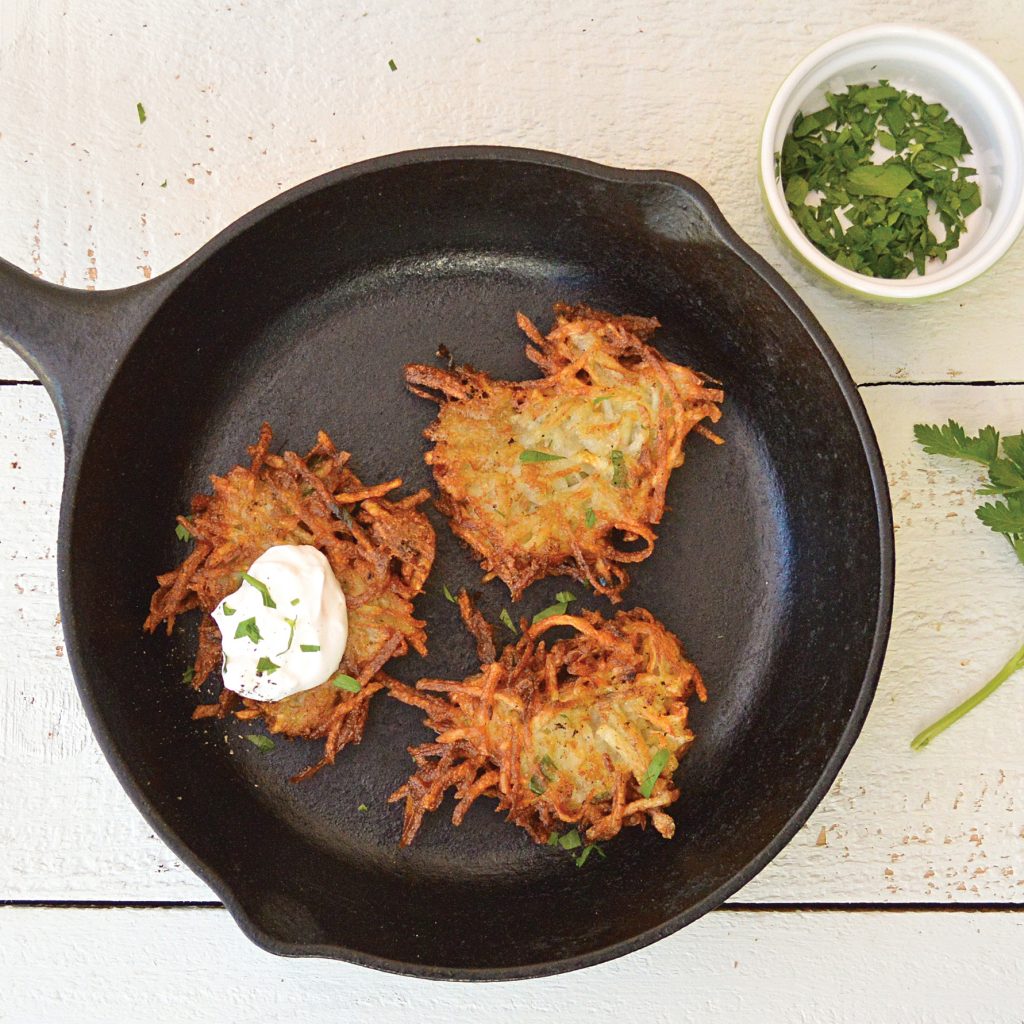 Vegan Latkes
Ingredients
2 pounds russet potatoes
½ medium onion
¼ cup aquafaba (see Note)
¼ cup potato starch, optional
2 tablespoons minced fresh parsley, optional
½ teaspoon sea salt
½ teaspoon baking powder
¼ teaspoon ground black pepper
High-heat oil, for frying, such as canola or peanut
Instructions
Peel the potatoes and shred them using either a food processor with the shredding blade or a box grater. Place them on a kitchen towel, fold up the edges, twist the towel around the potatoes, and squeeze out all the water that you can. Place the potatoes in a large bowl. Shred the onion and add it to the potatoes. Add the aquafaba, starch, parsley (if using), salt, baking powder, and black pepper. Mix very well.
Heat about ½ inch of oil in a large skillet over medium heat. Add two or three kernels of popping corn and heat the oil until the corn pops; this is an indicator that your oil is hot enough. Remove and discard the popped corn.
Using a ¼-cup measuring cup, place 3 to 4 portions of the potato mixture in the hot oil and cook them until golden brown, about 2 minutes. Do not press down on the latkes. Flip the latkes and continue to cook another 2 minutes. Drain them on paper towels and serve as soon as possible. Make sure to give the potatoes a stir before measuring, and do not crowd the skillet or your latkes will not be crispy.
Notes
Note: Although aquafaba is best if homemade using the recipe provided in the book, you can use aquafaba from canned chickpeas. Use the organic, low-sodium, canned chickpeas and strain off the liquid into a measuring cup using a fine mesh strainer. Note the amount of liquid you acquired, then add it to a medium saucepan and bring to a boil. Reduce to a simmer and cook until the liquid reduces by ⅓. Cool the aquafaba completely before using.
From
Aquafaba
, copyright © 2016 by Zsu Dever. Used by permission.