A big reason that people fail at a healthy vegan diet is that they aren't prepared. A well-stocked pantry can help with this. It may not happen overnight, and that's okay. Start with what you have, and build at your own natural pace to keep waste to a minimum. As I explored different cuisines and found my true staple ingredients, my pantry gradually expanded. On the best days, it fuels my creativity. On the lousy days when my fridge contents are dwindling, it saves me from eating a less than ideal meal.
Here are 9 of my pantry staples:
1. Beans and Grains
Both are healthy, budget-friendly foods. For flavor and texture variation, try different kinds. Some of my favorites beans are black (tofu scramble), cannellini (pasta protein booster), pinto (tacos), and garbanzo (Mediterranean macro bowls). Similarly, stock up on a variety of grains like rice, quinoa, buckwheat, millet, couscous. The combo of bean, grain, and vegetable is a simple way to bring a meal together, and with the beans and grains you're already 2/3 there.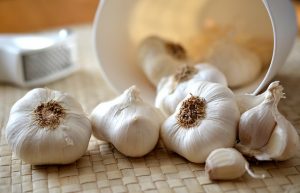 2. Garlic and Onions
These are not only essential aromatics – adding depth of flavor –, but they are extremely health-promoting. I add them in pretty much every savory dish I make.
3. Potatoes and Sweet Potatoes
We eat lots of potatoes and sweet potatoes in our house as they're nutritious, affordable, filling, and taste awesome. Keep them in a cool, dark place, and they'll stay good for a while.
4. Sauces and Seasonings
Make it easy to whip up a sauce, a marinade, or a dressing. At the most basic, you can get by with the classics: oil and vinegar. My most used vinegars are raw apple cider, balsamic, red wine, and rice, and I use high quality oils like extra virgin olive, organic canola, and cold-pressed coconut. Nut butters – we are partial to tahini in our house – are perfect for nutrient-dense creamy sauces. Lemons brighten up any and every sauce, and I buy them by the bag. Coconut sugar, Bee Free Honee, or blackstrap molasses add a dose of sweetness.
Seasonings can turn an ordinary meal into an extraordinary one. If you don't know where to start, don't shy away from seasoning mixes. They take all the guesswork out of it. Some of my most loved spices and seasonings are: cumin, smoked paprika, oregano, turmeric, cinnamon, piri piri, herbes de provence and the cheesy vegan favorite, nutritional yeast.
5. Dried Fruit and Nuts/Seeds
Together they make a great snack, but they shine separately as well. Raisins, dried cranberries, and dried cherries add a zing of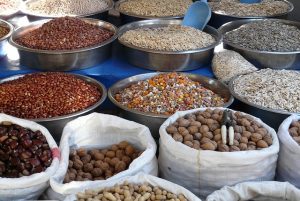 sweetness to savory dishes of mine like roasted brussels sprouts and curry tempeh salad. Dates cooked with oats is heaven to me. And I can't eat a smoothie bowl without studding it with goji berries. Nuts and seeds offer an earthy, crunchy, umami component to any meal of the day. They are also unique in that they can be blended with liquid and strained to make milk. Blend with less liquid to make creamy sauces, dips, or pates.
6. Coconut Milk
There is always a can (usually at least 2) of full-fat coconut milk in my pantry to use for smoothies, soups, creamy sauces, curries, whipped cream, and more. There have been many occasions when I don't know what to make, and coconut milk has saved (and inspired!) me.
7. Thickening Starches
If you want to make foods like cheesy sauce, gravy, pie filling, or certain Asian sauces (hello, General Tso!), you'll be glad to have thickeners like tapioca, arrowroot, and corn starches in your pantry. Before the age of vegan cheeses and before I realized the magic of blended cashews, I used to make a cheese sauce with nutritional yeast, water, spices, and starch. It was quite good and very budget-friendly. These starches have continually proven to be useful as I've broadened my culinary repertoire.
8. Pasta
When all else fails, there is pasta to the rescue. I don't always have sauce, so I'll use some combination of oil, lemon, white beans, seasonings, and wilted greens. Also, I like to grind up some nuts in my spice grinder (almond or walnuts are my current favorites) and mix with nutritional yeast and salt for a parmesan-like topping.
9. Fun Extras
Cooking should be fun! I stock up on ingredients like superfoods (maca and lucuma are two favorites), cocoa and carob powders, liquid smoke, and kala namak to add some oomph to my food.
What are your favorite pantry staples?