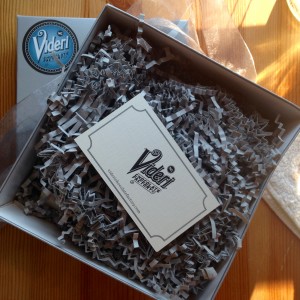 According to their website, "Videri Chocolate Factory began as the shared dream of three chocolate lovers: Sam, Starr, and Chris." They then turned their passion into making beautiful, delicious, organic, fair-trade chocolate out of Raleigh, North Carolina.With a slogan of "bean to bar to bliss," the time and care invested into each piece of chocolate can not only be tasted but seen. The gorgeous box of chocolates I received would make an amazing gift for anyone and with the holiday season around the corner, there are several purchasing options that would make beautiful (and delicious) gifts.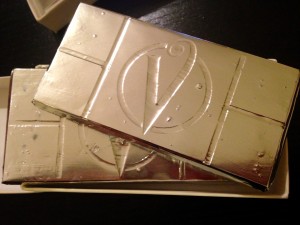 It was almost too beautiful to open! Almost. It felt like a luxurious indulgence, unwrapping the box and removing each chocolate bar. The wrappers are printed on heavy, gorgeous card stock and each is handwritten with the edition. The sleek silver lining makes me feel like I'm unwrapping one of Willy Wonka's golden ticket wrapped chocolate bars!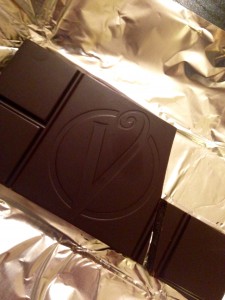 The box included: Classic Dark, Dark Milk, Sea Salt and Pink Peppercorn. The company uses "no soy lecithin, no xanthan gum, no emulsifiers or artificial flavorings. Just whole, organic and fair-trade ingredients." The pink peppercorn was spicy and flavorful, while the sea salt could have used a bit more salt. The class dark 70% was creamy and rich but the winner, by far, was the dark chocolate 90% cocoa. I enjoy dark chocolate but find that anything above 75% is too bitter. I was shocked when, of all the bars, I went back for seconds of that one. It's no surprise then, that this bar was selected as the 2014 Good Food Award in the category of chocolate. Made from organic Ecuadorian Camino Verde cocoa beans and a pinch of organic cane sugar, I'd never tasted anything quite like this bar!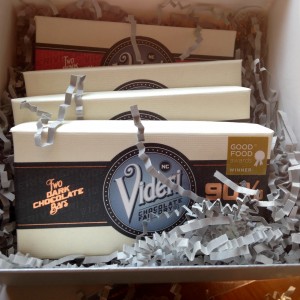 All of their vegan bars (they have one milk chocolate bar that is not) are dairy free, gluten free, and nut free. You can find a retailer near you or order online, which will likely be what I end up doing. If I'm ever in Raleigh, NC, I have to visit – the factory looks stunning from the pictures. Three friends have really turned chocolate making into an art, one that we have the pleasure of enjoying!