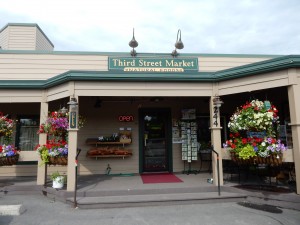 Summer is here and many of us are flocking to more rural areas for hiking, swimming, boating and chilling on the beach.   For me, summer travel has always been about the road trip—throwing ourselves and our stuff in the car and taking off. But now that we're vegan, that easy-breezy approach can be much more challenging. Once we leave our urban and suburban environments vegan options can be even more limited. My husband and I just returned from a two week trip to Columbia Falls, Montana (home of Glacier National Park), and our trip included four days of driving through rural Arizona, Utah, Idaho and Montana. The key to this successful trip was planning and more planning. Here are some tips for successfully staying vegan on the road:
1. Stock up for the drive
It's a truck stop out there! Unless you want to spend days munching on french fries and nuts, pack up a cooler before you go. We took enough vegan food for two breakfasts, two lunches and snacks. We filled our small cooler with peanut butter, hummus, bags of mini carrots and broccoli florets, veggie wraps from Trader Joe's and fresh fruit. In another bag we had trail mix, crackers, a loaf of whole grain bread, dried fruit and tortilla chips. While we didn't need all of these provisions, it was a relief to know that we didn't have to pick our way through the abysmal offerings on the highway. Plus if you can squeeze your stuff in a mini-cooler it will come in handy for other day trips or overnights once you're at your destination.
2. Plan the driving route around vegan eating
I love to eat at vegan restaurants wherever I can find them. During this trip we chose a driving route that made it possible for us to eat at a couple of great ones. One night we stopped in Salt Lake City, because we wanted to try Sage's Cafe, a marvelous eclectic vegan downtown restaurant.  We also stopped in Flagstaff, Arizona where we ate at the Red Curry Vegan Kitchen. Since most vegan restaurants are in the cities or suburbs, we chose to take advantage of that on our drive and it made for some great eating on the road.
3. Choose accommodations with your veganism in mind
Staying in a traditional hotel or motel in the country can be very limiting for vegans. Whenever possible we choose to stay in places where we have access to a full kitchen.   For this trip we used our timeshare so we had all the amenities, but places like this are also available for a nightly charge. Our first stop was the supermarket where we filled our refrigerator and freezer with the essentials.   While cooking on vacation may not be your first choice, scrambling around for vegan meals in a rural area can be more stressful than spending some time in the kitchen.
4. Go Beyond Happycow.net and Whole Foods
I love Happycow.net, and I've found many terrific vegan restaurants through that website.   But there are many areas of the country that do not have anything that would qualify as a "veg-friendly" restaurant. Ditto for a Whole Foods or Trader Joe's.  We checked these options out in advance, and we knew we'd have to find alternatives in Montana.
We did manage to eat at a few restaurants in Montana (pasta and cheese-less pizza). We had much better luck, however, in the local supermarkets and health food stores. In fact these were surprisingly well-stocked with vegan ingredients and convenience foods . While these rural towns may not be able to support a vegan or vegetarian restaurant just yet, the supermarkets clearly have plenty of takers for their vegan foods. We shopped at two privately owned health food/organic stores (one of those in Whitefish, Montana is pictured above) as well as at a Natural Grocers, a large organic food chain store prevalent in the West and Midwest. We were even able to find soy lattes for breakfast in a small convenience store in East Glacier (population 380!). As long as there's a full-sized supermarket near your destination you should be fine, but don't forget to check out the local scene wherever you are.
4. Be flexible
We did a fair amount of cooking on this trip—mostly salads and other dishes that we could eat for a few days in a row. While I wouldn't have minded a little more pampering on our trip, we really didn't have much choice given our location. What we did do, however, was relax some of our own rules about how much prepared or processed food we consume. In order to make things easier for ourselves we ate our share of microwaveable Amy's entrees, prepared veggie wraps and heat-and-serve munchies.   We even bought our first-ever package of Tofurky. Some of these items were delicious (Amy's Enchiladas!) and others were less exciting, but it still was a change from our usual menu.
I hope these tips encourage you to hit the road, and see all that our country has to offer.  With just a bit of planning, you can see it all, do it all and still eat great vegan food.
Happy Travels!