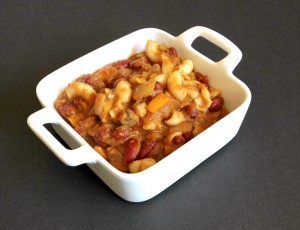 Yep, I said it. Chili with no tomatoes. With my elimination diet in full swing I am having to get a little creative with my entree recipes. There are only a certain amount of meals to be made with little to no ingredients that are on my elimination diet food list… and I've found myself wanting all those other foods. Tomatoes are difficult to avoid, especially when my fave brand of stewed tomatoes is on sale! But I decided to take on the challenge of making a chili without tomatoes. And I have to say I feel quite inventive! It even turned out a shade of normal chili!
Being on an elimination diet means some things are just off limits. Chili being one of them since it's packed full of tomatoes. Since tomatoes are super-acidic they are a no-no. Luckily it it's no longer summer, when they were gorgeous and yummy right off the vine. But now leading into fall and winter, canned stewed tomatoes are on sale, and I can't buy any. So how do you make a chili without tomatoes? Puree carrots, that's how! Super-sweet carrots spiced up with normal chili flavors and add in normal chili beans and some gluten-free macaroni noodles? Can't beat this cold-weather favorite!  I hope you enjoy this vegan and gluten-free No-Tomato Macaroni Chili.

No-Tomato Macaroni Chili
Ingredients
2 pounds carrots
1 large yellow onion
6 cloves garlic
2 orange peppers
2 16-ounce packages sliced mushrooms
1 jalapeno
4 cups vegetable stock
2 cups vegetarian no-chicken stock
6 tablespoons taco seasoning
2 teaspoon oregano
1 bay leaf
5 15.25-ounce cans low-sodium kidney beans, drained and rinsed
3 cups gluten-free macaroni noodles
Preparation
Wash and chop carrots into smallish pieces then boil until tender. Drain and set aside to cool down.
While carrots are boiling mince the garlic, then chop the onion, peppers, and mushrooms into small pieces.
After carrots are drained add 1/4 cup stock to the pot then add the chopped veg, minced garlic, and bay leaf and saute until tender. Slice jalapeno into strips.
In a blender add half the carrots, one tablespoon taco seasoning, one teaspoon oregano, half the jalapeno and 2 cups stock and blend until smooth and soupy. Pour into veg pot.  Mix together other half of carrots, jalapeno, oregano, and one tablespoon taco seasoning with stock. Dump into pot and mix.
Pour in the no-chicken stock and turn heat to low and mix.
Drain and rinse beans then add to pot and mix. Let cook 30 minutes.
In a small pot boil the noodles until just tender then drain and add to chili and cook 30 more minutes.
Portion out and enjoy!