Hi everyone! It's been a few months since I've brought you a vegan fashion round up, so to make up for it I'm going to share with you 3 months worth of vegan fashion finds. So sit back, relax, grab yourself a coffee or maybe a cocktail and take in my fabulous vegan fashion finds!
Peace Love Vegan
Peace Love Vegan is an ultra modern tee collection for both men & women that in it's own minimalistic way makes a bold vegan statement. Oh and the best part a portion of all sales from LVP's collection are donated to the Ocean Conservancy, Humane Society, Nature Conservancy, Save The Children and more!
"These shirts were created to raise the awareness for those that cannot speak, health, our co-inhabitants, compassion, and earth. Thank you for being veg, going green, 2 save the planet. " – One Love Vegan

Silver Lace Jewelry
These handmade silver casted lace jewelry pieces from Sheena Jewellery are utterly stunning. They're the perfect mix of femininity and edginess.
"Feminine but not for the faint of heart!" – Sheena

Colour Blocking
While colour blocking is not a new trend (think the Mod look of the sixties) it is definitely back with a bold & bright bang. All colour blocking is, is putting areas or blocks of solid colors ranging from mute to bright to monatone to contrasting to complimentary next to each other to create an outfit.  These Four cruelty free pieces below available over at  ModCloth are perfect examples of colour blocking.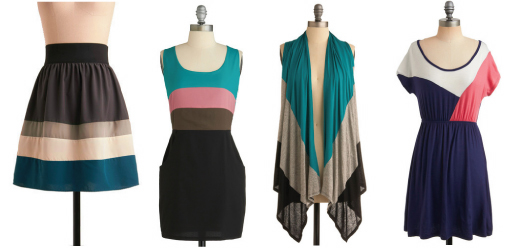 Image Source & Credit: ModCloth
Vaute Couture Tanks
Stay cool and make a statement with these awesome tanks from one of my favourite vegan and eco-conscious brands Vaute Couture. I absolutely love their Animals Are Our Friends collection (Rabbit, Elephant & Chick tanks) the graphics are so simple but at the same time so powerful.  The Friends collection also comes in a sweatshirt style too. All VC tops & tanks are made from earth friendly materials and are sustainably printed in the USA.

Nu-G Large Two Toned Satchel
I'm totally digging this Nu-G Satchel by De L'avion it's large & spacious and perfect for everyday use. It's made from lush vegan leather, comes in two fabulous neutral two tone colours and is available over @ chic online vegan boutique Alternative Outfitters.
Chiaralascura
Chiaralascura is a cute little vegan shop from Italy. It's full of fun tees, hoodies & bags for both men & women that are printed with hand illustrated graphics by the shop's founder & designer Chiara (with the help of her boyfriend Lorenzo). Some of Chiara's illustrations have a vegan message while, others are just adorable little random characters she's dreamed up. All of her pieces are made with respect to people, animals and the planet. Chiara is currently trying to raise funds to help grow her little vegan business and you can checkout this video here to learn all about her fund raising.

Manimal's SS11 Collection
I'm loving the fabulous new colours; pink clay and sand that Manimal's is using in their new SS11 collection. Manimal's has two vegan styles in their new collection; the Fringe Ankle Bootie & the Rib Cage Flat. Love them!

Image Source & Credit: Manimal
Milk And Honey
love, Love, LOVE these lush eco-friendly faux suede handbags & pouches from etsy shop Milk & Honey (not a very vegan name I know, lol). The faux suede is made from recycled pop bottles!
*Milk & Honey is not labeled as a 100% vegan shop but most of the items in the shop seem to be made from eco faux suede or organic twill but you know the drill always make sure to read an items materials before purchasing.*

Birds Of Oregon
These fabulous lockets from the Birds Of Oregon are not your mothers lockets. They're a little more modern and a lot more fun. I would love to tuck a picture of a loved one away inside any of these hand illustrated lockets. The Fox one is my all time favourite!

Pansy Maiden SS11
When Laura from Pansy Maiden told me her new collection Darling Utility was inspired by Coco Avant Chanel, she had me at Coco. Being a huge fan of Coco myself I knew that it would be love at first sight with her new designs and as always she did not disappoint. Laura's use of chic shapes, luxurious colours and smooth textures utterly radiate Coco's simple but sophisticated fashion sense. The collection consists of 6 new styles that are made from some of the best cruelty free, eco-friendly and socially responsible materials available. These materials include buttery soft PVC free vegan leather (that doesn't crack), ultrasuede made from recycled plastic bottles and last but not least organic twill. I personally have my eye on her Petite Hobo Bag, I love that it can be worn as both a shoulder bag and cross body bag.
Vintage + modern minimalism + feminine + functional = Darling Utility.

I Heart Kale Necklace
Show the world your love for kale with this adorable light weight recycled aluminum I Heart Kale Necklace from vegan & eco friendly jewelry line Christy Robinson Designs. It really does seem to be all about kale lately and hey why not it's a super tasty treat, especially in the form of kale chips. Yum!

Roni Kantor Vintage
They soooo had me at vintage inspired (vegan) shoes. – "These vintage inspired shoes are lovingly designed and hand crafted in a small cozy family factory and made out of 100% high quality vegan leather, out of love and respect to all living beings." – Roni Kantor Vintage

—-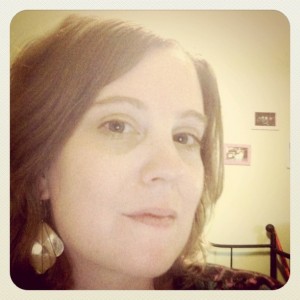 Melanie Pyves is a 9 yr vegan and graphic / textile designer living in Toronto with her two adorable kitties Mosi & Beanie. About 2 yrs ago after discovering that there were very few websites or blogs online that solely featured vegan fashion items she decided to put her 9 yrs experience in fashion to work and start a vegan fashion blog. The Streets I Know: A Vegan Fashion Blog is where she daily shares her cruelty free fashion finds with her readers. Melanie and The Streets I Know were both recently featured in the fabulous vegan lifestyle book The Vegan Girls Guide To Life. She also currently writes about vegan fashion for vegan weddings blog Rose Pedals Vegan Weddings and ethical, ecological & vegan lifestyle blog One Green Planet. You can also follow her fashion musings & tips on Twitter, Pinterest & Facebook.