Here are my favourite vegan fashion items for March 2011.
Shiraleah Handbags
I love these über stylish eco-friendly vegan handbags from Shiraleah. Vegan boutique Alternative Outfitters has a great selection of Shiraleah handbags so head on over there to checkout more of their fabulous styles.

FAIR And True
These beautiful vibrant cotton African print skirts are from hip up & coming London based eco label FAIR+true. All their designs are made in London or fair-trade abroad from organic or sustainable materials such as soy, bamboo, tencel modal or organic cotton. They also do use some organic silk so just make sure to look out for that when you're checking out the rest of their collection which can exclusively be found over at online UK eco boutique Fashion-Conscience.

The Wedge
Love these vegan seventies inspired wedge sandals. The wedge sandal seems to be thee shoe from SS11. Will you be sporting a pair this summer?

Galibardy
UK Jewelry company Galibardy pieces are great examples of the influence Salvador Dali and Surrealism has had on modern fashion & accessories. They're also lots of fun, I love the Scissors Paper Rock Necklace.

Image Source & Credit: Galibardy
Osborn
These fabulous shoes featured below from Osborn are; bold, bright, hip, unique, handmade, graphic, unisex and vegan. Most of the sizes in their vegan selection are sold out which sucks but on another note this is a shoe line to keep your eye on. I predict only good things (& stellar shoes) to come.

* Osborn is not a 100% vegan shop but it does have a vegan selection.
Image Source & Credit: Osborn
bibico
Nieves Ruiz designs simple feminine fair-trade clothing for bibico without skimping on style. bibico radiates casual chic and each piece is perfect for everyday wear. These pieces are also meant to last, they are hand sewn & knitted by women who are committed to producing high quality garments and work in co-operatives that are certified by the World Fair Trade Organisation. bibico is not a vegan shop it does sell some leather belts in it's accessory section and they do have some knitwear made from wool but they also seem to have lots of items including knitwear that is made from 100% cotton & 100% linen. So you know the drill always check an items composition before making a purchase. bibico clearly marks what an item is made from. All the items featured below are 100% cotton or 100% linen.

Image Source & Credit: bibico
TRACCE Bags
While I was skimming through all the amazing vegan items on etsy I came across TRACCE's luscious and oh so chic vegan handbag collection. All the bags in this collection are made from vegan leather, canvas, crochet cotton and other cruelty free materials.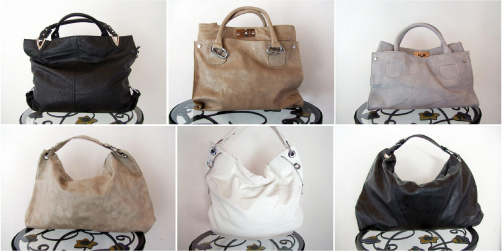 Image Source & Credit: TRACCE Bags
Bright And Bold Men's Tops
I love these bright & bold cotton men's tops available over @ PUNK.COM. They're so perfect for warm sunny Spring days.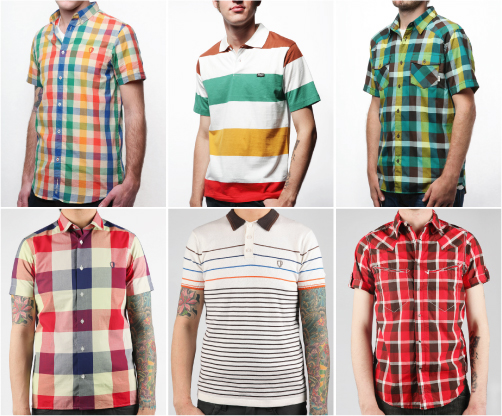 Image Source & Credit: PUNK.COM
Heats Of Darkness SS11
Cri de Coeur has out done themselves again with their stellar SS11 Hearts of Darkness collection. Out of all their collections to date I have to say this one is my favourite. I love the different textures, materials and colours they've used.  I really want to get my hands on a pair of Sand Fringe Moccasin Boots in Umber. I love, Love, LOVE them.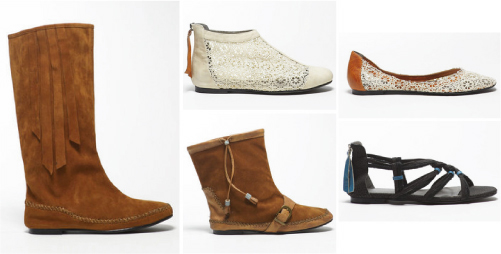 brokenfab
I'm so in love with these amazing unique hand beaded earrings from brokenfab.


Image Source & Credit: brokenfab
JDuct Wallets
These handmade duct tape wallets from JDuct are cruelty free and oh so very fun!

Image Source & Credit: JDuct
Mar Y Sol
These bright, bold & beautiful handbags from Mar Y Sol are created through a collaboration with artists in New York and artisans in Madagascar. Each handbag is handmade using natural & sustainable materials from Madagascar's forest by local artisans. Mar Y Sol provides these local artisans a living wage through fair-trade partnerships. You can learn more about Mar Y Sol, it's fair-trade business practice & it's creator Laurel Brandstetter here. Mar Y Sol is not a 100% vegan shop some leather is used for handles (all the bags in the Getaway collection have leather handles). The handbags that have these leather handles are clearly labeled in their shop. The two handbags below are made from cruelty-free materials; handwoven raffia, a cotton lining and a wood handle/snap.

Image Source & Credit: Mar Y Sol
Vegan Statment Necklaces
Show the world you're vegan & proud with these two adorable Fork & Spoon necklaces from veg etsy team member julep115.

Image Source & Credit: julep115
—-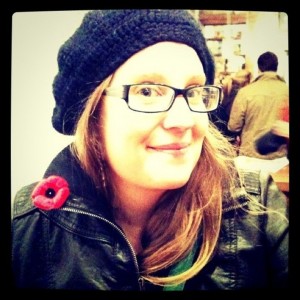 About Moi: Hi I'm Melanie I live in Toronto with my two adorable kitties Mosi & Beanie. I've been vegan 9 years and have also worked in fashion as a graphic/textile designer for 9 years. Almost two years ago I started a vegan fashion blog called The Streets I Know. I started this blog out of my love for vegan fashion and my need to share it. My blog and I were recently featured in the fabulous book The Vegan Girls Guide To Life. I'm super excited to now be sharing some of my vegan fashion musings with you here on Chic Vegan. You can also follow my fashion musings & tips on Twitter, Facebook & Pinterest.