Here are few of my favourite fashion items for the month of February.
Keep Company – SS11 Collection
I'm totally digging Keep Company's Navajo & Nautical inspired SS11 collection of unisex shoes (yes these shoes are for you the guyz too!).
Scene Black Vegan Bag
Love this stylish vegan bag from Canadian handbag company ESPE. The layering of faux leather is fantastic and adds great texture to the bag. It's available over @ Alternative Outfitters.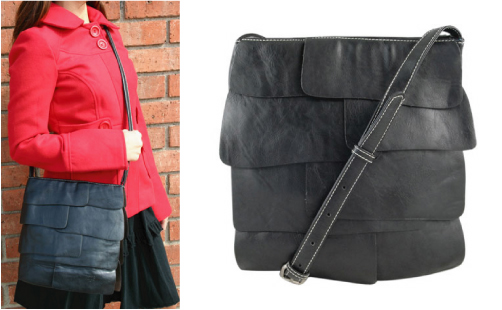 Image Source & Credit: ESPE
Jessalin Beutler
This ones for  both the the ladies and the gentlemen.  Jessalin Beutler's etsy shop is full of awesome geometric prints hand painted/printed on to tees, tanks dresses, cardigans, hoodies and sleeveless cardigans. I have my eye on the shop's stripe sleeveless cardigan. The paints used on JB's tee's are water based and non toxic.

Pendants From Yellow Owl Studio
I don't know if it was the bright colours, the gold or maybe it was a mix of both but as soon as I saw these necklaces from Yellow Owl Workshop in Magic Pony around xmas I knew I wanted one of them. Okay truthfully I wanted ALL of them.

Bold Graphic Photo Tees
These bold graphic photo tank tees from Rock On The World are perfect for this up coming Spring/Summer season. They're über fun and casual at the same time. I of course love the kitty one!

Line Collection
How can you not admire the bold simplicity of Brevity's collection of necklaces inspired by lines? Each necklace in this collection is perfect for everyday accessorizing.

Image Source & Credit: Brevity
Fancy Rabbit
Oh how I adore Sir Fancy Rabbit from Deadworry! You can get both bags & tees adorning this sophisticated little guy over @ Deadworthy's website.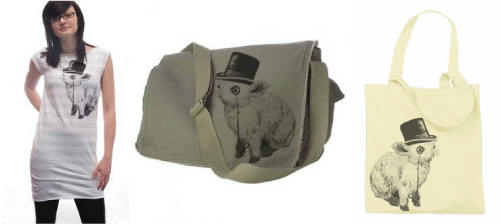 Image Source & Credit: Deadworry
Gold Glitzy Get on Board Flats
I would love to run around the city this Spring in these fun shiny gold board flats. You can find these adorable shoes in LuLu*s vegan shoe section.
Image Source & Credit: LuLu*s
BK Atelier
BK Atelier is a stylish collection of 100% vegan pet accessories for the fashion loving pet owner. The collection consists of carriers, leashes, collers & poop bag holders. Their pet carriers are so chic & sophisticated they could easily be mistaken for a luxurious handbag.

Image Source & Credit: BK Atelier
Crafty Tees
These tee's from 2Sleeves1Collar are very reminiscent of tees from the late 70's early 80's. I think that's what I love about them and the fact they're all about being crafty. I love getting my DIY on and would sport any of these tees with pride!

Blue Q Recycled
Blue Q's Recycled Collection is now available over @ Alternative Outfitters. The collection's coin purses, pouches & shopping bags are both cruelty free and made from 95% recycled post consumer material. Also Blue Q donates 1% from the sales of these items to help support the conservation work of The Nature Conservancy.
Cadillac Cowboy
Spring is in the air… and it's just about time to breakout your Winter free wardrobe. So dig deep into your dresser drawers and pull out all your tank tops & short sleeve tees or maybe head on over to The Cadillac Cowboy and pick up a few new ones. Their fun bold geometric & graphic hand printed Tee's are perfect for SS11 season.
—-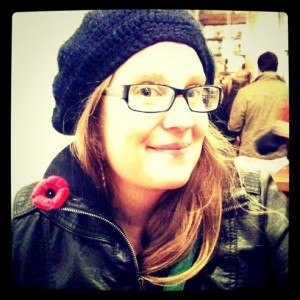 About Moi: Hi I'm Melanie I live in Toronto with my two adorable kitties Mosi & Beanie. I've been vegan 9 years and have also worked in fashion as a graphic/textile designer for 9 years. Almost two years ago I started a vegan fashion blog called The Streets I Know. I started this blog out of my love for vegan fashion and my need to share it. My blog and I were recently featured in the fabulous book The Vegan Girls Guide To Life. I'm super excited to now be sharing some of my vegan fashion musings with you here on Chic Vegan. You can also follow my fashion musings & tips on Twitter & Facebook.