Better late then never!
It's that time of the month again where I share with you my favourite vegan fashion finds from the previous month. So without further ado here are my hot picks for April 2011.
Flapper Style Jewelry
Since I was a teen I've been fascinated by the 1920's, the Art Deco movement & Flappers. Here are a few jewelry pieces inspired by all three. All the pieces are the bees knees!

Navajo
Here's some great Navajo inspired cruelty free fashion items that are prefect for the Spring/Summer 2011 season. I totally dig the use of natural earth tones mixed in with bright bold colours. I love the Melie Bianco bucket bag!

Lauren Eglee Vintage Earrings
I personally own about four pairs of these stunning handmade earrings from Lauren Eglee. Lauren's use of vintage illustrations, goldfill & coloured plastics really do make each pair of earrings in her VI collection one of a kind.

Fancy Ladies Silhouette • I Like You Earrings • Astronaut Earrings
Alexander Campaz
Alexander Campaz's bold geometric poly cotton fleece sweaters embody two of my fav things comfort & style. I think they'd be perfect for any chic vegan lady or gent to sport on a cool spring/summer eve.

Softspoken Accessories
Both head crafter of softspoken Rachael & her fabulous cruelty free knit accessories are très adorable. I'm coveting her brand spanking new bold cotton chevron design necklaces. Softspoken is not a 100% vegan shop so you know the drill read each items materials before making a purchase. All the items featured below are cruelty free.

The Ruffle Shoe
Oh la la la these ruffle shoes from Madden Girl make me want to get all dressed up and go out for a night on the town. You can find them over @ fab vegan boutique Alternative Outfitters.

Bike Necklaces
These Fixed Geared Bike Necklaces from Galibardy are utterly the epitome of hiptastic! 'Nuff said.

Image Source & Credit: Galibardy
Vegan Cloche
Originally Cloches were made from felt which we all know is not very vegan friendly. However, fear not I found a milliner on etsy that makes a few of them out of linen (with vintage buckles!). So if like me you've been longing to own a vegan version of this swell hat then just head on over to Bonnies Knitting to see what she has listed. The red linen one featured below is the cat's pajamas!

Vegan Necklaces
Show the world you're vegan & proud with any one of these stellar handmade statement necklaces.
—-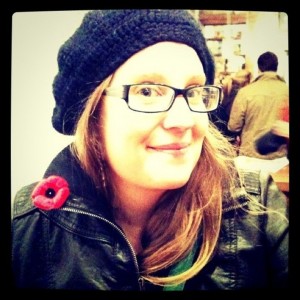 About Moi: Hi I'm Melanie I live in Toronto with my two adorable kitties Mosi & Beanie. I've been vegan 9 years and have also worked in fashion as a graphic/textile designer for 9 years. Almost two years ago I started a vegan fashion blog called The Streets I Know. I started this blog out of my love for vegan fashion and my need to share it. My blog and I were recently featured in the fabulous book The Vegan Girls Guide To Life. I'm super excited to now be sharing some of my vegan fashion musings with you here on Chic Vegan. You can also follow my fashion musings & tips on Twitter, Pinterest & Facebook.