Perfect your springtime cruelty-free beauty regime with the April Vegan Cuts Vegan Beauty Box! The latest box contains a full 5-step facial routine.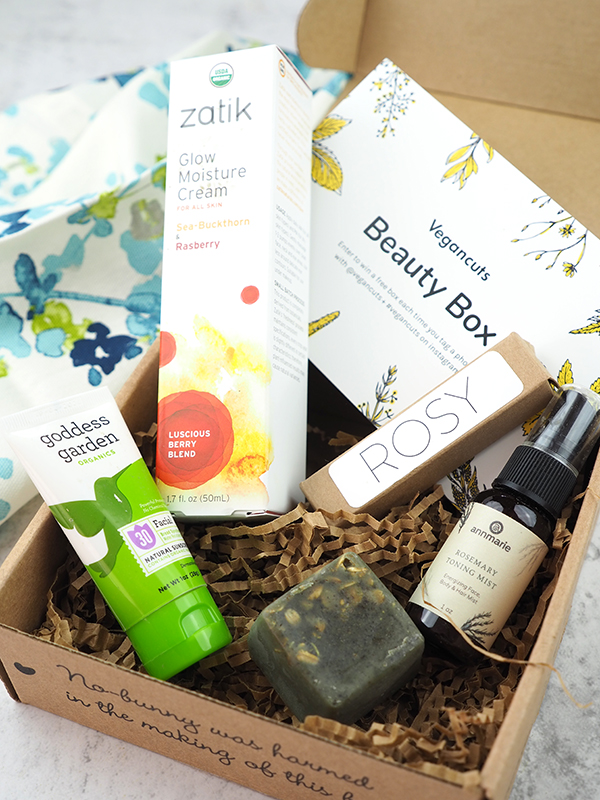 Perfect your springtime cruelty-free beauty regime with the April Vegan Cuts Vegan Beauty Box! The latest box contains a full 5-step facial routine.
I love the Vegan Cuts Beauty Box, because it allows me to try different cruelty-free beauty products without spending a lot of money. I have sensitive skin, and I tend to get headaches from certain scents. I have a bathroom cabinet full of beauty products purchased with the hopes that they would be the one, only to find that I had a bad reaction. With the Vegan Beauty Box, I get to sample products before I shell out a lot of cash.
The Vegan Beauty Box is a monthly subscription service, and each box is filled with 4 to 7 new products. Some are trial sized while others are full-sized. The Beauty Box is perfect for new vegans who are just getting started with cruelty-free beauty, as well as seasoned vegans who want to discover new brands and try different products.
The April Vegan Beauty Box was full of cruelty-free skin care products that come together create a 5-step facial routine. A 5-step routine may sound like it takes too much time, but it really only takes a few minutes.
The April Vegan Beauty Box Contained:
Herban Clay Facial Cleansing Bar – $12.50 value
The first step in the routine is cleansing. I usually use creamy cleansers that come in a bottle or tube, so I wasn't sure what to make of a bar cleanser when I first opened my beauty box. This little bar works up to a nice creamy lather though. The bar is made with sea clay, which is infused with oats and eucalyptus. A little goes a long way, so even though this bar is small, I can tell it will last quite a while. It also doubles as a soothing shaving cream.
Annmarie Skin Care Rosemary Toning Mist – $19.00 value
Step two is toning. Spraying on toner only takes a couple of seconds after cleansing. This handcrafted mist is made with aloe vera, white willow bark, neem, and rosemary distillate, and it's great for all skin types. It's great for both morning and evening use, and it's even good for hair! A few spritzes near the roots refreshes and revives tired tresses.
Rosy Organic Apricot Oil – $5.00 value
After toning comes a serum or oil. Years ago, I was nervous about using oils on my sensitive skin, but I've learned that it actually works really well. Nourishing apricot oil helps to moisturize, and it helps to relieve inflammatory conditions such as rosacea or eczema. It contains omega fatty acids as well as vitamins, A, C, and E. Just as with the cleansing bar, a little goes a long way, so I'll be using this tiny bottle for a while. It's perfect for all skin types, and like the toning mist, it can also be used on hair.
Goddess Garden Organics Facial Sunscreen – $4.99 value
Sunscreen is a step that most people – including me – tend to skip, but it's an important one. I have pale skin and I burn really easy, so it's really crucial for me, especially in the summer. This organic sunscreen has an SPF of 30 and is water resistant. It's formulated with natural ingredients such as aloe leaf juice, shea butter, and safflower seed oil, and it's not greasy like some sunscreens can be. It's safe for sensitive skin and has a light lavender scent. I'll be getting a lot of use once the sun finally comes out!
Zatik Glow Moisture Cream – $28.00 value
The final step in the 5-step skin care routine is moisturizing. This light cream is great for the warm spring and summer months. It's made with a small batch process using ingredients made from organic botanicals. Zatik uses a freshness process to insure its consistency. Sea-buckthorn and a blend of berries give this moisturizer a blend of omega fatty acids that nourish and hydrate skin while smoothing fine lines.
The Beauty Box is available as a monthly subscription, which means that once you sign up, a box of new goodies gets delivered to your door every month.