Start your day deliciously with a slice of Berry Good Breakfast Cake from Vegan Comfort Cooking by Melanie McDonald. It's is stuffed full of healthy ingredients but still tastes like a treat, especially with the generous drizzle of sweet, tangy, yogurty frosting.
Vegan Comfort Cooking
I'm super excited to share my friend Melanie's new book with you today! Vegan Comfort Cooking is full of, you guessed it, vegan comfort food recipes.
There can sometimes be a misconception that vegan food is bland and tasteless. Mel puts that fallacy to rest with this cookbook. It's full of deliciously flavorful dish that will warm you, body and soul.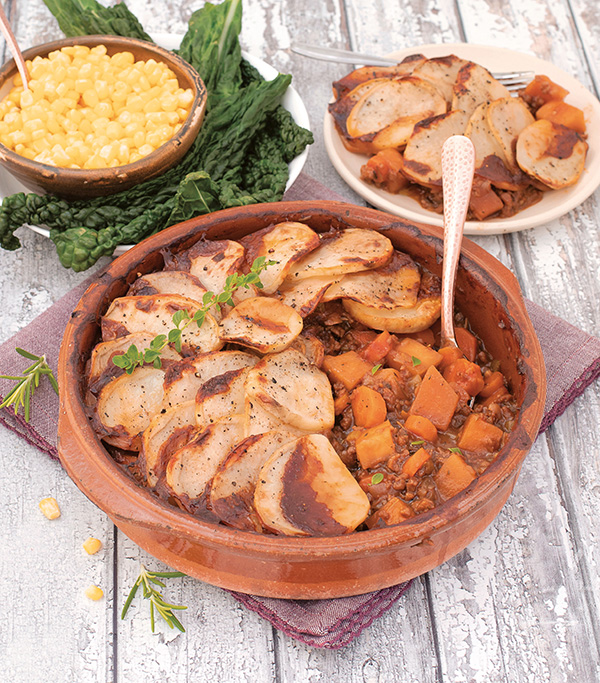 Many of Mel's recipes are for veganized comfort food classics. These are all dishes that will please just about anyone at your dinner table, as nothing is too foreign for omnivores.  Veganized classics include such dishes as "I Can't Believe It's Vegan" Roasted Garlic Alfredo, Sweet and Smoky "Meatloaf", Next-Level Mushroom Lasagna, and Dreamy Baked Berry Cheesecake.
Mel is English, so she's also included veganized version of British classics, such as Shepherdless Pie with Root Veg Mash, Heavenly Veggie Hot Pot, Jam-tastic Victoria Sponge Cake, and Sinfully Sticky Toffee Pudding.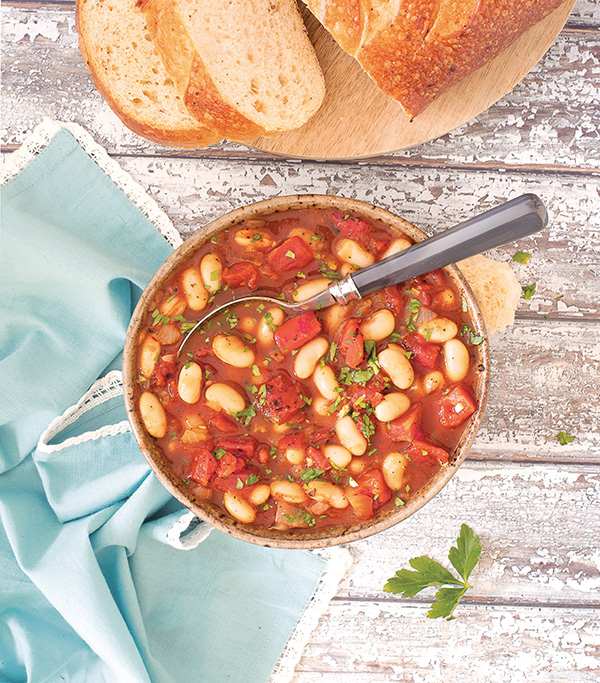 The dishes in Vegan Comfort Cooking will take you all the way from breakfast through snack time, dinner, and dessert. Start your day with this Berry Good Breakfast Cake, have a bowl of Smoky Bean & Tomato Soup for lunch, and munch on Down 'n' Dirty Taco Fries. Then make Awesomely Easy Potato Tacos for dinner and follow them up with a slice of Peanut Butter Nutter Chocolate Cake.
Chapters in Vegan Comfort Cooking include:
First, We Brunch
Indulge Yourself
The Munchies
Sweet Talk
Bits & Bobs
If you're looking for comforting vegan recipes, Vegan Comfort Cookingis the book for you!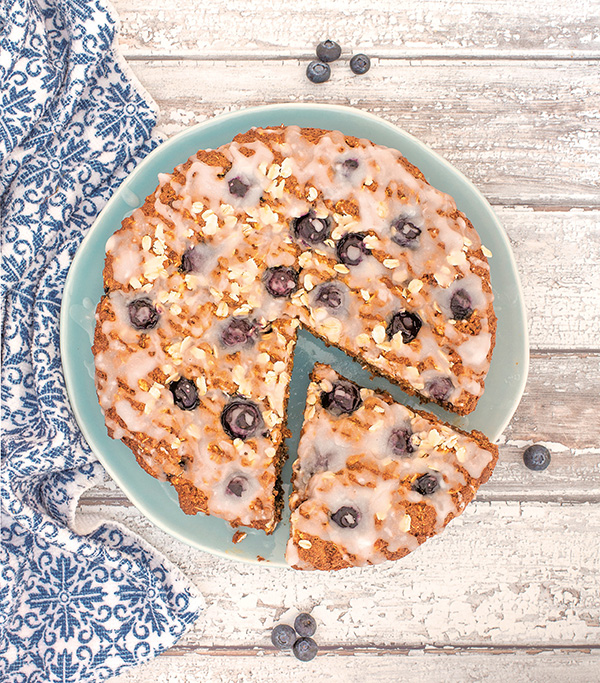 Berry Good Breakfast Cake
Cake for breakfast is always a good thing! This one is stuffed full of healthy ingredients but still tastes like a treat, especially with the generous drizzle of sweet, tangy, yogurty frosting. Enjoy it fresh on the weekend—then eat the leftovers throughout the week.
Ingredients
Oil or vegan butter

for pan

1½

cups

(173 g) spelt flour

2

tbsp

(14 g) ground flaxseeds

1

cup

(80 g) rolled oats, plus a few more for sprinkling on the top

¾

cup

(150 g) coconut sugar

1½

tsp

(6 g) baking soda

1

tbsp

(12 g) baking powder

½

tsp

ground cinnamon

½

tsp

salt

1½

tbsp

(23 ml) apple cider vinegar

(see note)

½

cup

(123 g) unsweetened applesauce

1/3

cup

(80 g) plain, coconut or vanilla flavor vegan yogurt

1

tsp

vanilla extract

1

cup

(148 g) fresh blueberries, or 1 cup (155 g) frozen, plus a few to decorate the top
Frosting
½

cup

(130 g) powdered sugar

2 to 3

tbsp

(30 to 45 g) plain, coconut or vanilla flavor vegan yogurt
Instructions
Preheat the oven to 350°F (176°C). Grease the sides of an 8- or 9-inch (20.5- or 23-cround cake pan with a little oil or vegan butter and line the bottom with a circle of parchment paper.

In a large mixing bowl, combine the flour, ground flaxseeds, rolled oats, sugar, baking soda, baking powder, cinnamon and salt; then stir well.

In a separate bowl, combine the vinegar, applesauce, yogurt and vanilla and stir together.

Pour the wet ingredients into the dry and stir gently to combine. Don't overmix. The batter will be very thick. Fold the blueberries into the batter.

Spoon into the prepared cake pan and sprinkle with a few more oats and blueberries. Bake for about 40 minutes, or until a toothpick inserted into the middle of the cake comes out clean. Remove from the oven and leave in the pan for 10 minutes. Then remove the cake, peel off the baking parchment circle and allow to cool completely on a cooling rack.

Once the cake is cool, prepare the frosting: Put the powdered sugar in a small bowl. Add the yogurt gradually, a tablespoon (15 at a time, stirring really well between each addition to smooth it out. Stop when you have a thick but drizzlable consistency.

Drizzle all over the top of the cake, allowing some to spill over the sides.

Store, covered, in the fridge. It will keep for 4 to 5 days.
Recipe Notes
Note: You will find apple cider vinegar in most of my cake and sponge recipes. It is a must-have ingredient for any vegan baker. It might not seem like an obvious ingredient to add to a cake batter, but when combined with baking soda, a chemical reaction happens, making bubbles, creating air pockets and providing leavening. This, along with a little extra baking powder, replaces the leavening action that would otherwise be provided by eggs, so you get a light and fluffy sponge. Don't be tempted to skip it or you will end up with a flat cake!
Reprinted with permission from Vegan Comfort Cooking by Melanie McDonald, Page Street Publishing Co. 2019.
Photo credit: Melanie McDonald