My mother-in-law lives in Florida where the sun is warm and the snow is non-existent. It's also where citrus trees are abundant. My mother-in-law has a few growing in her yard and she always brings me organic grapefruit and oranges whenever she comes to visit. I'm lucky, I know! Last week my mother-in-law came to stay and brought several huge bags of grapefruit with her. Usually I just juice them up, but this time there were so many I wanted to find a way to use them before they spoiled. What I came up with is so simple I can't believe I've never tried it before; I candied them and turned them into a bundt cake.
The first thing I needed to do is candy the grapefruit. To be honest, I've never candied grapefruit before. A quick Google search told me that it isn't hard to do, though most of the recipes I found called for a lot of sugar. A lot of sugar. I've seen some call for 3 cups or more.
I'm not a big fan of candy and I never have been. Cakes, cookies, brownies, pies, donuts, strudels, so much yes. Hard candy, gummies, lollipops, and the like? Nope. When I was younger I worked as a General Manager of a Sweet Factory candy store (true story) and was never tempted at all to eat any of the candy. I don't care for overly sweet things and so my candied grapefruit may not be as sweet as you want it to be. If you love sweet, you will want to bump up the amount of sugar you add to these slices.
I preheat my oven to 400 degrees. I peeled the grapefruit, making sure to remove the pith (the white part) and cut it into 1/4 inch slices. Next I removed all of the seeds. Most of the the recipes I've found say to boil grapefruit slices in sugared water and dredge in granulated sugar with the peel still on. Even though I've read that citrus peels have four times more fiber than the fruit itself, I decided to cut mine off. I placed the citrus slices even spaced apart on a baking sheet lined with parchment paper.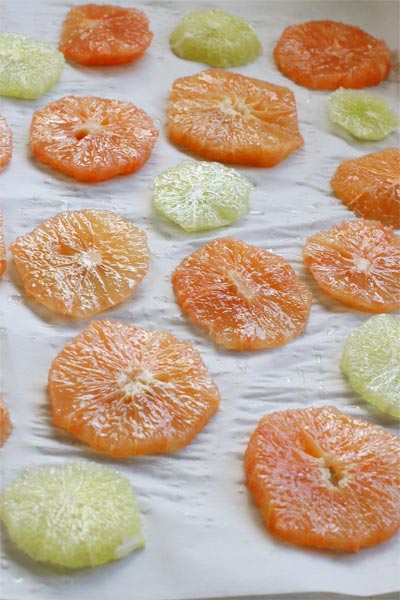 I also decided to try to candy limes because I thought that they'd be pretty together with the grapefruit (and they are) but don't do that. Or, if you do, add way more sugar because whoa! Sour.
Instead of boiling and dredging, I decided to just sprinkle the brown sugar liberally on the top of each slice. I topped the sugared slices with a sprinkle of pink salt and baked them until they are dried out.
They'll look like these beauties here: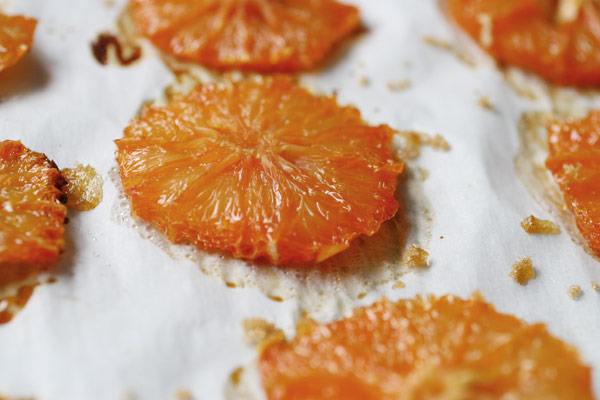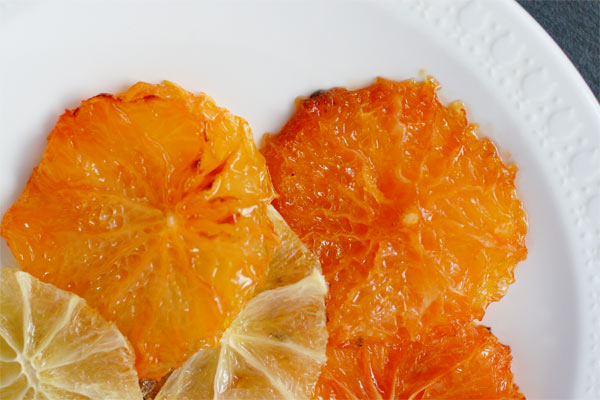 So how do they taste? I liked them. They're really tart and sweet and I could have ate the whole batch in one sitting. I didn't care for the limes as I said, but the grapefruit were fantastic. Keep in mind, you'll want to sugar the slices to your preferred sweetness levels. I really enjoyed how the pink salt pepped up the tart sweetness of the grapefruit. I love that stuff.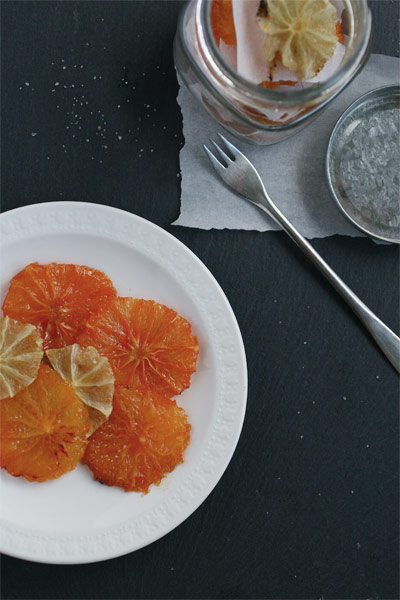 I used these candied grapefruit to top a grapefruit bundt cake that I adapted from this Orange Bundt Cake recipe by Fran Costigan that I found over on VegKitchen. I omitted the 1/4 cup of cane sugar, added lemon zest, and used grapefruit juice and zest where it called for orange. I baked it for 50 minutes and let it cool for 45 minutes. Once the cake was cool I mixed up the glaze.
I loosely based it on this recipe for Vegan Royal Icing. I took two cups of organic powdered sugar and sifted them into a bowl. Then I measured 1/4 teaspoon of almond extract into the bowl. I added a few tablespoons of grapefruit juice and whisked it together until smooth, taking care not to add too much liquid. Only use as much as you need to make a nice thick, runny glaze. Once you have the right consistency, add a few tablespoons of corn syrup and whisk until smooth. Taste for yum factor. Adjust as needed. The glaze pictured is a bit more runny than I would have normally liked but I didn't have as much powdered sugar as I had thought. I used the glaze to glue the candied grapefruit to the top of the cake and drizzled the whole thing.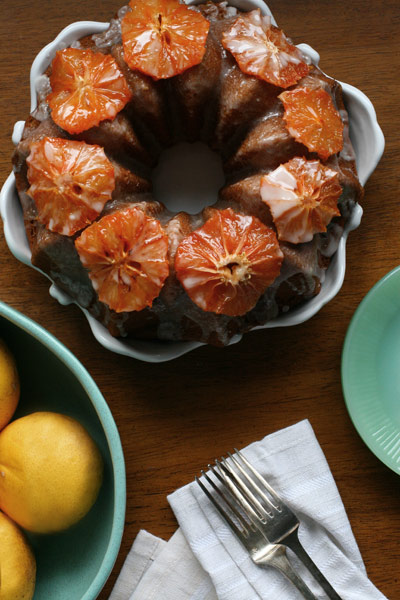 Didn't it turn out pretty? I've never made a cake like this before and I think it turned out so cute. I served this cake to my non-vegan family and they enjoyed it. Even younger children enjoyed it. It has a good crumb and a great citrus flavor. I really loved the addition of the candied grapefruit; I'd make this again. If you decide to make this cake or just the candied grapefruit let me know how it goes in the comments or find me on Twitter!