When I looked at the menu at Meet, I couldn't tell it was vegan. That's intentional, says Linda Antony, one of the Vancouver restaurant's three owners. Meet's focus is on bringing people together from all different dietary backgrounds. "Everyone leaves happy and satisfied, including the meat eaters," she told me on a recent visit to their Main Street restaurant on a busy Tuesday night. "It's a bit of a passion project to bring vegan comfort food to the masses."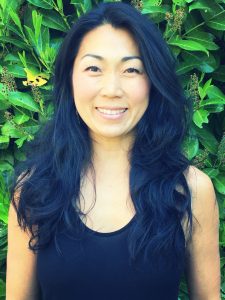 Linda, along with husband Jason Antony and business partner Ibo Staiano, opened the first Meet location in 2014. They added a second location in touristy Gastown this February. The interior of Meet on Main is modern but comfortable, with a turquoise ceiling with exposed wood beams, wood tables stained a variety of colors, and twisty copper light fixtures spiraling out of a wood beam overhead.
The Food
Linda and Jason come from a restaurant background. They ran the artsy local restaurant called Deviate for 15 years. It featured deejays, late nights and a guest graffiti artist giving the front exterior a monthly makeover.
Meet's recipes are Linda's creation. Though she went to a French culinary arts school, she devised her current dishes at home. "This stuff came from cooking for a vegan husband for 12 years," she says, gesturing to a menu full of burgers, fries, mac and cheese and bowls.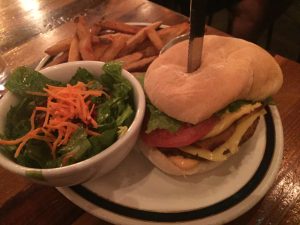 Linda works hard to get the umami, or five-flavor taste, from her plant-based comfort foods. "That's why people love meat, is it touches all five flavors. So we do a lot of flavor layering." She uses nuts for their rich fattiness, fermented vinegars, and textural experiences with different plant-based proteins.
Meet's most popular appetizers are the artichoke spinach dip and sweet chili cauliflower, Linda says. The menu has a large fries section and a half dozen different burgers made from field roast patties. I ordered a double bacon double cheeseburger, because when was the last time I got that? Never? It featured two types of plant-based cheeses, coconut bacon and seitan bacon. The housemade coconut bacon was especially good.
For dessert, Linda recommends a coconut Bavarian cream-filled donut or their rich chocolate ganache tart.
Family Choices
Jason went vegan first, originally trying the diet for health reasons, and later embracing the philosophical reasons. "I was inspired by him," Linda says. "I had changed my style of cooking for him. But the tipping point for me was watching this documentary called Earthlings. The documentary talks about the psychological justifications that we make to eat meat and make what goes on in the meat industry okay." She found the documentary answered all her own interior justifications.
Just as Jason and Linda made their own independent dietary decisions, they trust the good sense of their three sons. "I share information with them," Linda says. "I allow them to make their own decisions." The older two are pescaterian. The youngest is eight years old and vegan. He saw a picture of a pig's eyes looking out a transport vehicle, on the way to the slaughterhouse. That was enough for him to not want to eat pigs, a courtesy he soon extended to other animals as well.
The Future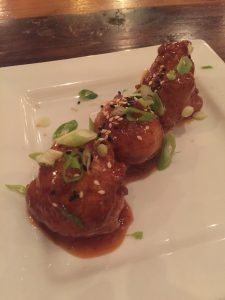 The three Meet owners are considering their next move. They might add a few more outlets around Vancouver, and possibly expand out of town. Linda just did a Food Network segment. A cookbook may be in the works.
Whatever they do, they're not targeting the vegan market. "Approximately 70 percent of our clientele aren't vegan," Linda says. They come because they're intrigued, or accompany a veggie friend, or they're cutting some meat out to their diet. "We don't put that big banner up there saying, 'We're vegan! We're vegan! We're vegan!'
Judging from the boisterous crowd on a Tuesday night, their approach is working just fine.