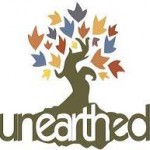 Painting is one of the easiest ways to change the mood of a room without spending a ton of money.  However,  we need  to be choosy about which paint we buy in order to minimize our exposure to chemicals.  UNEARTHED PAINTS is a company that provides us with a solution to the chemical exposure that accompanies conventional paint.
All Unearthed paints, plasters, and wood finishes are vegan, which means they do not contain animal products and have never been tested on animals.
Avoiding chemical exposure  is an even bigger concern while pregnant.  One of the most exciting projects that a couple go through while waiting for baby is putting the nursery together and Unearthed Paints allow mama to be involved in the painting process too since all of their paints are 100% zero-VOC and safe to use while pregnant.
Plus, the colors are gorgeous!  The color line spans the full spectrum of color from cool and muted to amazingly vibrant and are made with raw ingredients such as clay, chalk, marble, and earth and mineral pigments and that are not produced with petrochemical (oil-derived) or synthetic ingredients.
While I am impressed with Unearthed Paints products, I am even more impressed by how environmentally and socially responsible the company is.
For every square foot of Unearthed Paints, Plasters or Wood finishes you purchase, Unearthed will purchase one square foot of rain forest, and donate it back to indigenous peoples that have responsibly lived on the land for thousands of years.
Unearthed Paints line includes Clay Paint, Vega Paint and Clay Roll-on Plaster, so there are plenty of applications to choose from.  They also carry wood finishes, primers, and thinners.