This bisque will remind you of dining at your favorite bistro. This vegan version tastes just like the dairy version, if not better.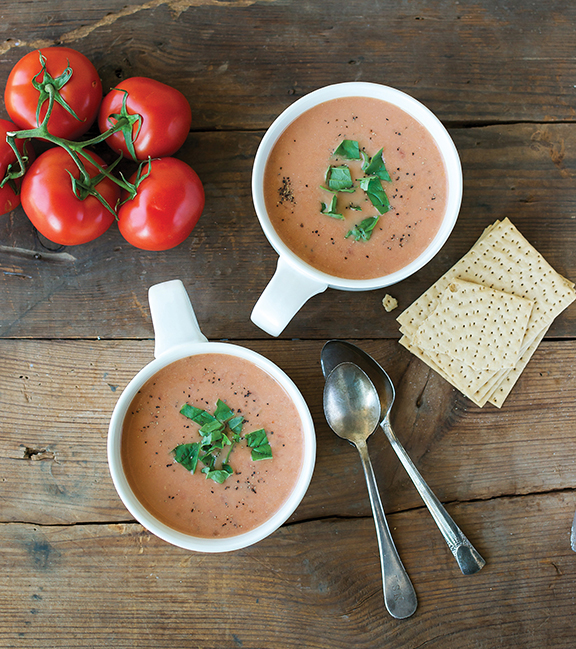 Tomato Basil Bisque
Ingredients
3 cups vegetable broth
1 cup red onion, cut into 1/4-inch dice
3 large garlic cloves, minced
1 (28-ounce) can crushed tomatoes
1 teaspoon Italian seasoning
2 tablespoons dry sherry (optional)
1 teaspoon agave or pure maple syrup
1 tablespoon tamari or Bragg Liquid Aminos
1/2 cup raw cashew pieces (soaked for 4 to 6 hours)
1 cup water
1/4 cup packed roughly chopped fresh basil
1 teaspoon sea salt, or to taste
1/4 teaspoon ground black pepper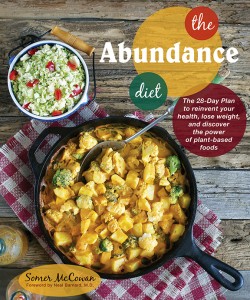 Preparation
Heat 1/4 cup of the vegetable broth in a large soup pot over medium-high heat. Add the onion and sauté, stirring occasionally, for about 5 minutes, or until the onion is softened. Add additional broth as necessary to keep it from burning. Add the garlic and sauté for 1 to 2 minutes, adding more broth as necessary. Add the tomatoes, remaining vegetable broth, sherry (if using), Italian seasoning, agave, and tamari. Cover the soup with a lid and reduce heat to a simmer.
While the soup is simmering, blend the cashew pieces with the water until completely smooth and creamy, 1 to 2 minutes. Pour the liquid into the soup pot and stir to combine. Add the basil and season with the salt and black pepper.
Makes 4 servings
Recipe from The Abundance Diet, © 2015 by Somer McCowan. Photo by Ann Oliverio. Used by permission from Vegan Heritage Press LLC.