Sometimes being eco-friendly can = mucho dollars and while I totally believe it's worth spending the extra cash on eco-friendly pieces not everyone can fit it into their budget. So I've put together a thrifty list that will help you put the eco chic into your cruelty free wardrobe without breaking the bank.
Zoe&Zac
In April 2009 Payless: Shoe Source with the help of model-activist Summer Rayne Oakes launched a green shoe brand called Zoe&Zac. The best part about this brand other then the fact that all the shoes are under $40(US) is that all the shoes also happen to be animal product free! Zoe&Zac uses eco friendly cotton, hemp, faux leather, faux suede, water based glue, tague nuts (vegan ivory) & recycled rubber to make their shoes. You can checkout this seasons line here. They've also with in the last year added eco friendly socks/tights & handbags to the line.
Orchard Flats • Bouquet Gladiator Sandals
Image Source & Credit: Zoe&Zac
Pure Citizen
"Save $. Give $. Live Better"
Pure Citizen is a discount online shop with a twist. It only sells items from brands that want to make the world a better place. You will find products that are organic, fair trade, biodynamic, natural, sustainable, recycled, cruelty free and handmade.  Over the past month they've feature Cri de Coeur, Vaute Couture & Matt & Nat for a steal. Most of the brands they feature in their shop are up to 90% off. Each sale is on for 72 hrs and will also benefit a non-profit organization of the brands choosing. Pure Citizen is a great way to get your hands on those eco-conscious cruelty free items that  normally might be out of your budget range. I should warn you though that not all the brands featured are vegan. However I'm sure like me most of you know what high end vegan brands you're dying to add to your eco-friendly wardrobe and you'll have no problem wading through the non vegan companies. Make sure to add them on Facebook & Twitter so that you get a daily heads up on what's in their shop.
Image Source & Credit: Pure Citizen
Upcycled Jewelry
Upcycled jewelry is a fabulous way to add a little sparkle & shine into your eco chic wardrobe. Etsy is a great place to find all sorts of stunning & unique upcycled jewelry pieces. You can find anything from old skateboards re-purposed into earrings to knitting needles re-purposed into bangles to soda cans re-purposed into one of a kind brooches. Most of the upcycled jewelry on etsy is very affordable.
Image Source & Credit: Upcycled vintage knitting needle bracelets – Set Of 4 – Violet Posy by Sew New Things • Recycled Skateboard Custom La Alana Bow Necklace by Seven Ply • Vintage Brass Necklaceby Noble Town Vintage
*You know the etsy drill always read an items materials & tags before you purchase to make sure the item is vegan.*
Sea Oats
Sea Oats's etsy shop is full of beautifully handcrafted zipper and flap clutches. Each clutch is made from vibrant re-purpose materials and then hand silkscreened with bold graphic patterns. The inked used to silkscreen is water-based, pvc free and environmentally friendly. Last put not least most of Sea Oats clutches are under $30! You can find all her clutches labeled as vegan here.
reclaimed handprinted cattails clutch in rust linen • eco friendly handprinted jellyfish clutch in upcycled mustard • ecofriendly handprinted seaoats clutch in hot pink
Image Source & Credit: Sea Oats
Vintage Vera Scarves
With bold & bright being in this Spring/Summer 2011 beautiful vintage scarves from Vera Neumann would be a perfect & thrifty addition to any cruelty free eco conscious wardrobe. Vera Neumann designed beautiful bold textile prints for mostly scarves for over 40 years. All of her prints were hand drawn/painted and then hand silk screened. A lot of her scarves were originally made from excess parachute silk from WWII but over the years they were also made from acetate, polyester and other synthetic materials. You can find a plethora of these synthetically made scarves on etsy for a steal in a variety of bright & bold graphic/geometric prints. Just make sure to read the scarves materials to find out what it's made from before purchasing. All the ones feature below are vegan.
Image Source & Credit: Vintage Vera Sash Scarf from Hungry Girl Vintage • Vintage Vera Primary Mod Color Block Scarf from The Lucky Fish • Vintage Vera Pacific Sunset Watercolor Scarf from The Lucky Fish
Vintage Vegan Shoes, Belts & Purses
Adding vintage vegan items is another fashionable and affordable way to help grow your cruelty free eco-friendly wardrobe. You can find these items either at you local thrift shop, vintage shop, ebay or etsy. All you need to do is pay attention to an items material content before making a purchase. Most items will list what they're made from. One of the easiest place to find vintage vegan items is on etsy. Mostly because you can search vegan in their vintage search engine and because shops will list an items composition. Below are just a few vintage vegan items I've found on etsy.
Etsy Searches: Vintage Vegan Shoes • Vintage Vegan Purses • Vintage Vegan Belts
(Always read materials to make sure item is vegan)
White with Black POLKA DOTS Pumps 1980s Vintage from Rags & Feathers • Red Vinyl Purse from Dress Machine • Vintage Super Wide Golden Cinch Belt from Mother Midnight
Etsy
As you might have noticed above a lot of the suggestions I've given you already have come from etsy. So I figure I should mention that etsy overall is a great place to find affordable vegan eco-friendly items. You can find lots of handmade eco-friendly shoes, knits, clothing, cosmetics, jewelry, belts, purses and beauty products. The best part about etsy is new items are added daily.  Below are just a few cruelty free eco chic items I've found on etsy.
Image Source & Credit: Salmon Spirit – Goddess Gloves – Upcycled Yarn – Medium by Hamsa Healing • Organic Mineral Pressed Eyeshadow by orglamix • ECO FRIENDLY VEGAN COTTON FLAT SHOES WITH SIZE FROM US 5 TO 11.5 by ExtraSeed
*You know the etsy drill always read an items materials & tags before you purchase to make sure the item is vegan.*
Cosa Verde
And last put not least there's Cosa Verde. Is a lot like etsy except for the fact that everything on the site is eco-friendly. What I love about Cosa Verde is how easy it is it access all the vegan items for sale on the site. All you need to do is click the Vegan Section and you'll find tons of cruelty free items. Most of the items on the site are perfect for the budget conscious individual. Also all the items are handmade which in my book = longer lasting and that's perfect for the eco friendly wardrobe. To have a look at all their items yourself just click here.
Image Source & Credit: Soft Scoop Neck Shirt with Coral Imprint by Beyond Her • Elegant Leaves – Organic Leaf Earrings by Designs By Erin • Bicycle Tire Belt – Knobby Mountain Bike Tread by Re Bicycle
—-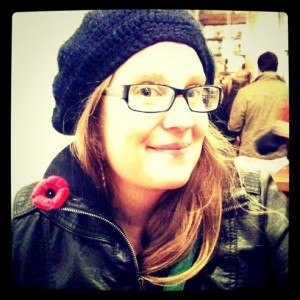 About Moi: Hi I'm Melanie I live in Toronto with my two adorable kitties Mosi & Beanie. I've been vegan 9 years and have also worked in fashion as a graphic/textile designer for 9 years. Almost two years ago I started a vegan fashion blog called The Streets I Know. I started this blog out of my love for vegan fashion and my need to share it. My blog and I were recently featured in the fabulous book The Vegan Girls Guide To Life. I'm super excited to now be sharing some of my vegan fashion musings with you here on Chic Vegan. You can also follow my fashion musings & tips on Twitter & Facebook.