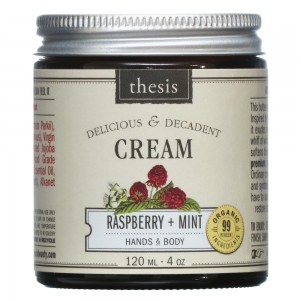 If you were to name the essential qualities of a good beauty product, what would be on your list?  Vegan, cruelty-free, organic?  How about hand-made in the US?  And affordable?  How about all of the above?
With a little bit of searching and label-reading, you'll find products that fit the items on your list.  But you might not find a company with a very big product line.  Think of it.  It can't be easy to do – I have a hard time just blending essential oils!  Thank goodness there are companies like Thesis to fulfill my wishes.
Run by a family of vegetarians, Thesis features over 50 truly pure, vegan and eco-friendly beauty products that are affordable everyday luxuries.  Everything is made in the U.S. from ingredients that are organic, natural, raw, cold-pressed and undiluted.  When I asked about the name, I was told that Julia, the founder and owner of Thesis, named the company Thesis as it is the family's proposition to the world to create beauty products as nature intended. They are dedicated to keeping product ingredients in their most natural state.
Pretty cool, huh?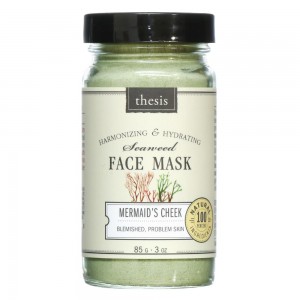 I was able to try a few of their products and I was very impressed.  The first product was the Mermaid's Cheek Seaweed Facial Mask.  I was hesitant to try this because I have never been a fan of anything from the sea.  Even in my pre-veg days, you couldn't get me around seafood.  So, I wasn't surprised that I didn't like the smell of this.  But I wanted to give it a fair chance and I am happy to say that my skin did feel nice after I tried it.  No dryness, smooth and clean.
Speaking of dryness, the next product I tried was the Delicious and Decadent Raspberry Mint Body Cream.  No smell issues here.  This product has a lovely, faintly sweet smell and it's so nice to use.  It literally melts on your skin.  I tried it before bed and woke up the next morning with super soft skin. I highly recommend this, especially if your skin gets dry in the winter.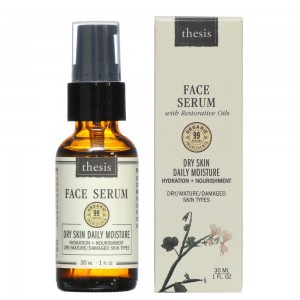 The final product I tried was one of the face serums.  While my body gets very dry in the winter, I've always had oily skin on my face.  The product I received was for oily skin, so it isn't suitable for me on a long-term basis.  But I used it sparingly, and it was fine.  And I loved the scent.  It reminded me of a spa.  I kept opening the bottle and sniffing.  Even though I can't use this on my face, I have been using it on my cuticles and it's doing a great job.  Note that I did check out the website and I found that they also make a serum for oily skin. I'm sure that will be on my shopping list.
Speaking of the website, it's worth taking a few minutes of your time to explore what they offer.  Not only can you see the products (which are extensive and include items for babies and men), but there is simply a lot of good information.  You can learn more about ingredients and skin care, as well as the company's story.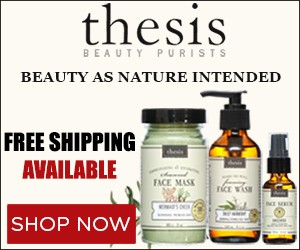 Thesis earned an EWG score of 0-2 (0 for most products) and is also PETA, Green America and Leaping Bunny certified.  And the prices really are reasonable.  Pure and affordable is a good mix.
Thesis would love to offer a 15% discount for Chic Vegan readers.  Just use "chicvegan15" as the coupon code.  Enjoy!