Many vegans would probably agree that one of the many great things about a plant-based way of eating is being able to expand your taste and food horizons in a really unique way. Though the variety of grains, fruits, plants, and ethnic cuisines to try are seemingly limitless, sometimes nothing satisfies quite like an animal-free take on an old non-veg favorite.
In comes the Vegg, "The World's First Vegan Egg Yolk," a product that is helping satisfy egg lovers' cravings everywhere without the cholesterol or cruelty often associated with consuming chickens' eggs.  Introduced to the market in early 2012, the Vegg proclaims the following mission statement on its Facebook page:
"To help put an end to the suffering of male and female chicks in industrialized egg production factory farms through competing with the industry by way of offering to the public a cruelty-free, ecologically sustainable zero cholesterol, gluten-free alternative to eggs."
The company goes a step further by also donating 10% of all profits from Vegg sales to Compassion Over Killing, a non-profit organization that works to protect animals.  Sounds lovely in theory, but what does this vegan egg yolk actually taste like?  And what sorts of weird things and preservatives must one mix together to form something with a convincing yolk consistency?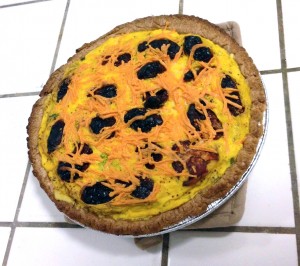 To address the latter question, the Vegg's ingredients list is actually quite short, and not at all full of strange, questionable things; it consists of fortified nutritional yeast (an all-natural and tasty deactivated yeast often used as a health supplement or delicious cheese substitute), sodium alginate, black salt (which gives it that sulfuric, "eggy" smell), and beta carotene.  The only preparation involved with the Vegg, which comes in a powder form, is to add water and mix using a small food processor or blender.  This step is vital, as it gives the mixture an instantly thick, yolky texture, which is sadly not achievable if mixed by hand.
As for the taste?  Not only has it gotten enthusiastic approval from all the people whom I've shared it with, but it has turned me—someone who never really ate or was particularly fond of egg products—into a Vegg lover.  Not just that, but a bonified, Licks-the-Stick-Blender-After-Blending-a-Batch-of-Vegg-Yolk lover.  Needless to say, I highly recommend it!  Below is a recipe for basic Vegg French Toast, like the one pictured above.  The Vegg is available at select retailers in the U.S., Canada, Europe, Australia, and online.  For meal ideas like the ones featured in this post (and many more!), visit the Vegg's special recipe page and let your creativity take over from there!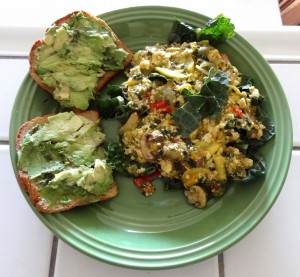 Vegg Savory French Toast For Two
(inspired by a recipe originally featured on The Vegetarian Recipe Club)
Ingredients:
2 tsp Vegg flakes/powder
1/2 cup water
1/3 cup of unsweetened almond milk (or other milk alternative)
4-6 slices of bread
1-2 Tbs olive, grapeseed, or coconut oil (optional if using a non-stick pan–works both with and without, in my experience!)
salt*, pepper, and other seasonings to taste**
*I found that the flavors of the Vegg were strong enough, and additional salt was not necessary
**You may omit seasonings, or add cinnamon and other spices, to create French toast compatible with sweet toppings
Method:
1. Blend or process the Vegg flakes/powder together until smooth.  Stir in milk and seasonings, and pour into a shallow bowl or baking dish (big enough to fit the bread slices)
2. Place the bread in dish and turn the slices over until covered and soaked with Vegg mixture.
3. Heat oil (if using) in pan for several seconds, and drop bread into pan.  Lightly fry each piece of bread for several minutes, turning and pressing down with a spatula as needed until  both sides are golden and Vegg starts to appear crispy.
4. Serve with your favorite toppings and breakfast sides!