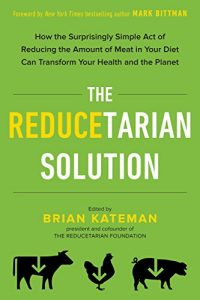 I definitely had a chip on my shoulder when first approached to review The Reducetarian Solution: How the Surprisingly Simple Act of Reducing the Amount of Meat in Your Diet Can Transform Your Health and the Planet by Brian Kateman. As an ethical vegan, terms like "flexitarian," "veganish," and "reducetarian" rub me the wrong way. They all mean omnivore, right?
Let me admit, that chip I mentioned doesn't always steer me well. This book surprised me. A collection of more than seventy essays by names I know and respect in the vegan community (and elsewhere), The Reducetarian Solution tackles topics ranging from evolution and health to animal welfare and the environment. The information compiled here is evidence enough for me that not eating animals makes sense.
But people like me don't make up the world. Humanity doesn't act on ethics alone. And so, some people will come to veganism through meatless Mondays and reduction of animal products, and some will never come at all. With each chapter of the book, I kept asking myself the oft-repeated question: "Do you want to be right or do you want to be effective?" It's tough to come around to the argument that millions of people cutting out some animal products can do more good than a smaller amount of people cutting out all animal products. It's tough to consider that giving up some animals but using others is a logical decision for some.
We can argue the abolition vs. welfarist views in the animal rights community another time. Looking at this book as an educational primer on the problems with the industrial food system, I was pleasantly surprised by the topics it covered in its three sections: Mind, Body, and Planet. Essays by Victoria Moran, Ginny Messina, Carol J. Adams, Mark Devries, and Robert Cheeke, among others, lay the foundation for living a life that reduces animal suffering. Of note: some authors tailored their pieces to their non-vegan audience; others seemed to be speaking their truth without censor. The writers are a mix of vegans, vegetarians, and self-identified reducetarians.
The book ends with a recipe section focused on reducing – not eliminating – animal products from one's kitchen and repertoire. Full disclosure: I spent little time skimming through these pages.
As I neared the end of the book, I asked myself whether I could recommend it to people I know who aren't vegan. Kateman's philosophy is that reducetarianism can unite everyone who chooses to eat less – or no – animals.
I may never come around to the notion of meatless Mondays (also covered in the book). I may never understand how you can start down the path to veganism and never get there. But if I can go into a book like The Reducetarian Solution and find that it wasn't what I expected, then it's not impossible that its target audience, who wants to dip its toe into a lifestyle of less harm, may get more than they bargained for, too. Perhaps a desire to transform one's health and the planet will turn into something more.
This book's goal isn't to turn anyone vegan. But I believe it's an effective tool to get people thinking about food choices in a way they haven't before. And that's a good thing.
---
I received an advanced e-copy of this book from TarcherPerigee and NetGalley in exchange for an honest review.