The holiday season is upon us, but it always feels like Christmas when my monthly Vegan Cuts Vegan Beauty Box arrives at my door!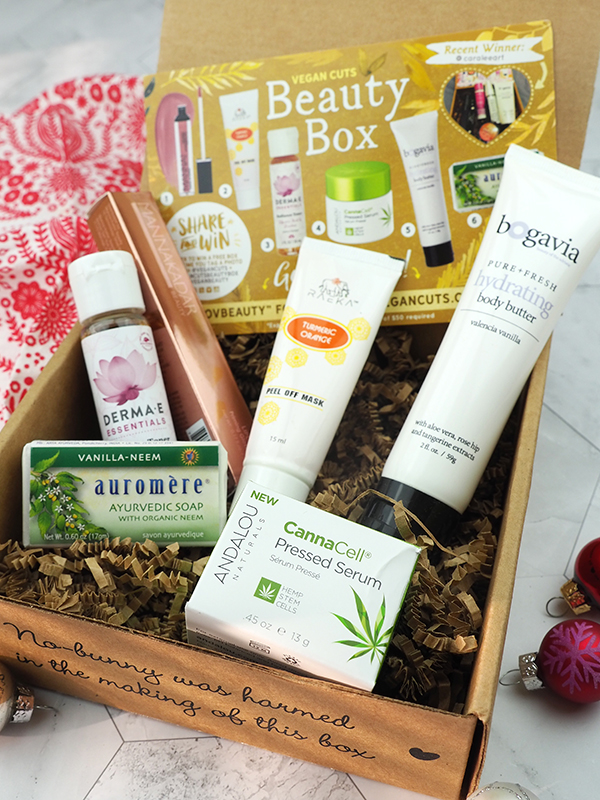 The Vegan Cuts Vegan Beauty Box is a subscription service that delivers a box of beauty products to your door once a month. Each box contains 4 to 7 sample and full-sized products that are vegan and cruelty-free. Most products are made with natural ingredients, and of course, they're always cruelty-free.
Vegan Beauty boxes can a mix of cosmetics, skin care products, and personal care products, such as shampoo and conditioner or lip balm. They're perfect for chic vegan who want to try a new product without shelling out a lot of money, or for new vegans who are just discovering the world of vegan beauty.
I loved this month's Vegan Cuts Vegan Beauty Box! It was chock-full of nourishing products that are perfect for the cold winter weather ahead in the upcoming months.
The November Vegan Cuts Vegan Beauty Box Contained: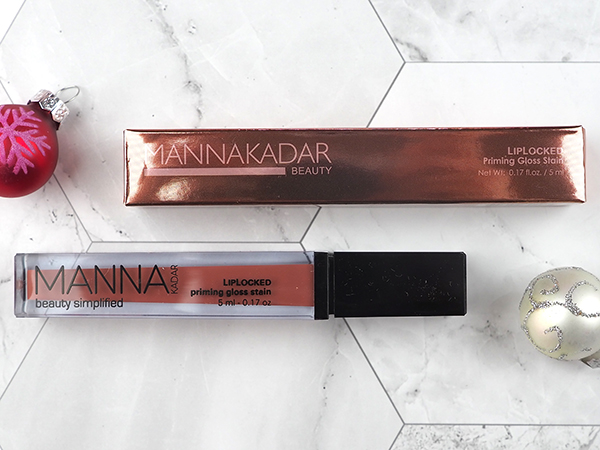 Manna Kadar Beauty Liplocked Priming Gloss Stain – $24 value
I received the color "Sienna" which compliments my skin tone nicely. This lip stain comes with a built-in primer, and it has a glossy finish. It glides on smoothly, and it stays put for hours. Some of the lip colors I've used in the past tend to try my lips out the longer I wear them, but not this one! It's formulated withvitamins A and E, as well as berry extract, to keep lips nourished and hydrated. I wore it on Thanksgiving day and out to brunch a few days later, and it stayed in place through both meals. I love this so much that it's part of my daily makeup routine now!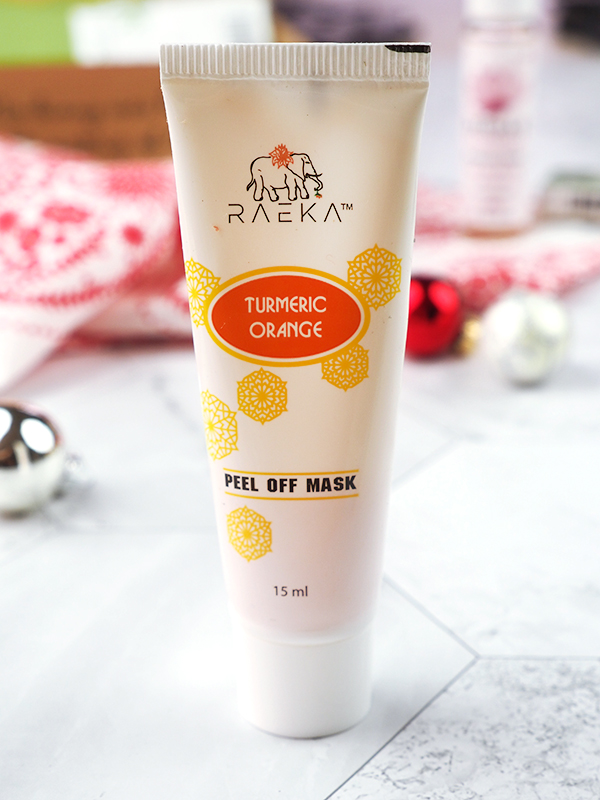 Raeka Turmeric Orange Peel Off Mask – $8 value
Since turmeric is an anti-inflammatorywith healing properties, this peel-off mask does wonders for the skin. It removed excess oil and impurities that clog pores, and it's great for treating acne. It can also treat pigmentation problems and facial hair growth. It leaves my skin feeling silky smooth.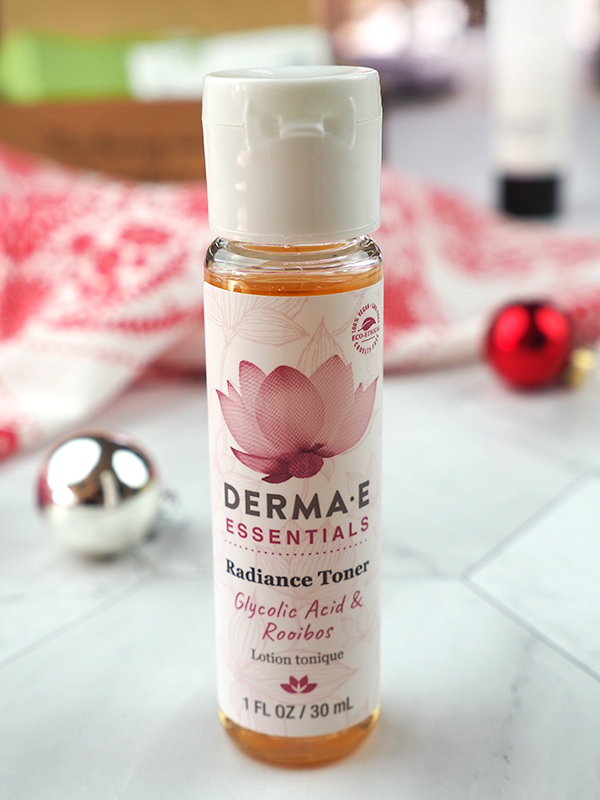 Derma•E Radiance Toner – $5 value
I've become familiar with Derma•E through the Vegan Beauty Box, and it's become one of my favorite skin care brands. This alcohol-free tone exfoliates skin while brightening and tightening. It's formulated with rosehips, roobois, glycolic acid, chamomile, and aloe vera to remove impurities and revive tired skin. I rarely use toner, but my skin has definitely benefited from adding this to my daily routine.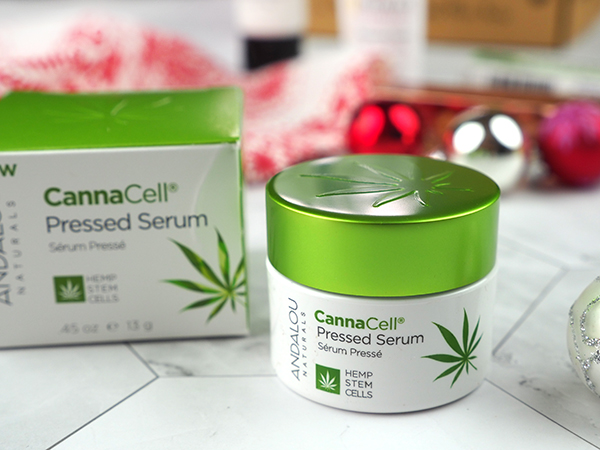 Andalou Naturals CannaCell Pressed Serum – $20 value
This nourishing serum is made with hemp stem cells, organic hemp seed oil, and essential oils. It nourishes the skin to create a glowing complexion. It's a solid balm, but it easily melts into skin. It's great for all skin types, which I appreciate, since mine is very sensitive. I love its fresh, citrusy scent.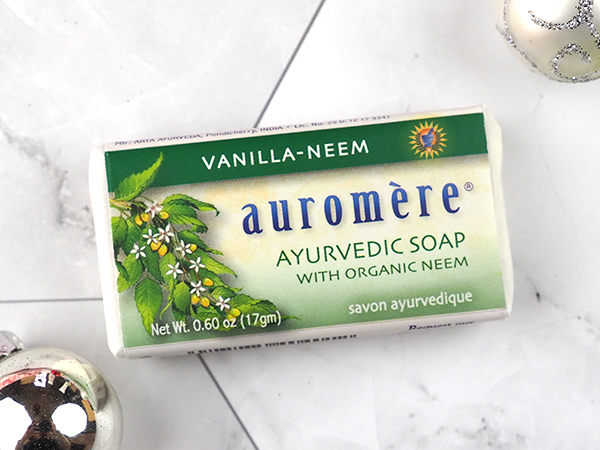 Auromère Vanilla-Neem Ayurvedic Soap – $1 value
If you're familiar with Ayurveda, you'll know that there are three different doshas. My dosha type is pitta-vata, which means that I tend to get hot easily, and my skin is dry and sensitive. Thankfully, this extra gentle soap was formulated for dry and delicate vata-pitta skin. It's made with a blend of vanilla, neem sandalwood, rose, amla, henna and other Ayurvedic oils and extracts, and moisturizes and nourishes skin. Its fragrant scent is a real eye opener on dark and dreary mornings!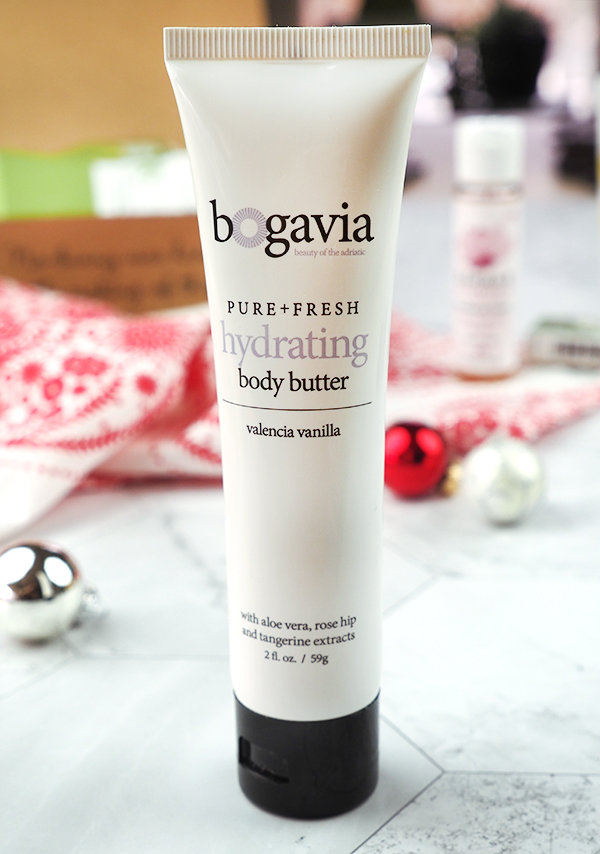 Bogavia Valencia Vanilla Hydrating Body Butter – $7 value
The winter weather isn't here just yet, but the temperatures are starting to drop, which means that my skin is starting to dry out. I had just commented that I needed to buy lotion to help get me through the cold months when this month's Vegan Beauty Box arrived, and I was happy to find this body butter inside. It's made with cocoa butter, shea butter, aloe vera, rose hips, and other natural extracts, and it's formulated to moisturize and repair skin at the same time. It's thick and creamy, yet it doesn't feel heavy or greasy, and it absorbs quickly. It has a deliciously luxurious orange and vanilla scent. This body butter is sure to help my skin's winter weather woes.
A Vegan Cuts Beauty Box subscription is the perfect holiday gift for the chic vegan in your life. Subscriptions are available for 3 months, 6 months, or a full year.