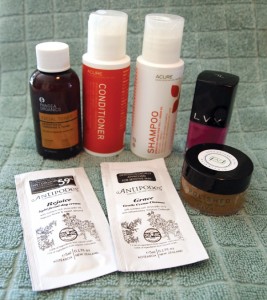 I've become addicted to the Vegan Cuts Beauty Box! Every month a box of cruelty-free beauty products arrives at my house and it feels like Christmas! What will be inside? A creamy lipstick? Sparkly nail polish? Decadent body butter?
As I've mentioned before, I have sensitive skin, and perfumey, chemical-laden products tend to give me a headache or make me break out in a rash., I  tend have a hard time finding beauty products that work for me, but with the Vegan Cuts Beauty Box, I get to try sample sized products to see if I like them. And most of the time I do! Each box contains 4 to 7 products, all of which are 100% cruelty-free which means they contain no animal ingredients and aren't tested on animals. Most of the products are organic and contain natural ingredients.
March's Beauty Box was my favorite box so far! It contained:
Acure Shampoo and Conditioner – The shampoo smells like marzipan – which smells like total heaven to me – so I wanted to keep in my hair, rather than rinse it all away. (It also made me wish that someone would make a marzipan perfume.) I've been in need of a haircut, so my locks have been kinda ratty. This duo help tame and smooth my wild tresses.
LVX Nail Polish – I've suddenly become a nail polish junkie, so I was quite happy to find a fresh bottle in my Vegan Cuts box.  This long-lasting high-shine lacquer is made without harsh chemicals. The color is Orchid which isn't a shade I would normally pick for myself, but it's 2014's color of year. I think it will look really nice peeking out from my sandals in the summertime.
Pangea Organics Facial Toner – I get toner samples a lot, and I often forget about them and end up skipping them in my skin care routine. I placed this bottle front and center in my medicine cabinet, so I've been using it every day since it arrived and my skin has been softer and clearer.
Antipodes Facial Cleanser and Facial Cream  – The light non-oily facial day cream pairs well with the nutrient rich cleanser. The duo works really nicely when used with the Pangea Toner.
Pure Natural Diva Botanicals Sugar Scrub – I'm a total sucker for sugar scrubs, so I took this with me into the shower right away.  Because we've had such a harsh winter, my skin has been pretty rough and scaly. This scrub is made with natural humectants that sooth an nurture dry skin.
The Beauty Box is available as a monthly subscription, which means that a box of new goodies gets delivered to your door every month without an effort from you. If you like the samples in your box, you can order their full-sized counterpart from the Vegan Cuts Marketplace.