I don't like to pay full price on anything. This has bode well for me, except that I often buy items I don't really need, because I got them on sale.
But I have to tell you about this bag. Yes, I got it on discount. In fact, I ordered it on a Monday after watching an episode of The View. They have a weekly segment called "View Your Deal" where vendors offer their products on sale. This bag was great. And it was half off. Sold!
I hadn't heard of K. Carroll Accessories before, but they've been featured in Oprah's Favorite Things before, so I obviously wasn't paying attention when I flipped through that issue of the O Magazine subscription I've had for the past eight years. The company's tag line is "luxurious vegan handbags of style and purpose." Women-owned and celebrating its fifteenth anniversary, the company sells a variety of "vegan cowhide" bags and well as an athletic line made of nylon.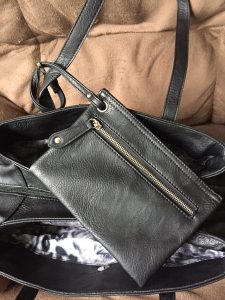 K. Carroll's Everything Tote is fabulous. It's oversized – there are three sections in the bag for your stuff, and an outside zipper pocket for storing things you need quick access to like your phone or your keys. It also comes with a small zipper clutch with RFID protection for your credit cards. Oh, and did I mention? It's available in four colors.
I tend to go back and forth between big bags and small ones. Do I want to carry my life with me, or do I just want cash and my ID? This is definitely a "life" bag. You can fit so much into it, and they've got the video to prove it!
I don't switch out my bags as often as I'd like because, well, I'm lazy. So one Sunday evening while I was preparing for the workweek, I unpacked the slightly smaller bag I'd been using and put everything in the Everything Tote. Makeup bag, glasses, sunglasses, hairbrush, Beats headphones, wallet, breath mints, paperback book, all in, and I've got plenty of room to spare for my Kindle and tablet if I choose. In fact, I could probably squeeze my laptop in there (it's a 13″ screen; I wouldn't try it with anything larger). The bag I purchased is basic black – a color I often lean towards in my accessories because it goes with everything, but I was tempted by the pink one, and normally, pink is not my color!
After using the bag for a week, I'm pleased. Even full of all of my stuff, it hasn't felt weighty on my shoulder. So far, it's kept me very organized.
If you're looking for a new vegan bag, give this one a try!