You know you're addicted. I have been hooked on the stuff since I was about 12. A few hours without it leaves lips dry, cracked and yearning for more. It is a common epidemic, and most of us struggle with it every day. Lip gloss addiction is a serious matter! What's worse than the addiction is the harmful chemicals and funky animal ingredients that lurk in most glosses and balms. You will find that once you switch over to a natural lip treatment, the dry and cracked lips mend themselves and your addiction becomes less physical and remains just psychological. The problem I personally have with natural lip stuff is that many times it contains beeswax or lanolin – deeming it unvegan!  Here are some all around winners, and also how you can save money and agony by just making your own!
Lip glosses for you glam girlies:
Zuzu Luxe Lip Gloss, $18
Available in tons of colors and contains great ingredients. Zuzu Luxe has a whole line of wonderful products and you can find them at Whole Foods!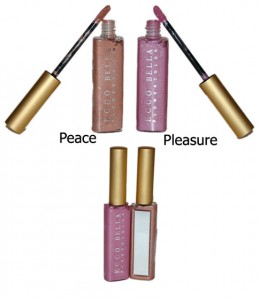 Ecco Bella Good For You Lip Gloss, $15
There is a mirror stuck to the site of the package! How wonderful! Just a note that not all of Ecco Bella's lip glosses are vegan, some contain carmine. Alternative Outfitters carries only their vegan products!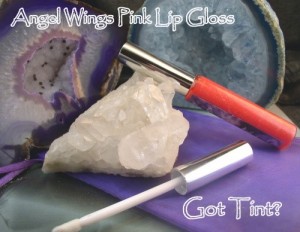 The All Natural Face Lip Gloss, $4
Great ingredients coming from a small vegan business. And hella cheap!
For you low maintenance balm girls (myself included):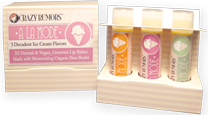 Crazy Rumours Lip Balm, $6
Totally fun, all natural and vegan balms.  Check out their uniquely themed balm lines such as "Brew" and "Fresh Squeezed".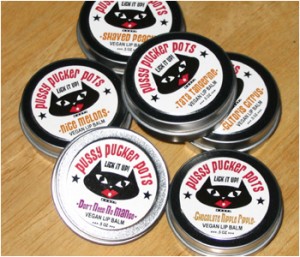 Pussy Pucker Pots, $6
Hands down, the best product name ever(and tagline: "The tastiest lips north of the hips"). PPP's line has 12 yummy flavors and is made with the finest ingredients.
Make your own vegan lip balm!
I don't have a personal lip-balm making recipe….yet. But this one from ehow is amazing.
You will need:
1 oz hard wax (soy wax works well)
1 oz solid-at-room-temperature oil (coconut oil, avocado oil, mango butter, or shea butter)
.75 – .8 oz another additional hard-at-room-temperature oil (cocoa butter, floral waxes, or palm oil)
2 oz liquid oil (jojoba oil or olive oil)
Essential oils (optional, your choice) – maximum 8 drops for each lip balm
Microwave-safe cup or bowl with pour spout
Digital scale sensitive to at least .1 oz (a postage scale will usually work for this)
Stirring spoon
Dropper
Lip balm tubes/jars/tins (up to 15)