Every year, I adopt a turkey through Farm Sanctuary's Adopt a Turkey Project. I do this in commemoration of my veganniversary, which falls on Thanksgiving. I'm coming up on (lucky number) seven years vegan, and I can say without hesitation that this tradition is one I am proud to continue.
FURTHER READING: Thanksgiving: Turkeys, Marketing, and Tradition Invention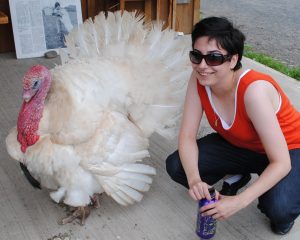 This year marks thirty years for the Adopt A Turkey Project. A thirty-dollar donation to Farm Sanctuary allows you to sponsor one turkey who serves as an ambassador for the millions of turkeys slaughtered every year for food. Each year, I carefully consider who I will sponsor. While I have yet to visit the New York shelter in Watkins Glen, I've been lucky enough to meet turkeys at other sanctuaries over the years. Each of the birds I've met showed me their own personality; each of them strengthened my belief that animals are someones, not somethings. And even though they had been bred to a weight that crippled them (having outlived slaughter weight), even though some of them had been debeaked and detoed, even though they suffered the same living conditions as their less lucky brothers and sisters, they didn't hold it against me or any of the other humans they come across each day. These animals are some of the best teachers I've ever had.
Thanksgiving, as well as other holidays, can be painful for animal activists. But it can also be a time of gratitude and abundance. We vegans are lucky to live in a time when vegan foods are becoming more readily available, when advocacy and education is reaching more and more people, and when our numbers are growing. More voices means a louder message, and I'm grateful that there are so many compassionate people who are doing what they can for animals. To me, animal sanctuaries are an integral way in which we can change the hearts and minds of others. Farm Sanctuary is the most well-known of them, and I am grateful for their work.
Will you join me this Thanksgiving and sponsor a turkey, at Farm Sanctuary or one of many other sanctuaries doing important work on behalf of animals? This gesture honors those who will live out their lives in safety and allows sanctuaries to educate people on why we should leave turkeys off the table, on Thanksgiving and every day.
However you celebrate and whoever you honor, I hope you'll do it with gratitude, an open heart, and high spirits!